Opening soon: InterContinental Minneapolis-St. Paul Airport
With more than 37 million travelers a year and the 16th busiest airport in North America, providing access to amenities for world travelers is an exciting opportunity. The much anticipated InterContinental Minneapolis-St. Paul Airport is the first on-site hotel, opening this month.
Soon-to-open Intercontinental hotel at MSP International Airport takes aim at corporate travelerS
The soon-to-open, four-star Intercontinental MSP International Airport Hotel, which is skyway-connected to Terminal 1, is all about the corporate traveler.
"We'll see a lot of the corporations, the Fortune 500 companies, that have a lot of volume into Minneapolis. We anticipate at least 70 percent of our occupancy being that business traveler," said Sally Ableitner, corporate director of sales and marketing for Graves Hospitality, the hotel's co-developer and management company.
Room rates start at $289 a night, and the hotel has a spa, private lounge and thermal pool.
It also has 30,000 square feet of meeting space, including a ballroom, smaller rooms and an executive boardroom. All of those event spaces are being marketed toward corporations as a potential place to meet with clients and business partners. The idea is that a client could fly into Minneapolis and never stray more than walking distance from the terminal. They will have the added luxury of a separate TSA checkpoint in the third level of the hotel. Continue reading here.
Hotel at MSP Airport Quietly Nears Finish
By Brian Johnson, Finance and Commerce, July 2018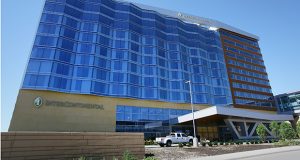 The latest high-profile entry into the Twin Cities hotel market gets high marks for its "sound transmission class" — a geeky engineering term for measuring how well a building keeps airborne noise to a minimum.
That was a big deal for the $91 million Graves Hotel because it has a very noisy neighbor — the Minneapolis-St. Paul International Airport. The 12-story concrete building, which is nearing completion at the airport, exceeds Federal Aviation Administration standards for muffling noise, according to the project team. Continue reading here.
Minneapolis-St. Paul International Airport's first connected hotel close to opening
Upscale facility aspires to attract guests for more than overnight stays
The InterContinental at Minneapolis-St. Paul International Airport has a lot to take in.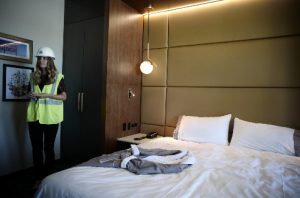 Curved glass walls with blue lights that mimic the waves of Minnesota lakes. A slightly angled roofline that resembles a wing. Curated art in each of its guest rooms. But it's the sight of the planes people will remember.
"It's all about the view," Nina Bouten, interior designer of the new hotel, said Monday looking out at the runways from a bar on the 12th floor, the highest.
The InterContinental, which will open July 14 with rooms available in August, is the first hotel to be connected to the airport since it was built nearly a century ago. It connects through a skyway to Concourse C in Terminal 1. A new TSA screening location within the hotel's skyway connection allows guests to be checked in with carry-on bags.
While the hotel's main clientele will be overnight business travelers, others who want to relax for a short time or meet friends who live in the area during a layover will also appreciate the space, said Sally Ableitner, director of sales and marketing for Graves Hospitality.
"You do not need to have a boarding pass in order to come to this hotel," Ableitner said. "We really want this to be a place for people to meet." Continue reading here.