High-rise Hotel Will Bring Room Service to MSP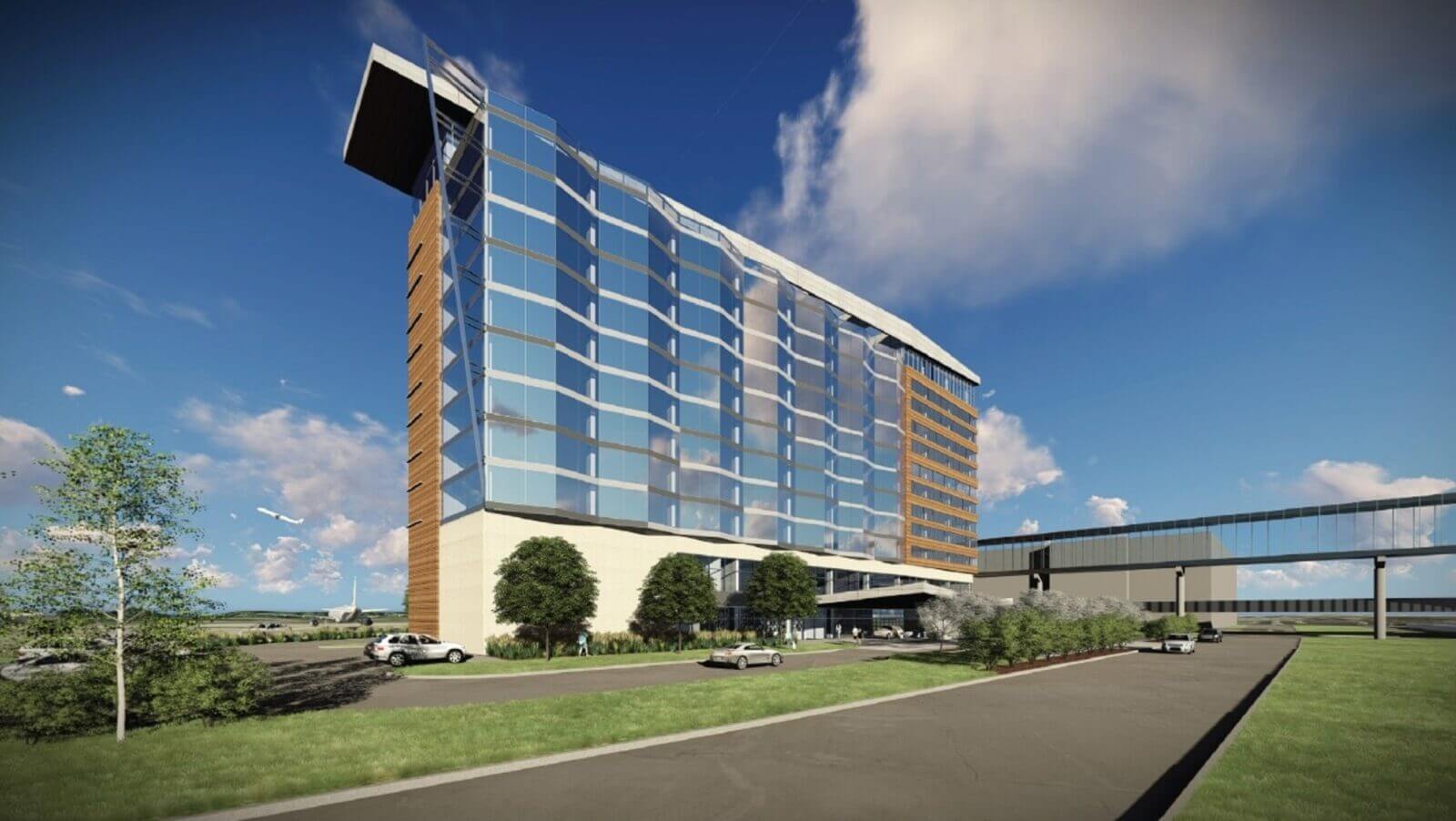 by Kristen Leigh Painter, StarTribune
Originally published April 18, 2016
Minneapolis-St. Paul International Airport's main entrance will soon have a new look and feel.
Graves Hospitality, a Minneapolis-based developer, begins construction this summer on a 12-story, 300-room hotel that will be the first thing passengers arriving by car encounter on the way in to the airport. The company announced Monday that InterContinental Hotel and Resorts will be the hotel's brand.
In addition to becoming the first hotel at the airport, the building will connect to Terminal 1 via a new skyway and a new security checkpoint, requiring close coordination between the developer and the Metropolitan Airports Commission.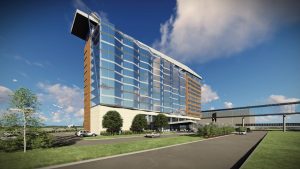 The roads will be reconfigured with the inbound lanes passing by the hotel on one side and the outbound lanes flanking the other. A separate exit lane on the inbound side will be created for hotel traffic so that it doesn't clog passenger drop-off and pickup zones.
The total project will cost $115 million. Graves will pay nearly $90 million for the hotel portion, which will become its flagship property, while the airport will cover the road and skyway costs that total about $25 million.
The Federal Aviation Administration has approved construction.
Under a 75-year ground lease agreement, Graves will own and operate the hotel while paying rent to the airport commission.
The developer plans to begin construction in early July and has set an aggressive and "expedited" timeline for the project with the hopes of opening by Super Bowl 2018, hosted in Minneapolis. It'll be a close finish, company President Ben Graves said.
"With a project of this scale, the gestation period is quite long," he said. "We aren't doing this hotel for the Super Bowl. We have a 75-year horizon. But it would be icing on the cake. It will be within weeks."
Logistics for the new U.S. Transportation Security Administration (TSA) checkpoint have yet to be worked out, said Pat Hogan, spokesman for the Metropolitan Airports Commission.
"They've set up security checkpoints at other airport hotels around the country, so we expect they would here as well," Hogan said. "TSA typically pays for that, but we still need to sit down with Graves and the TSA together to figure out exactly what that is going to look like."
Graves said the checkpoint will be on the hotel end of the skyway where guests will be able to quickly pass through security and go directly to their gate.
While Graves has not yet signed InterContinental, the two entities have finalized a term sheet for the agreement. InterContinental was founded by Pan American World Airways in 1946.
This hotel is the latest pet project for Graves. The developer is best known locally for Graves 601 Hotel, located across from Target Center, that is now Loews Minneapolis Hotel.
Graves wants to create a hotel that nods to Minnesota values and products and meets the expectations of world travelers. "It's going to be very sophisticated," he said. "You will feel like you are in Minnesota, but it will live up to being a truly international hotel."
The original plans called for a nine-story hotel, but it rose to 12 stories with the addition of a penthouse level and a venue called Observation Bar, which will have floor-to-ceiling windows offering views over the airport, rivers and both downtowns.
Two large suites will have 16-foot ceilings, which Graves said will make them the nicest hotel rooms in Minnesota. Day passes will be available for the spa, catering to travelers with long layovers.
There will be about 25,000 square feet of conference and meeting space. Graves is also partnering with local brands to create art installations. For instance, Red Wing Shoes is designing a leather-clad statement wall behind the reception desk.
Graves Hospitality has a reputation for developing high-end hotels, such as the Hotel Williamsburg, which was the first full-service, 64-room hotel in Williamsburg, a hip neighborhood in Brooklyn, N.Y.
The company sold it for $33 million, the most ever per room for a hotel in Brooklyn.
The developer, which also builds bars and residential projects, is most active in the Upper Midwest region. PCL Construction and RSP Architects are project partners.