Cool Offices: New Jack Link's in downtown Minneapolis
Cool Offices: New Jack Link's office, test kitchen bring Minnesota's Northwoods to downtown Minneapolis
By Alex Wittenberg, Minneapolis/St. Paul Business Journal, July 2018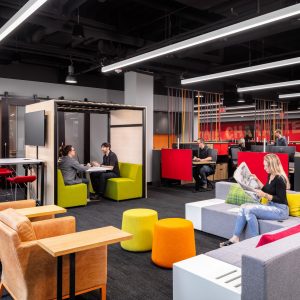 Jack Link's Protein Snacks wanted to bring the Northwoods down to its new Minneapolis office, so "We wanted to keep the nostalgia and legacy of the Northwoods but in a downtown, millennial Minneapolis," Chief Marketing Officer Tom Dixon said.it gathered wood from old Wal-Mart trailers and solicited the help of veterans for carpentry. The result is an eclectic wood-clad office that blurs the line separating modern and rustic.
That wish is manifest at the 78,502-square-foot office at Mayo Clinic Square, where buffalo-print chairs under antlered light fixtures give the space a kind of Northern-Minnesota-cabin vibe, save for the 7-foot Sasquatch looming over the lobby. The office's more modern features, though, serve to smooth out that ruggedness: an elegant and colorful communal kitchen, sit-stand desks and a large lounge area help strike a balance.
To ensure the space's uniqueness wouldn't be questioned, Jack Link's decided to incorporate a full test kitchen and research and development center, which lets its salespeople test the newest product before pitching it. Finding a space that could accommodate a full corporate office and also a testing center was a challenge of particular, and peculiar, difficulty, said Mike Brehm, vice president at the Minneapolis/St. Paul office of Colliers International, which represented Jack Link's in its search.
The unique character of the space is also, its executives hope, a selling point for future talent and a retention tool, said Mike Bitzer, vice president of sales at Jack Link's. The company's employee base is growing, and part of the advantage of the new space is not only being able to accommodate a greater number of employees, but also being able to enrich the company's tight-knit culture.
"We wanted to make everyone feel a part of the team," Bitzer said. "We wanted to promote that family feel."
"We strove to give it that human touch," said Derek McCallum, principal at RSP Architecture, which designed the space. "We are delighted with the outcome."
---
Business: Food
President and CEO: Troy Link
Employees in the office: 250
Building name: Mayo Clinic Square
Address: 600 Hennepin Ave., Minneapolis
Office opened: February 2018
Size: 78,502 square feet
Floors: 1st and 2nd
General contractor: Mortenson Construction
Architect: RSP Architects
Broker: Colliers International — Minneapolis/St. Paul