2018 SEGD Global Design Award Winners Announced
Exhibit City News, June 2018
Winning projects in the 2018 SEGD Global Design Awards were announced on June 9 at the 2018 SEGD Conference Experience Minneapolis.
The 37 winning projects span a range of topics, disciplines and verticals, from a technology-enhanced ancient temple experience in London to specialized wayfinding for a neuro-degenerative disease center in Stuttgart to a university athletic center in Los Angeles. What all of the projects share is their effective use of design to communicate values, tell stories and create a strong sense of place.
"The submitted projects are the best of the best from around the world," says Christina Lyons, professor and chairperson of the Graduate Exhibition & Experience Design program at the Fashion Institute of Technology (New York) and Jury Chair for the 2018 SEGD Global Design Awards. "With seven major practices areas for entry, the variety of projects is vast, and as the traditional silos between practice areas continue to blur, we are increasingly seeing innovation in experiential design."
The jury evaluated projects in seven categories that represent the core of experiential graphic design practice: Digital Experience Content, Exhibition, Interactive Experiences, Placemaking and Identity, Public Installation, Strategy/Research/Planning and Wayfinding.
10 Honor Awards and 27 Merit Awards — spanning the full spectrum of experiential graphic design, from wayfinding to placemaking and identity, public installations, exhibitions and research projects — were chosen from among 338 submissions of experiential graphic design projects from around the world.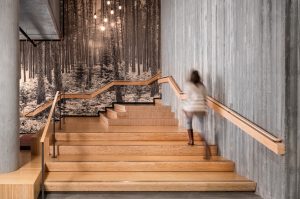 RSP was honored with a Merit Award for T3 Minneapolis in the placemaking and identity category.