Recognizing design leadership
Alissa Franconi promoted to Associate Principal
It says something when some of the real estate industry's biggest and best hire you to design their headquarters. Clients like Wentworth Property Company , Cushman Wakefield and Atmosphere Commercial Interiors trusted Alissa Franconi to lead RSP's design team in creating inventive and engaging workplaces.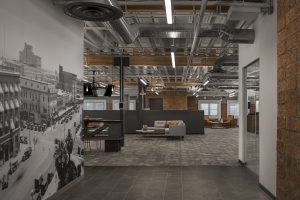 While they could have hired any design team in Phoenix, they chose Alissa and company based on her unique ability to translate brand and culture into effective, efficient, and inspiring space. Her passion, creativity and unwavering focus on her client's goals are why Alissa Franconi, Associate IIDA was recently promoted to Associate Principal at RSP. Here's a little of what she had to say about the steps it took to get to this point:
What is your approach to design?
Each client is unique, so my approach is grounded in discovering who they are, what makes them tick, keeps them up at night, inspires them, etc. There's so much to learn at the beginning of each relationship that influences and informs our design process.
What is your leadership style?
I'm very hands-on with projects still. I love being involved in every aspect of the design. Yet I also love mentoring young designers, empowering them to explore, get curious, push boundaries. I don't believe in micromanaging. Experience has taught me that great ideas or design solutions can come from anywhere or anyone.
Speaking of young designers, what makes a good one? What advice do you have for those just starting out in their career?
The best designers are flexible, open minded, confident and passionate. Designers need to be naturally curious but also recognize that we are providing a service. Our clients' goals, needs, opinions, matter. While it's our job to guide our clients to the best solutions, we also need to understand when perhaps we've pushed an idea a bit too far. There's a delicate balance, which is why I strive to build meaningful relationships, even friendships, with my clients. Because knowing them well, translates into designing for them well.
You've grown RSP's interiors practice significantly over the past six years, so what's next?
I'd like to continue to close the gap between exterior architecture and interiors. To really emphasize the outside-in connections and opportunities. Projects like Hubbard Radio have really proven the power of collaboration. From a pure interiors standpoint, I'm inspired by well-being in the workplace and how our work can positively contribute to health, productivity and more.