Bell Tower Shops revamp in south Fort Myers 'long overdue'
When retailers close large stores or go out of business, operators of malls and strip centers have to get creative to fill the spaces or break them up into smaller spaces. 
By Casey Logan, News Press, Mar 2018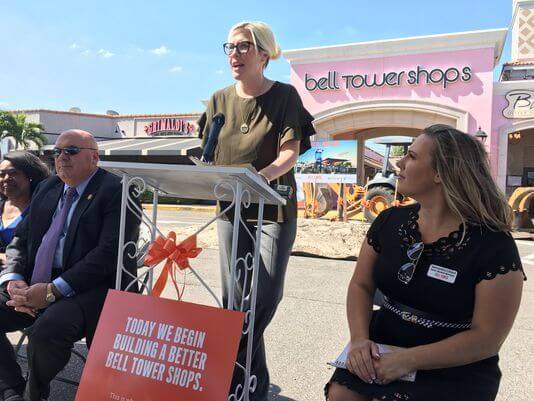 What does it take to make a better Bell Tower Shops? The recipe starts with creating a better experience, which means the right blend of retail, restaurants and entertainment. That's according to Whitney Livingston, a senior vice president for Madison Marquette. 
The real estate developer is behind a "comprehensive redevelopment" plan to revitalize the outdoor shopping center in south Fort Myers that includes retailers such as Chico's and Scott & Molly's Boutique, restaurants like Cru and Cantina Laredo, as well as a 20-screen Regal movie theater and The Fresh Market grocery store.
Expect new community gathering spaces, fresh paint and landscaping, contemporary lighting, wider entrances, redesigned storefronts and new signs at the 343,000 SF shopping center that often offers live music, art fairs and other events.
Also, a new tenant is coming to the entire anchor space formerly occupied by Saks Fifth Avenue, but the developer would not yet name that business.
"This is the next step in the Bell Tower evolution," said Livingston, who spoke at a ceremonial groundbreaking earlier this week. "The reason for this project is to create an 18-hour-a-day destination."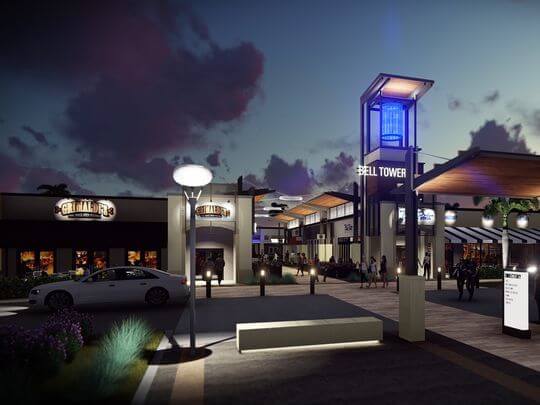 Work is underway and expected to take another seven to eight months, with a grand reopening planned for November. Livingston declined to attach a price tag to the work, only saying the cost is "significant."
Despite a prime location at U.S. 41 and Daniels Parkway, market observers agree the center has fallen off in recent years as newer retail competitors have come to market and online retail has taken off.
"We're focused on combating e-commerce," Livingston said. "The only thing you can't buy online is the experience."
The Bell Tower Shops was designed as a fashion-oriented community center, a destination with no significant competitor in the area when it opened. That changed over the years, particularly to the south, with Miromar Outlets opening in Estero in 1998, followed by Gulf Coast Town Center in 2005 and Coconut Point mall in 2006.
The Bell Tower revamp was in the planning stages for 3 ½ years, including market research and evaluating industry trends, before it started being executed earlier this year. "Finalizing the vision took time," Livingston said.
Pamela Johnson, interim director of Lee County Economic Development, called the Bell Tower Shops a major employer in the county, with the revamp creating an opportunity for job growth. The redevelopment, she said, will be done in five phases so that shoppers face the least amount of disruption.
A trend over the past five to seven years, Livingston said, is for such centers to offer more food and beverage options, so the goal for the Bell Tower Shops is to greatly bolster that category. The industry average is 35 to 40 percent, she said, while the Bell Tower Shops is at 17 percent.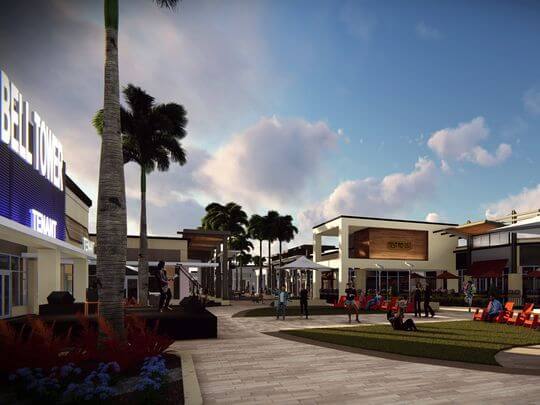 Robert Wagner, of Fort Myers-based Evans & Wagner Commercial Group, called the revamp great news. It's smart, he said, that part of the upgrade involves updating the tenant mix to increase the number of dining and drink options.
"They want to get away from people just being destination shoppers and just showing up and leaving," Wagner said. "You want people to come to your center and you want to do something to get them to stay for a while. That customer retention factor is a very big deal."
With that in mind, it's important to attract the "right type of tenants." That tenant mix has been bolstered recently, most notably by the long-awaited opening of Society, a sleek restaurant.
"You want to get regional and national tenants if you can because you want to bring people who market, who advertise," he said. "They want people that have a national presence."
Rockford Construction, RSP Architects and Principal, a financial investment management company, are part of the project.