Michael Carter, BD Specialist in Federal Government, Joins RSP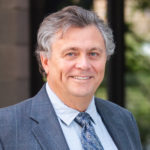 MINNEAPOLIS (28 May 2019) –Michael Carter, a mechanical engineer and business development specialist with 37 years of experience, has joined RSP as an Associate Principal and Director of Business Development for the Federal Government team. A military veteran with a background in both architecture and engineering, Carter brings an impressive skillset to RSP.
"I enjoy anticipating new opportunities several years in advance and following the funding for those opportunities, including who within the client's organization will be responsible for procurement and execution, and then putting together the internal and external resources necessary to execute that work," said Carter, P.E.
Formerly the Vice President of Corporate Development at WHPacific, Inc., Carter has secured many high-level projects across several sectors. He has developed initiatives, strategized partnerships, and built a network of customers ranging from AFCEC and NAVFAC Divisions, to other federal agencies, AE-Construction firms and specialized businesses.
"The federal/military market has been an important element in RSP's success over the years and has provided us opportunities to 'learn while doing' in areas such as sustainability, physical security, personnel/communications security, and others," said Jim Fitzhugh, RSP Principal, AIA, NCARB. "We've been looking for someone to help us grow our practice and introduce our firm's expertise across the various branches of the U.S. military. Michael not only meets that need, but brings RSP the knowledge, experience and relationships to improve our collaboration with non-military clients, consultants and others. He's already brought a fresh approach to thought leadership across the firm by connecting expertise in new ways."
Carter will office out of RSP's Phoenix office. Click here to read more.