Local craft, global flavors
Venn Brewing brings taproom to 46th St. Blue Line station
By Jill Boogren, EIN Newsdesk Jul 2017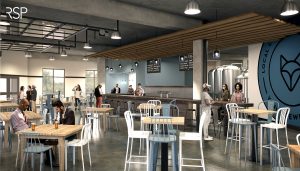 Here's something for beer lovers to cheer about: a new brewery, Venn Brewing Co., is moving into the ground floor space of Oaks Station Place at the 46th St. light rail station. Construction is already underway, and things seem to be chugging along nicely.
Co-founders Connie and Kyle Sisco are realizing a longtime dream: to open a neighborhood taproom. They will feature up to 16 small-batch brews that will only be available on site.
Unlike most breweries, the Siscos are not aiming for wide distribution. This puts them in the company of two other non-distributing Minneapolis breweries, Wild Mind Ales and Dangerous Man, whom Kyle, Venn's head brewer, cites as a huge inspiration for what they're doing. It gives Venn room to experiment and patrons a beer selection they won't find anywhere else. Growlers and crowlers—canned takeaways—will still be available for purchase.
Their goal is to have "something for everybody." Venn means Friend in Norwegian, and the Siscos hope people will gather with friends and meet new ones over a variety of beer.
The location was a huge draw for the Siscos. Not only are they on the Blue Line, but it's also a hub for major bus routes, including the rapid bus to Highland Park, and a spur for the trail to Minnehaha Falls.
"We're so excited about being close to so much public transportation," said Connie, Venn's marketing director. "It's easy for people to get to us."
But even more, they're excited about being part of a residential neighborhood. The Siscos had looked for space in more industrial areas, but what they really look forward to being a drop-in place for people who live nearby.
This was a key element for their landlord, too. The space at Oaks Station Place had been vacant since the building was built in 2013, and though there was interest, some prospective tenants either wanted to use only part of the space or weren't the right match.
"We wanted something to fit the lifestyle of the building and neighborhood and to compliment the light rail line," said Angie French, vice president of Oaks Properties. She said they're excited to have a family-owned business coming in, and one that will be a gathering place "not just for our building but the neighborhood in general."
Kyle is a longtime homebrewer and credentialed national beer judge who has planned to go commercial for quite some time. For the past year and a half, he's been the interim head brewer at Wicked Wort in Robbinsdale. A 10-barrel brewhouse that also doesn't distribute, Wicked Wort is giving Kyle experience bringing his brewing up in scale.
More than for magnitude, he's adapted to mechanical changes; where at home you might just stick a spoon in it, here you're using machinery. The biggest learning curve, though, has been in fine tuning his use of yeast—"one of the major drivers for flavors of beer" that also happens to be very expensive. He's learning how to harvest yeast from batch to batch on a larger scale.
He's also had to find ways to work with the water in Robbinsdale, which Kyle calls "terrible." Brewing with well water versus surface water (which we have in Minneapolis and Roseville, where the Siscos live) yields very different results. Rather than go through an extensive process of treating and reconstituting the water, he looks forward to being able to just open up the tap and go.
Kyle isn't interested in break­ing new ground at Venn, as much as expanding what beer has to offer in an environment that fosters community getting together. Their motto is "local craft, global flavors." Rather than specialize in one type or region as many brewers do, Venn will offer styles from the world over: Germany, Belgium, the United Kingdom, and the U.S. "We're trying to bring that all under one roof," said Kyle.
"We will hopefully have a version or beer style for every palate," said Connie, whose own beer preferences are seasonal: a crisp, clean Pilsner in the summertime; a lager, or a darker beer that is light in body, come winter.
Kyle said Pilsner is his "desert island" beer, but true Pilsner, as it's brewed in Germany or its namesake Czech town of Pilsen. "It's almost like a hoppy pale ale meets Pilsner, dry, crisp," he said. "It's absolutely nothing like the yellow water in [mass-produced American Pilsners]."
Venn will most certainly have a Pilsner on draft, as well as an IPA or two, a porter, a stout, a Berliner Weiss. Kyle will also do a variation on Sahti, a Scandinavian brew which in Finnish translates roughly to "homebrew." Akin to farmhouse ales in Belgium, it's brewed out in the country at high strength and incorporates juniper branches, multiple grains, berries, and uses a baker's yeast.
"A lot of those ideas are cool, but it's too many things," said Kyle. So he's taken the core principles of it, cleaned it up (namely removing the baker's yeast and juniper branches) to be a little more approachable.
Construction of the brewery is on track. The space will be very open, except for the walls enclosing the bathrooms. Look for Scandinavian-inspired design, with clean, simple lines, and a lot of natural woodwork in the furniture, tables, and bar tops. Kyle, a woodworking hobbyist, is doing much of the finish work himself, and tables are mostly already built. The bar will face east, and garage doors will open onto the patio.
Ah, yes, the patio!
"This was one of the major draws about this location," said Kyle. "The patio around our retail space is probably bigger than the taproom itself." It's set lower than the walkway to the train and is also made with pervious pavers, so it doesn't get wet at all. They're aiming for a winter opening, though, so you'll have to wait until next season to use the patio.
The Siscos hope the bulk of construction will be done in September, with woodwork soon to follow. After that, it's licensing and hiring.
"We're really excited to be a part of this neighborhood and community," said Connie.
Additional Coverage
South Minneapolis getting new neighborhood watering hole in Venn Brewing Company, Growler Magazine