FINANCE & COMMERCE NAMES TOP PROJECTS OF 2016
By Finance & Commerce, Jul 2017
The Minnesota Vikings have a new home in Minneapolis; downtown Duluth has a changed skyline; Shakopee now hosts a sprawling Amazon fulfillment center; and the Capitol in St. Paul sports its first new neighboring legislative building since 1932.
And those are just four of the many impressive projects finished in 2016 that are honored by Finance & Commerce as Top Projects.
Inside you'll find profiles of all 33 honorees. A panel of experts in construction and related industries selected the 2016 honorees, which were feted at a July 26 ceremony at the Minneapolis Event Center.
The winners will also be featured in the Top Projects of 2016 series in the Finance & Commerce newspaper as well as at finance-commerce.com, with additional photo galleries. The series will run daily starting Aug. 1.
Please join me in celebrating these innovators, these dreamers, these builders. Congratulations to all the project teams.
---
Maurices Headquarters & City of Duluth Parking Structure
By Dan Heilman, Finance & Commerce Jul 2017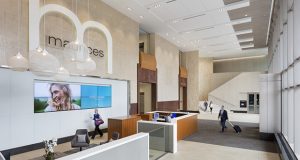 An ambitious public-private collaboration recently resulted in downtown Duluth's largest building, as well as a new headquarters for a leading retailer of women's clothing. Because the 11-story structure is essentially three buildings in one, it was also one of the more complicated construction projects in the port city's history.
"This was an unusual project because there was so much at stake for both the public and private partners," said Connie Shields, project manager for owners Tegra Group. "The volume of city involvement was huge."
The new Maurices headquarters boasts an exterior of brick, precast concrete and glass. Some complicated thermal requirements were met in order to have four floors of "cold" space for the parking ramp in between multiple floors of conditioned space.
The two-story lobby entrance includes retail and office space, while the second through sixth floors include skywalk infrastructure and the 491-space ramp, which is owned by the city. While most parking ramps aren't noted for their aesthetic charm, this one has a perforated metal skin to keep headlight glare from escaping the ramp.
"The city needed the parking, so they were able to put together a matching grant program that the state Department of Employment and Economic Development was able to participate in," said Shields. "That added an extra $20 million to fund the building and provide extra parking for downtown Duluth as well as parking for employees. It was a win-win for everybody."
Floors seven through 11 contain office space for Maurices and Ascena Retail Group.
Shields noted the monumental amount of teamwork necessary to make the project go, and singled out architect Terry Helland and Dave McLaughlin of McGough Construction for special praise.
"Periodically during construction Dave would say we were using this many miles of wire, this many pounds of a certain material," she said. "That gave everyone some real perspective of what was going into the project."