People-Driven Alternate Workspaces

RSP's Dawn Brown AIA, LEED AP and Christine Shaw NCIDQ, LEED AP, WELL AP say that people are the most important "amenity," whether working from traditional offices or alternate workspaces.
*This article was originally published in Work Design Magazine.
In the architecture and design field, it feels like we have been talking ad nauseum about how much the built environment has changed since COVID started. Touchless entrances, hybrid work options and consolidated offices due to more people working from home are at the top of  a lot of client wish lists. But we would argue that we haven't talked as much about how people have changed over the last 3.5 years, and how we should adapt the built environment to them. That includes all the alternate workspaces that people are now using on a daily basis.
Yes, it's clear: the workplace has changed. And, now that the Wall Street Journal has proclaimed the end of the work-from-home era, maybe it's time to look at the issue through a new lens.
People Are the Most Important "Amenity"
If the workplace has changed, well, then, so has the worker. Preliminary studies show that many of us, especially those just entering the workforce, have become more introverted over the last few years. Our experience within our workplace, our clients' workplaces, and anecdotes from our professional and personal circles bear this out. When we're thinking about designing spaces to support new ways of working, it's crucial that we take those changes into account.
Whether working from a private office, a collaboration space or a home office, there are really only two things that matter: having the right tools and technology to get the job done, and the ability to interact and collaborate with colleagues in a positive, constructive way. When we design spaces that draw people in, that give them what they want and need from a workspace, we make people the amenity that unites workplace and company culture.
Variety is the Spice of Work Life
Before 2020, workplace designers focused on open-plan, collaborative spaces. Now, we're seeing a big uptick in the variety of spaces we're designing, including an increased number of private offices. Along with the shift toward introversion, people want more places for heads-down, private work. Because we can't offer everyone a private office, we make sure that everyone has access to quiet rooms so they can get the most out of their workdays. That's not to discount the importance of collaboration spaces and amenities like work cafes, but the trend toward more privacy feels very "old school," albeit in a fun, new way.
Larger organizations are understandably wary of making sweeping changes to their workplaces without knowing if the changes have staying power. One way we're dealing with that is through furniture solutions, flexible partitions and demountable wall scenarios that allow private offices to be installed and taken down without construction. Truthfully, we are in an experimental phase—we are piloting these creative solutions with several clients and it's an exciting time to be a designer.
Aesthetically, from private offices to work cafes to office coffee shops, we are incorporating comfortable furnishings and warm finishes to help the office feel more like home, drawing people together so that they can enjoy the social benefit of one another.
Engaging "Third Places" Through Art
Across the board, employees are increasingly looking for "third places" to work that are neither home nor office. Coffee shops fit the bill and companies are putting them into their buildings and offices. But beyond the office, we are incorporating a lot more office amenities into lobbies and outdoor, semi-private spaces.
At our project at 2600 North Central in Midtown Phoenix, for example, we designed the lobby more like a hospitality space than an office. It's a fantastic place for collaboration that draws people in as a destination and a comfortable place to congregate. Art installations give the place true character. The space is now called "The Friday Club," after a group of women who are credited with creating the Phoenix Public Library system. We worked closely with our colleague, an environmental graphic designer and local artist, who sourced hundreds of books to create sculptural wall art that echoes the shape of the Grand Canyon.
Flooded with natural light, the flexible room has a mix of comfortable lounge seating, high-top tables, and private nooks, with black-and-white photography of musicians who have ties to Arizona. The art engages people in new ways and the flexibility of the furniture make it just the right "third place" for working or catching up with colleagues.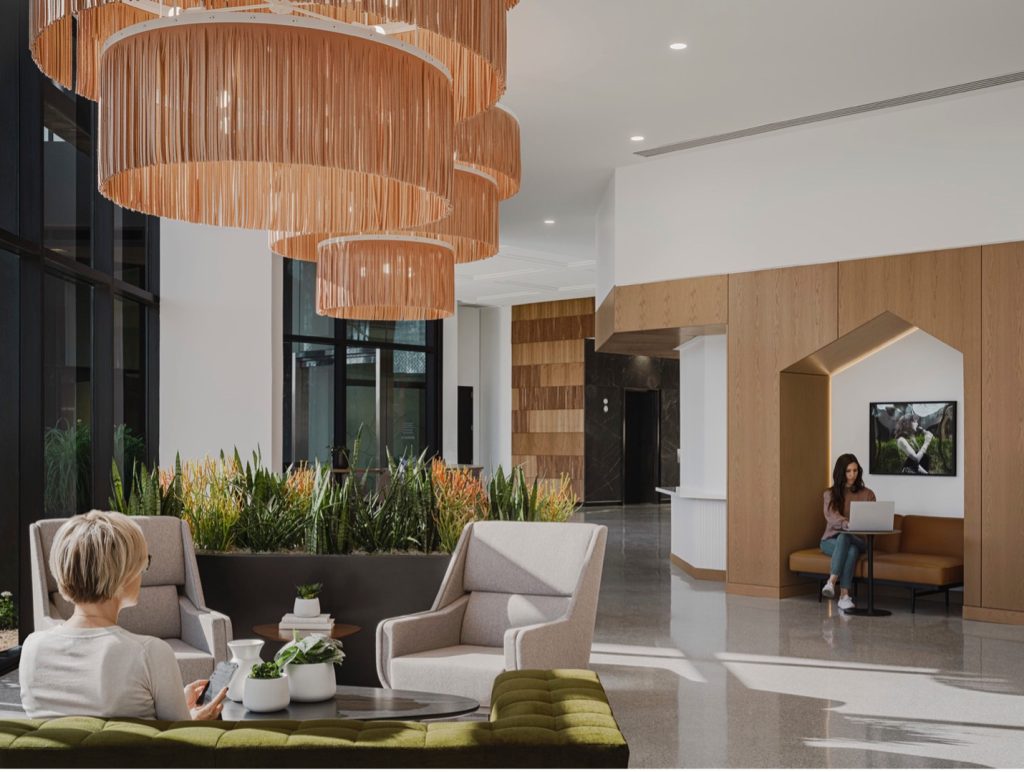 We even have a client using their collaborative spaces to invite children from the community to participate in creating art. From where we stand, this seems like such a great way to involve employees in the office and the wider community, using creativity to connect everyone.
Using Alternate Workspaces to Create Community
One of the biggest challenges our clients face is fostering a cohesive sense of workplace community when so many employees are on varying work-from-home schedules. Rather than trying to force a solution, or encourage clients to mandate a physical presence, our philosophy is to embrace the peripatetic, to some degree, and use alternate workspaces to foster collaboration and engagement.
In these alternate workspaces, organizations will need to be more intentional about creating connections and encouraging social interaction. One idea is having a person to foster that sense of community—someone to refill snacks and drinks in the kitchen, but also to introduce people who might be able to collaborate—a type of workplace maître d'. Again, it's more of a hospitality and service-based approach that fosters a deep sense of community, connection and, ultimately, loyalty.
If building owners and companies are truly serious about offering public spaces as a "third place," it takes a new way of thinking about the workplace—as a series of spaces where good work can be accomplished, not just a traditional office. By approaching the workplace with the understanding that people have changed—they need more quiet and privacy to do their best work, along with a variety of opportunities to collaborate, we can meet employees' expectations and continue to help clients get the most out of their budgets through design.