Experiential Design: Art as Narrative

RSP designer and artist Liz Taylor illustrates how she uses art and experiential design to help clients and communities break away from the generic and dive into storytelling.
Community, connection and storytelling—they can help turn a place into a destination. Public art and environmental graphics are two ways that we're helping our clients and our cities use experiential design to do just that. But it's a lot more nuanced than just sticking a sculpture in the middle of a plaza.
Public art gives us an incredible opportunity to bridge history and community. And we often like to turn it into an immersive experience—one that people can walk into or step up to, making them physically part of the narrative. One of the challenges we face is walking the line between being architects and artists. To do it well, we pull from different facets of our creativity, but, in the end, it's all about creating memorable places.
Surprise Stadium Public Art in Surprise, AZ
For those who don't live in Arizona, Surprise is one of the smallest municipalities in the Phoenix metro area, but it's growing fast. The city is building more schools and community amenities, but it's perhaps most well-known for its Spring Training facility. With a long history of an enriched public domain, Surprise wanted an experiential, art-based concept to greet visitors at the first and third base entrances to the stadium. That's where our team came in.
In envisioning the art pieces, of course we wanted that iconic moment for the photo op and selfie, but we also wanted it to be more enduring and relevant to the community. Our solution was to tie it to the history of the area and, obviously, the sport of baseball. And as a practical matter, we knew that having the piece offer much needed shade from the Arizona sun would make it even better.
We came up with two interrelated sculpture concepts: Bounce and Swing.
The Storytelling of Art
Bounce (the image at the top of the page) imagines the trajectory of a ball being knocked out of the park. The custom-designed cotton pattern laser-cut into the metal structure provides shade, creates playful shadows below and is a nod to the story of Surprise's agricultural roots.
Swing, the counterpart to Bounce, shares lines that follow bat's trajectory as the batter swings at a pitch. The red canopy created by the arrangement of 248 bats again creates shade and mimics the stitching of a baseball. The tips of the bats are fashioned with reflective tape, making the structure glow when car headlights or camera flashes hit it. This feature is one that adds an element of discovery for attendees of the stadium.
The stadium is already a huge draw for tourists. Now, they will have a few more "Instagrammable moments" from the trip. It's a real testament to the union of art, architecture and hyper-localism and its ability to create destinations and give the community a point of pride.
Storytelling Through Design
We think a lot about the differentiators between architecture, interior design and experience design. But when it comes to our projects, I view the focus of my work as storytelling, regardless of what the scope says. Sometimes, the idea of "storytelling" is straightforward, when we're doing environmental graphics that visualize the timeline of a corporate organization, for example. But I always try to go a little bit deeper with the story and find the most engaging and thoughtful ways to tell it. Above all, we work collaboratively, we think divergently, and we create holistic solutions that are authentic, resonant and compelling.
A great example is an art installation at 2600 North Central in Phoenix that gave me the opportunity to use art to tell the story of the site's history. The project was a renovation for Townline, a Canadian company, and this was their first project in Phoenix. Moreover, they wanted to make their mark visually, but also connect to the community.
In diving into research of the neighborhood's era, we discovered the story of the "Friday Club," a women's book club that started in Phoenix in 1897. Eventually, the group founded the Phoenix Public Library system, giving all of us a lasting gift. Our team knew we wanted to create an homage to this impressive group of women in the Townline space. I worked to envision how we could use an unconventional approach to a found art installation to tell their story in a highly visible way.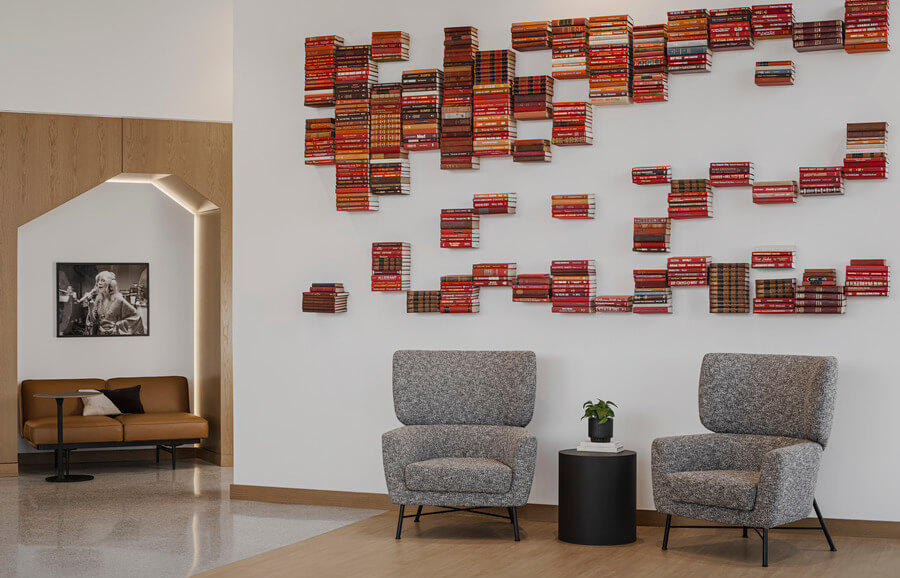 The Message is the Medium
The final piece, called Canyon Archive, is a found object installation of hundreds of books in red, orange and brown tones, some dating back to the 1800s. The volumes are arranged in a floating wall installation in a shape that suggests the striations of layers of rock in the Grand Canyon—the piece comes together to represent both our collective understanding (the archive or books) and the void of everything that is to come (the canyon). The client also wanted to show a strong connection to music, so we added black-and-white photographs into the seating niches of musicians who have strong ties to Arizona, like Alice Cooper, Stevie Nicks, and Native American flute player R. Carlos Nikai.
The result is a space that is, on its face, ideal for catching up with friends, writing emails or reading a book, but it also tells its unique story through art and atmosphere, inviting the community to ask and answer more questions about their own shared history.
A Hint of Technology
Our storytelling isn't dictated by a single solution. We are always looking for ways for people to interact with content in new and compelling ways. Even on our more utilitarian projects, like a new District Utility Plant we're working on now, we are looking for a layer of narrative. The glass façade of the facility's ground floor reveals huge chillers inside. We're developing a series of graphics and diagrams projected on the chillers to illustrate how the plant saves energy and reduces water usage. The projections have the flexibility to change based on local or university-related events. We're also proposing programmable LED lighting for the exterior building scrim, which may even open the door to a dose of augmented reality. The project is still in the earliest stages, but it is potentially another way to connect with the community and celebrate the client's commitment to innovation, sustainability and advancement.
Experiential design is coming into its own. Every project, no matter how small or utilitarian, can add a distinct character to its environment and foster civic pride and a sense of place. What used to solely cover murals or wall graphics has now expanded into dimensional and multi-media design, consumer experience and interactive design, public art, augmented reality, and research. But, whichever services or talents we tap, we always come back to the idea of storytelling. By harnessing the power of these creative outlets within the built environment, we're building places that will last, as well as anchors for neighborhoods, communities and cities.