Correcting Misconceptions: The Comprehensive Value of Interior Design

Jennie Arnett shines a spotlight on the often behind-the-scenes value of interior design.
I recently attended an event that included members from all disciplines of our industry: owners, designers, construction managers, GCs, engineers, and vendors. The moderator asked each of us to suggest a topic for discussion. As the only interior designer in the room, the moderator jokingly asked me if I wanted to discuss the selection of carpet. I admit that the question caught me off guard, but it also reiterated to me the extent of the misconceptions and misunderstandings about what interior designers actually do and what we bring to the table. It got me thinking: How can we better describe the value of interior design and our roles? And how do we better educate others to combat the bias that we are simply the people who pick out the carpet and color palettes?
Thankfully, legislation is backing us up. Illinois just became the most recent state to codify what being an interior designer is, the value we bring and our major contributions to the built environment. Following similar laws in both Wisconsin and North Carolina, the new law "honors interior designers as distinct professionals in the design community and acknowledges the crucial role interior designers play in protecting occupant health, safety, and welfare." This is, of course, great news. But we still have a long way to go before this is a national conversation.
DESIGN BRINGS VALUE. GREAT DESIGN BRINGS GREAT VALUE.
Design in general is abstract and a hard concept for people to grasp. Design of space can be a "feeling" or something else that can be difficult for people to explain. Good design includes both form and function of spaces—we want it to work well for the people in the space and we want it to be aesthetically pleasing. Design is also subjective. What works for one client typically does not work for the next. But how does that translate to value?
Interior design is an investment by the owner or client. This crucial investment can sometimes be overlooked even by others in our own industry. It is work often done "behind the scenes" and well before construction documents and the incorporation of other disciplines. They don't see the effort around programming with the client, designing and redesigning based on shifting needs or wants (or pandemics!), or working around budgets and supply chain issues. They don't see the months, or even years, that designers have put into the project before the drawings are even completed and construction can begin. We seek to understand the client's vision and turn it into reality through the design process. Once we see that bigger picture, the value is undeniable.
ELEVATING THE PROFESSION
In popular culture, there is a tendency to equate professional interior designers with hobbyist "interior decorators." Both careers deal with the interior of the built environment, but, for the most part, the similarities end there.
Although interior designers can work on single rooms, more often than not we are working on entire buildings, large projects, mixed-use developments, or even portfolios with hundreds of real estate assets. Buildings have become incredibly complex organisms requiring new technology and systems that can be adapted to future needs. Interior designers have kept step with these sometimes dramatic changes to the built environment. And we must maintain ongoing learning credentials even after completing initial education requirements.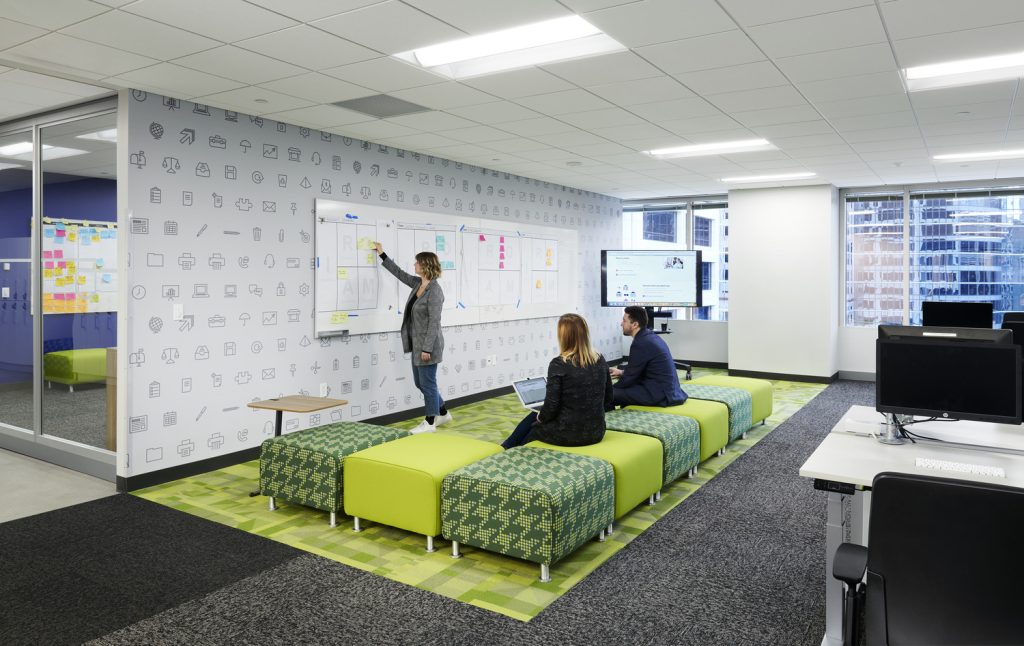 In our degree programs and continuing professional development, we learn about spatial concepts, ethics, life safety, accessibility codes and regulations, durability of products, and longevity of trends. We learn multiple drafting and rendering programs to convey our designs to the client and broader construction document team. We work on presentation skills and translating our ideas to gain client buy-in on our designs. Interior Designers also stay up to date on the latest design technology, including Augmented Reality. And if you see a LEED Certified building or a sustainable project, it's almost guaranteed than an interior designer had a major hand in selecting materials, layouts and design strategies that benefit the wellbeing of the users and the environment.
In many ways, we bring a similar level of knowledge, expertise and training that architects offer a project. Finally, legislation and attitudes are starting to catch up to this reality.
THE WHY BEHIND INTERIOR DESIGN
A student asked me recently why I went into Interior Design. My response was that interior design (good or bad) is around us all the time. Most of the time we don't even realize it. Designers are in tune with interior spaces and notice the little things. We might touch a wall vinyl or turn over a chair to see who made it (we've all done it!). We are "hands-on" people and get the opportunity to work closely with many other disciplines in our industry. Interior designers influence almost every angle of the human experience in a built environment. We often make places feel the way they feel in tangible and intangible ways. When done right, it is a powerful job that changes how people experience the world.
Once people see the value we bring, they understand what we do on a much deeper level. But until every owner, developer and GC has the chance to work closely with an interior design team, the onus is on architects and interior designers to support and promote the fundamental value we provide on every project.