Breaking the Employee Burnout Cycle with Workplace Strategy

This article was originally published in Work Design Magazine.
In honor of Mental Health Awareness month, RSP explains why workplace strategy is crucial to avoiding employee burnout and how organizations can use change management to help their people thrive.
May is Mental Health Awareness month. As more people head back to the office in person, it's a great time to reflect on how the workplace can affect mental health, both positively and negatively.
First, let's define the problem. Virtually everyone has experienced major upheaval since 2020. In the workplace, that has translated to widespread burnout across industries, markets and sectors. Earlier this year, theAmerican Psychological Association found that nearly 60% of employees reported negative impacts of work-related stress. And 36% reported mental weariness. Nearly half (44%) reported physical fatigue, which was a full 38% increase over 2019. And that's not the only study showing the effects of work stress. A recent global survey by Deloitte found that nearly 40% of women looking for a new job cited "burnout" as the main reason.

There's no question that this is feeding into "The Great Resignation," causing record turnover for many organizations. Companies have responded in myriad ways to retain and attract talent. Flexible schedules, hybrid work models, health and wellbeing-focused office environments, and hiring frenzies are just a few. But without the foundational principles of workplace strategy and change management in place, the uphill battle of avoiding employee burnout can become nearly impossible.
Strategizing to Avoid Employee Burnout
When any organization is dealing with high turnover and employee burnout, it takes true collaboration, deep reflection and meaningful listening to fix the problem. At RSP, we often start with executive and employee surveys to uncover the biggest challenges. Some deep-seated issues may be obvious to everyone. But it often takes the right process and an expert third party to pinpoint the source and begin to solve the problem.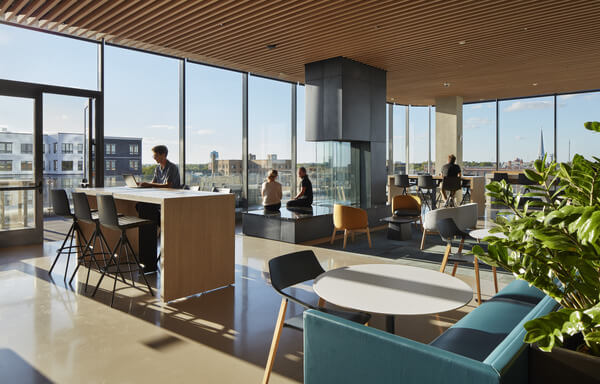 Of course, every organization is unique—there is no one-size-fits-all solution to workplace strategy and change management. But after working with many companies facing similar issues, we have developed a suite of services and general recommendations that we customize to help organizations reclaim, rethink and improve their company culture.
1. Be Flexible
For knowledge workers, the hybrid model is having a huge moment. When done right, with proper tools, policies, design and change management, giving people the flexibility and control to choose which days they come into the office can make a huge difference to employee mental health. We have found in our workplace surveys that the hybrid model can help employees feel valued and seen. And in logistical terms, it gives them their commuting time back on the days they work from home. That offers the possibility of working on hobbies, spending more time with loved ones, getting exercise or just getting a little more sleep, all of which are tied to better mental health.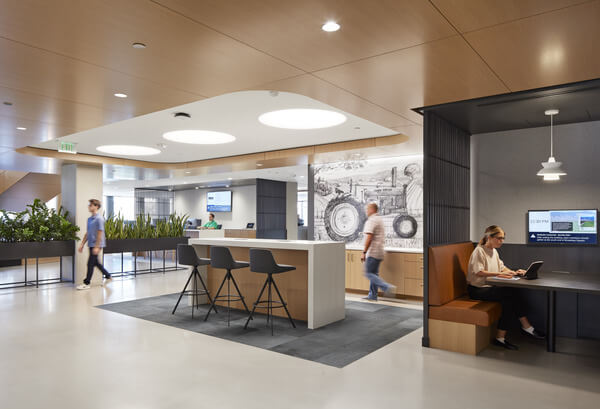 With that said, we know that the hybrid model is not an option for every organization. Product, market, company culture, existing office space and available technology all determine whether a hybrid model will work. In that case, it is still important for companies and managers to offer some level of flexibility and autonomy. Offering flexible hours or more part-time options is one way to do that. Designing an office that provides different environments to support different activities is another. In any scenario, the priority should be about giving employees agency over how, where and when they work best.
2. Give People Choices to Avoid Employee Burnout
In the physical office environment, activity-based work is a proven way to foster collaboration and show respect for different work styles and preferences. It can also improve employee well-being by offering the choice to do heads-down work at a quiet workstation, take a phone call in a huddle room, or collaborate in a comfortable, open space.
3. Don't Underestimate the Power of Comfort
I was struck by the stat that workers reported a 38% increase in physical fatigue compared to 2019. While, certainly, mental health challenges can cause physical ailments, a comfortable workplace can help. Ergonomic workstations, adjustable chairs and monitors, opportunities for movement and different seating postures can all enhance physical comfort. Biophilic design, daylighting, access to outdoor spaces, living walls and indoor plants can have a huge effect on mental health. These are all things that are easy to incorporate into almost any office setting.

4. Communicate, then Communicate Some More
A strong change management and workplace strategy program hinges on communication. Whether an organization is shrinking the floorplate because so many people are working from home, renovating to accommodate a hybrid model, or getting things back to something resembling "normal," talking to employees is absolutely crucial. Explain what is happening and why and do it across channels in different formats. Have a consistent message and be prepared to answer detailed questions. Make sure leadership is on the same page. And try to accommodate different needs and preferences as much as possible. Make sure employees feel that they are part of the process, instead it being something "done to" them. When you place employees in the center and treat them like the assets that they are, it goes a long way to supporting their mental health at work. And, hopefully, prevent burnout from happening in the first place.