Anchors Away

RSP Transforms Single-use Shopping Centers Into Multi-use, Community-Centric Districts
As more malls see their anchor stores shut their doors, RSP's Jeff Hysjulien and Ryan Sommers detail several ways developers can reposition their properties and reclaim them as community hubs. 
For a number of reasons, not least of which is the global pandemic, consumers have fundamentally changed the way they shop. No one knows that better than mall developers. The numbers back up the story we already know—more than 15,000 stores closed in 2020, many of them national or regional chains that were the engines of hundreds of malls across the country at one time.
When anchor stores close, it often has a series of knock-on effects: co-tenancy agreements can become null and void, for example, sparking a death spiral for in-line shops. Or, because of complex ownership structures, sites can sit vacant and dark. In all cases, foot fall and sales decline, leaving mall owners and developers scrambling to repurpose the space and stay in the black. As designers and planners, we've seen (and tested) a lot of different ideas to solve this problem, from turning a former department store into an urban farm to repurposing the space as a logistics or shipping center. While these ideas might be viable in the right context, they often face zoning or entitlement challenges and don't bring foot traffic back to the mall, potentially making a bad situation even worse.
For developers facing one or more closing anchor stores, we have some tried-and-true steps they can take now, in the near term and in the future that will take their shopping centers where they need to go.
1. NOW – REPURPOSE
When an anchor store closes, the best possible scenario is to find another comparable retailer to fill the space, but that can be challenging at the best of times. One option is to reduce the footprint of the anchor by extending the rest of the mall, allowing for a new mix of tenants. Another option is to think outside the "department store box"—food halls and entertainment/hybrid tenants (or "eatertainment" to some) can draw the community back to the mall without going through a full redevelopment. The important thing in this situation is to have a longer-term plan for development that will allow the shopping center to be what that community currently needs and in years to come. And, even more importantly, make sure that any moves made now won't hamstring progress in the future.
2. NEAR – REPOSITION
When we look at the big picture, the truth is that we are vastly over-retailed in the United States. Malls went up left, right and center for decades and we ended up with too many physical stores to serve a population that now does a good amount of browsing, product research and purchasing online. This is certainly the reality for our clients, who are looking exclusively at redevelopment plans that have less retail GLA.
When we help a client reposition a property, we focus on bringing the community back to the shopping center and giving them a reason to stay. More developers are looking to replace shuttered anchors with outdoor space designed with the intent to provide seasonal activities that encourage people to extend their visit. And the architecture and design make a big difference to the feel of a center—seemingly simple touches from seating to landscaping to signage to local art can have a huge impact on how a community thinks about and interacts with a particular shopping center.
The emphasis, of course, shifts from the brick and mortar to the public realm. Often, we create highly programmable spaces to showcase events that appeal to a broad demographic: moms for morning yoga, teens for after-school and families for weekend farmers markets or movie nights. In these days of social distancing, streetscapes and plazas offer more opportunities for small, socially distanced clusters of people rather than one large crowd.
As large-format anchors are replaced with public and community spaces, vast parking lots become less important as well. By focusing on gathering points, circulation, activating the street level, and walkability to the rest of the neighborhood, developers can more easily ready themselves for the future of truly mixed-use development, where the former parking lot may be replaced with residential, transit or something else entirely.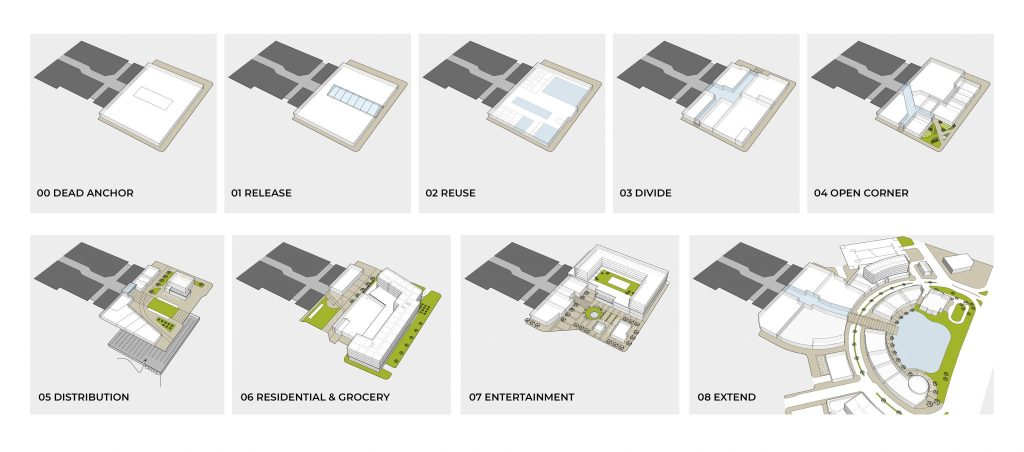 3. NEXT – REMIX
In the long term, we are going to see a sharp decrease in the number of single-use retail centers and instead see an even bigger rise in mixed-use development.
For centers with a smaller footprint already, this may mean vertical expansion for hospitality or residential components. For others, it will mean shrinking the retail space and considering the best mix of residential, hospitality, office and entertainment. We're even seeing some clients consider senior housing, townhouses, and healthcare facilities.
Of course, it's not as easy as just adding an apartment complex in the parking lot. One of the tricky things about adding residential to a retail center is that people don't necessarily want to feel like they live in a mall, so good urban planning is key—strong pedestrian connections inside and outside the property, links to transit, and creating a sense of place through artwork and strong architecture can go a long way to making people feel at home and boosting the financial viability of the entire property. Similarly, the idea of creating distinct addresses for the diverse components is also essential to establishing a degree of "separation" while maintaining a sense of cohesion and community.
We are beyond the point of denying that the traditional shopping center model—single use, enclosed and anchored—has slipped into posterity. Sure, some malls continue to thrive but too many face an uncertain future because of shifts in demographics, culture and habits. COVID didn't cause this shift, but it certainly accelerated it. It doesn't mean these properties have lost value or purpose; it simply means that we have to be more creative and diligent in uncovering that value.