RSP Projects Honored at 2020 AZRE RED Awards
AZRE Magazine held its annual Real Estate & Development (RED) Awards virtually this year. The event is the largest real estate gathering in Arizona and represents the best commercial development projects throughout the state. RSP-designed SUPIMA headquarters won  "Office Project of the Year (Less than 100K SF)," while two additional RSP projects were announced as finalists.
WINNER
Supima: Office Project of the Year (Less than 100K SF)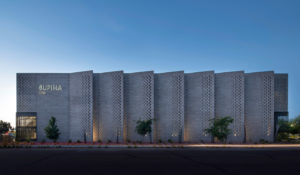 The design of the project takes inspiration directly from the owner, SUPIMA, who licenses extra-long staple cotton for use in everything from household goods, to clothing for premier fashion brands. Having first been developed for use in the aviation and automotive industry, it is now synonymous with luxury and is used by some of the world's most renowned fashion brands. We've used a similar contrast to inform the design: utilitarian on the exterior while maintaining an elegance on the interior.
Owner: SUPIMA
General Contractor: Jokake Construction Services
Architect: RSP Architects
Subcontractors: Pangolin Structural, Wood Patel, MSA Engineering Consultants, Norris Design, Stone Cold Masonry
FINALIST
NAU Kitt Recital Hall: Education Project of the Year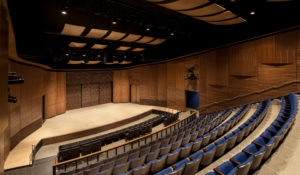 The Kitt Recital Hall is a partially donor funded project fulfilling a long-term need of the School of Music and vision of Northern Arizona University to unify and elevate the arts on campus. The project creates a new link between the existing Ardrey Auditorium and Performing and Fine Arts facilities. The addition provides universally accessible entry lobbies, pre-function space and a 255-seat intimate and highly technical music hall. The renovated space integrates modernized technologies for acoustics, mediated technology and integrated the campus design standards for teaching and learning.
Owner: Northern Arizona University
General Contractor: CORE Construction
Architect: RSP Architects
Subcontractors: Meyer | Borgman | Johnson; McKay Conant Hoover, Inc.; Henderson Engineers; Peak Engineering; The Ruzika Company, Inc.
FINALIST
Confidential Financial Client: Office Project of the Year (More than 300K SF)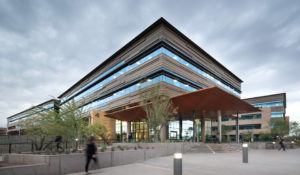 The new 330,000SF build-to-suit office building is comprised of four wings, separated by a multi-story main hall that provides natural light through the center of the building, creating visual connections between floors while encouraging a sense of community. Complementing the existing buildings on campus, the design integrates new textures and patterns using sandstone and integral colored exposed concrete. Inspired by a canyon's water-carved horizontal strata, undulating metal panels fold to catch rays of sunlight. The building entries are accented with folded copper sculptural canopies celebrating one of Arizona's natural resources.
Owner: Confidential Financial Client
General Contractor: Layton Construction
Project Manager: JLL
Architect: RSP Architects
Subcontractors: Suntec Concrete, Coreslab Structures, Wilson Electric, Olympic West, E&K of Phoenix
To read more about all of the Finalists, see the March/April issue of AZRE magazine. Watch the full awards ceremony here.