Downtown Minneapolis building with Bob Dylan mural gets renovation
By Nick Halter, Minneapolis/St. Paul Business Journal, Feb 2019
The century-old 15 Building in downtown Minneapolis has a new look thanks to a multimillion-dollar renovation.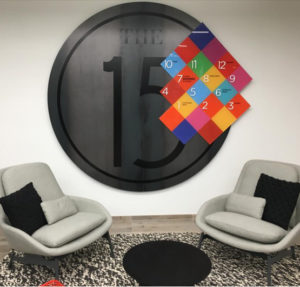 The 12-story building at 15 S. Fifth Street has a new bike lounge with lockers and showers. A new skyway-level tenant lounge has beer and nitro coffee taps and a conference room. On the office floors, crews have removed drywall to exposed brick and concrete. They installed new lighting and remodeled bathrooms. Retail storefronts on the first- and skyway-levels have new finishes.
The renovation was designed by Minneapolis-based RSP Architects.
Newmark Knight Frank brokers Erik Ordway and Brent Erickson hosted an open house last week to show off the improvements. The 135,000-square-foot building has a 35 percent vacancy.
"We're optimistic the renovation will allow us to fill it up by the end of 2019," Ordway said.
Tech firm Taoglas, a designer of radio antennas, has leased space on the first floor. Church & Dwight, the parent company to Arm & Hammer and a Target Corp. vendor, also recently signed a lease in the building.
Chicago-based R2 Cos. and New York City-based Goldman Sachs acquired the building in 2014 for $9.3 million. They've made smaller renovations since then and commissioned a Bob Dylan mural on the west side wall, facing Hennepin Avenue.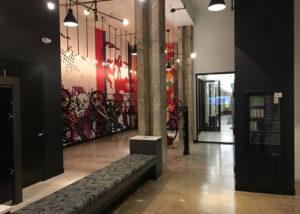 Building permits for the most recent renovation come in around $3 million, though R2 and Goldman Sachs were not prepared to comment for this story or confirm a price tag.
R2 in October acquired the Crown Center, Frost Building and 1515 Central in Northeast Minneapolis. It also owns the Flour Exchange Building.