Cool Offices: CBX Branding Agency's move to downtown Minneapolis a hit with team members
Minneapolis/St. Paul Business Journal, Aug 2018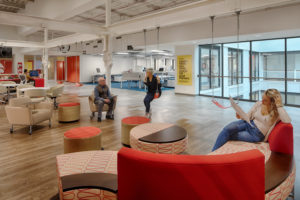 Employees at CBX Branding Agency have the good old suggestion box to thank for their swanky new digs. After nearly a decade in Deephaven, Managing Partner Nancy Brown finally gave in to the numerous requests in the company's suggestion box and made the move to downtown Minneapolis in February 2017.
"People really wanted that," Brown said. "It's attractive for young talent."
Brown says the company's move to Renaissance Square on Nicollet Mall has been great for morale and creativity. "The downtown energy helps inspire designers. I even find I like it."
Newmark Knight Frank's Jim Damiani helped CBX find its new location.
"The Nicollet Mall location gave them the walkability they were looking for, and Renaissance Square gave them a building with a creative feel to mesh with their company culture," he said.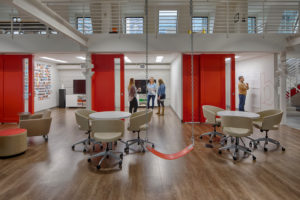 The space is bright, modern and sprinkled with fun amenities. CBX took over the 10th and 11th floors of Renaissance Square, demolishing all but 3,000 SF of the 11th floor to let in more natural light.
"By removing half of the mezzanine level, it created high, open ceilings," Damiani said. "We went on the rooftop and saw we could add windows on the west side of the space to flood that area with natural light and add a private rooftop patio."
The common space is fittingly called "The Yard." It features swings and a basketball hoop. Other playful amenities include a foosball table and ping-pong table on the mezzanine, as well as a full kitchen with built-in beer taps. A private rooftop deck offers stunning views of downtown Minneapolis.
Brown knew the office space was a hit when she found employees coming in to hang out on the weekends. One employee's wife even called to ask if they could have his 40th birthday party there.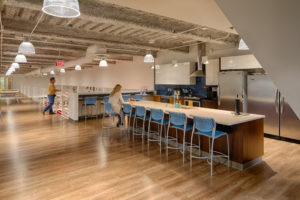 "Everyone is loving it," Brown said. "I really am happy with how it all turned out."
Business: Corporate identity, consumer branding and positioning strategy
Managing partner: Nancy Brown
Employees in the office: 27
Building name: Renaissance Square
Address: 520 Nicollet Mall, Minneapolis
Office opened: February 2017
Size: 13,000 square feet
Floors: 10th and 11th
General contractor: Welsh Construction
Architect: RSP Architects
Broker: Jim Damiani, Newmark Knight Frank