First look at Junior Achievement of the Upper Midwest's new St. Paul HQ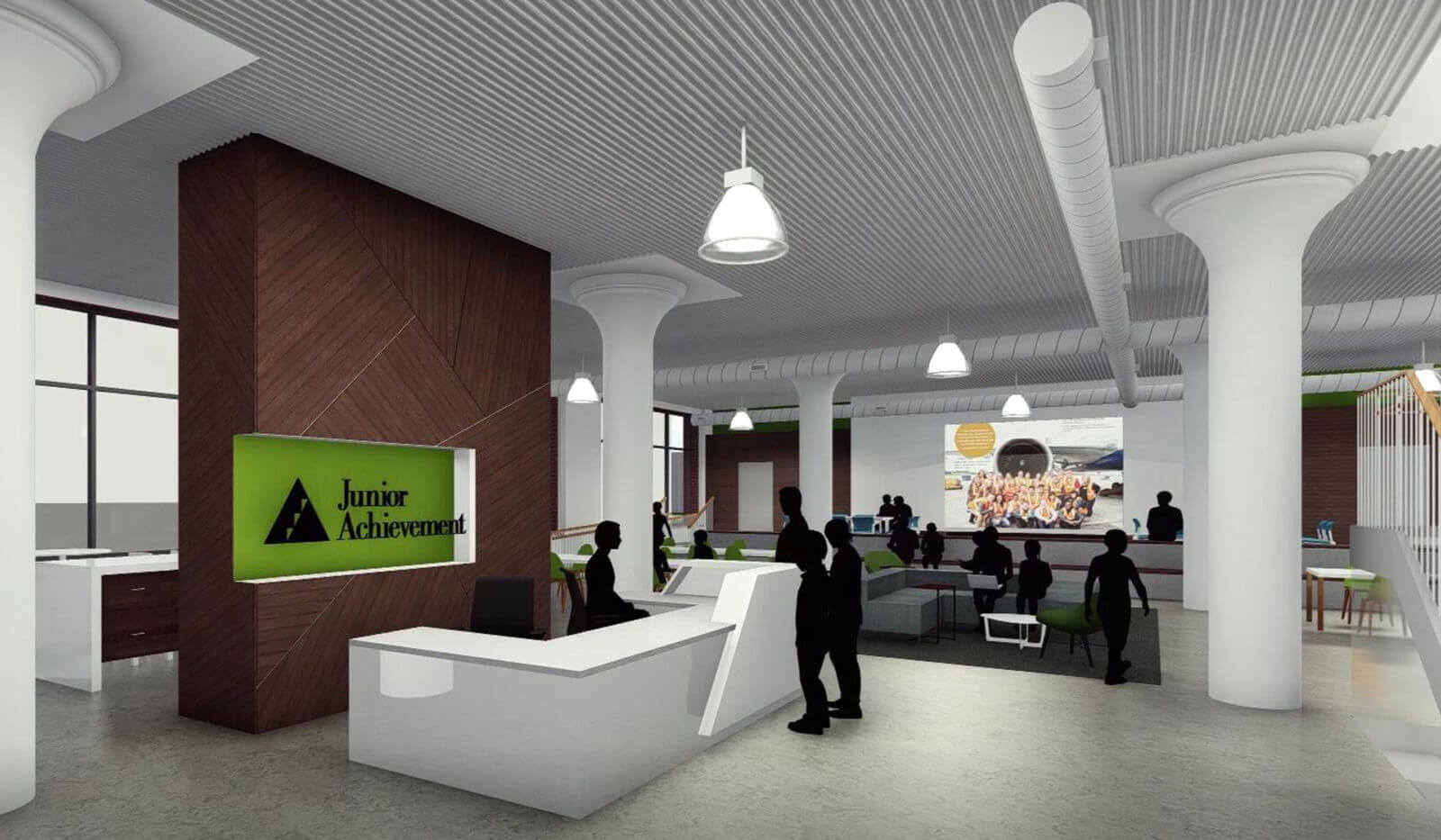 Innovative experiential learning facility will open January 2019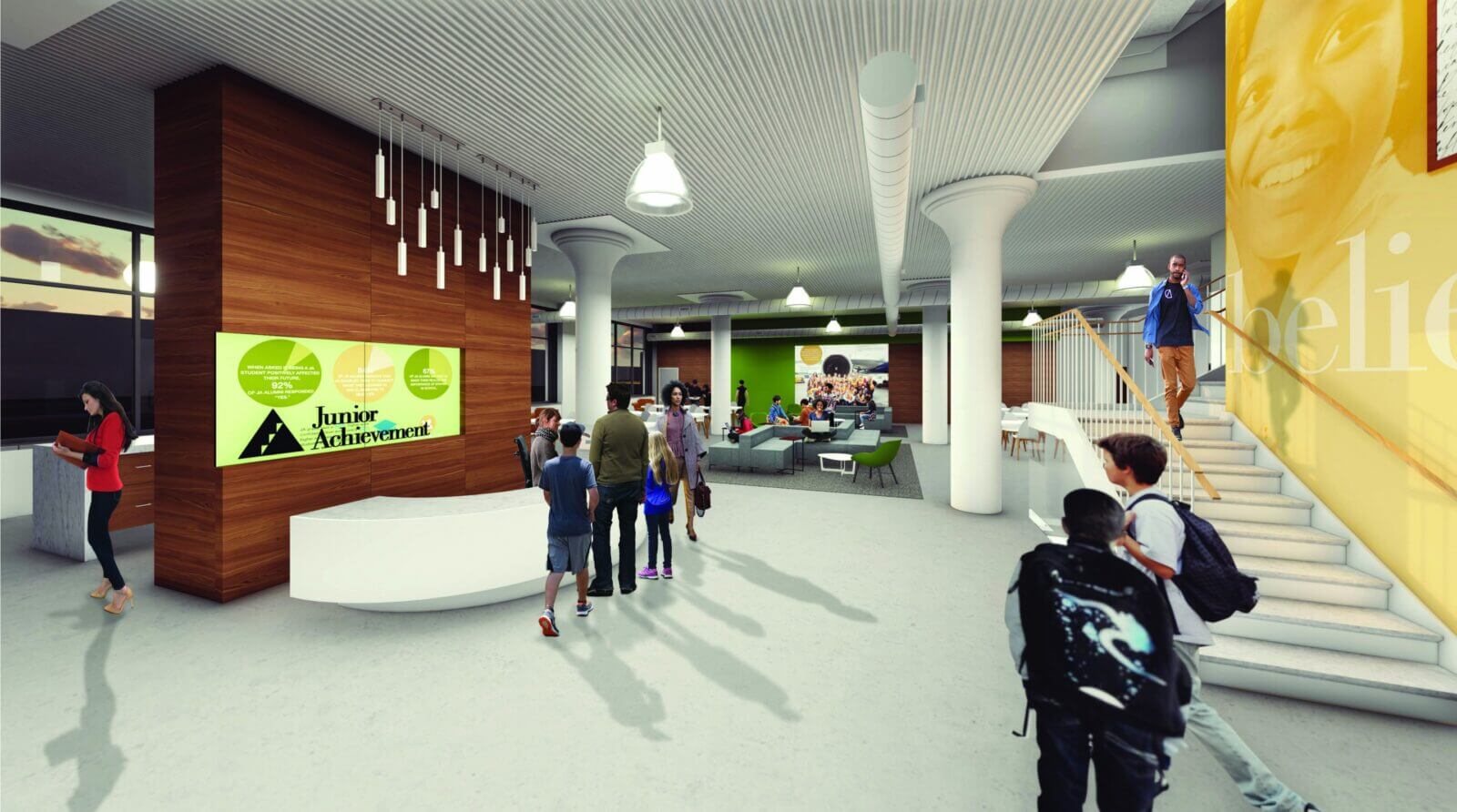 MAPLEWOOD, MN (30 July 2018) — Business leaders, educators and state and city officials received a first look at Junior Achievement of the Upper Midwest's (JAUM) future headquarters, slated for a November opening with the first students using the facility the week of January 7, 2019. The Junior Achievement James R. and Patricia Hemak Experiential Learning Center is centrally located in the Midway neighborhood of St. Paul, right on the Green Line light rail. The new building will enable JAUM to double the number of students served each year by its on-site experiential programs from 17,000 to 34,000.
JAUM purchased a 100 year-old building at 1745 University Ave W. in St. Paul, which has been redesigned and refurbished to meet its specific needs with the help of RSP Architects and Mortenson Construction. The new building will house three experiential learning labs, including expanded JA BizTown and JA Finance Park programs and a first-of-its-kind JA Innovation Incubator.
JA BizTown is a fully interactive free-market lab where students in grades 4-6 learn what it means to be responsible business leaders, consumers, workers, and citizens by participating in this simulated community. Students perform specific jobs within each of the 18 different shops, each of which offers a consumer product or service. Shops are sponsored by Minnesota's leading companies representing their industry or profession.
JA Finance Park teaches middle and high school students about personal finance and career exploration through classroom instruction complemented by a day long hands-on experience where students apply learned concepts in a life-like community.
JA Innovation Incubator will encourage high school students to cultivate their entrepreneurial interests and develop relationships, talents and skills to build self-confidence. Students will have access to state-of-the-art technology, including a digital business start-up platform, and the opportunity to learn from local entrepreneurs.
"Junior Achievement is a valuable partner in preparing today's young people for a successful future," said Saint Paul Mayor Melvin Carter. "The more we can encourage kids to stay in school and learn, the more prepared they will be to succeed in the workforce and contribute to our community. I am honored to welcome Junior Achievement to the City of Saint Paul."
Spurred by a lead gift of $4 million from retail industry entrepreneur and JA alumnus Jim Hemak and his wife, Pat, and $1.4 million donated by the JAUM Board of Directors, the organization is now less than $2 million away from its $20 million fundraising goal for the Let's Build campaign. The campaign supports the purchase and renovation of the building and will also help grow the Junior Achievement Foundation of the Upper Midwest by providing funding to meet new demands for program expansion, operating needs, technology upgrades, and the ability to continue providing Junior Achievement programs to local schools at little or no cost.
Students from throughout the metro area, as well as from greater Minnesota, will benefit from the programs housed in the new facility. The urban location and proximity to light-rail and bus transportation make the new facility more convenient for students during in-school and after-school programs.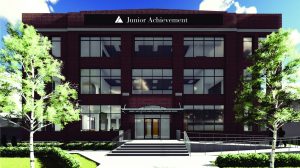 "We're excited to move to a central location that is more easily accessible to our students, volunteers, and business partners," said Gina Blayney, JAUM President & CEO. "Our larger building and state-of-the-art technology will make it possible for us to impact thousands more students each year with our experiential programs. We are building a 21st century learning center for our region."
Demolition of the building began in March 2018 and involved "gutting" each of the four floors, leaving only the exterior structure, floor slabs and columns. There are currently 40 workers on-site that are busy putting up walls, painting, installing casework, ceiling and bathroom tiles. Work on a new glass canopy with painted steel support will wrap up at the end of August and a grand staircase will finish early September. Crews are also readying the 18 shops for JA BizTown and 18 shops for JA Finance Park that will serve as a blank slate for sponsors to create an inspiring learning experience for students. The new space will be ready for move-in early November with programming beginning January 2019.
"Mortenson is excited to partner with JAUM to help them expand and grow their services for the community," said Kelly Mansell, Director of Operations at Mortenson. "We've been a sponsor of JA BizTown's Construction Center since 2012 and we're excited to continue joining forces to empower students to realize their full potential."
"The utilitarian simplicity of the original structure was a perfect shell and loaded with potential," said David Serrano, AIA, RSP Principal and lead design architect. "Its simplicity pushed the boundaries of the program and created unique design opportunities such as the central stair. It was really a reductive design exercise."
JAUM is making a significant commitment to sustainability. Through a partnership with the U.S. Green Build Council (USGBC) to integrate sustainability strategies into the building, including solar panels, energy efficient water heaters and HVAC system, and low flow toilets. JAUM will utilize USGBC's ADVANCE program to track operational performance to achieve LEED certification. Students will support this effort by tracking key LEED certification requirements, including water usage, recycling practices, and energy audits. Teachers, volunteers, and corporate partners who visit the building will be encouraged to embrace sustainability practices, such as using public transportation, carpooling, and packing zero-waste lunches. Students participating in the JA BizTown and JA Finance Park simulations will learn about sustainability technologies, careers, and education requirements, and teachers will be provided with sustainability-focused curriculum that they can implement in their classroom. In addition, several shop sponsors in the experiential learning labs will implement at least one of the key LEED certification requirements. This sustainability strategy will be a true collaboration between JAUM and its volunteers, educators, and business partners.
To learn more about JAUM's future home, the Let's Build campaign, or to make a secure online donation, visit letsbuild.jaum.org.