Top Projects of 2017: TRIA Orthopaedic Center
By Frank Jossi, Finance & Commerce, July 2018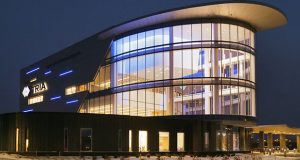 When the sports medicine and orthopedics clinic TRIA began looking for a new location on the east side of the Twin Cities, it wanted a highly visible spot patients could easily reach. CityPlace in Woodbury turned out to be the choice, with its perch overlooking I-94, a host of retail stores and a hotel.
The architecture is attention-grabbing too, with a semi-circle of glass encompassing a three-story atrium that carries the name "The Beacon" and has a ceiling filled by the constellation Aquarius.
"You can take in the full breadth of services offered at TRIA Woodbury just by standing in that main lobby," said Steven C. Housh, vice president of TRIA's Orthopedic and Rehabilitation Services. "It helps patients get oriented to what we offer pretty quickly."
Another area the clinic considered was the flow of patients and how spaces and specialties can connect to one another to improve efficiency, he said. Artwork highlights sports, fishing, bicycling and other activities "that folks do in everyday life," he said, but cannot because of injuries, Housh said.
The clinic touts the Acute Injury Clinic and Orthopedic Urgent Care center on the main level as the first in the region, and visitors can easily spot it, by design. TRIA employed another design element where physicians and staff enter treatment rooms through a separate door leading from the shared office clinical workspace, a common trend in health care facilities.
"It allows for a calm, gentle peaceful interaction for patients and it's efficient for the care team," Housh said.
The second floor has space for physical therapy, a hydrotherapy pool and an indoor throwing lane where physicians take videos of recovering patients for later study. The third floor is a surgical area.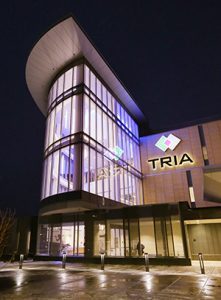 The Beacon area glows with different colors reflecting the region's professional sports teams or medical causes. "This gives us a chance to highlight whether it's raising awareness around breast cancer or promoting the Minnesota Wild in the playoffs," he said.
Address: 155 Radio Drive, Woodbury
Project cost: $50 million
Project size: 94,000 SF
Owner: HealthPartners
Contractor: Kraus-Anderson
Architect: RSP Architects
Engineer: Dunham Associates (mechanical, electrical, plumbing); Meyer Borgman Johnson (structural); Westwood Professional Services (civil); Damon Farber (landscaping)