Hy-Vee + Wahlburgers: Opening First Minnesota Location
Hy-Vee partnership will help the Wahlburgers chain to double in size.
By John Ewoldt, Star Tribune, May 2018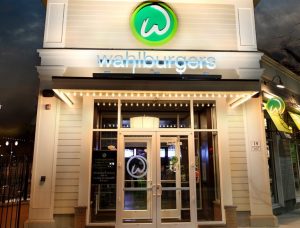 Does Wahlburgers have the right stuff to hang tough among restaurants like Shake Shack and Twin Cities Grill at the Mall of America?
Hy-Vee hopes so.
On May 22, the grocery chain enters a new business by opening the first of 26 Wahlburgers restaurants in a franchise arrangement with the Boston-based company of celebrity brothers Mark, Donnie and Paul Wahlberg.
The MOA location will be the first in Minnesota for Wahlburgers, which has 26 locations in 11 other states and Canada. The chain is known for its proprietary blend of beef, housemade sauces and dressings, and sides such as mac and cheese with smoked bacon and adult frappés.
The grand opening will be celebrated May 31 with an appearance by the three brothers in the mall rotunda at 6 p.m. Mark Wahlberg was briefly a member of New Kids on the Block and later became an underwear model, producer and actor. Donnie was a founding member of New Kids and currently stars in "Blue Bloods" on CBS. Their older brother Paul is an executive chef, who started Wahlburgers with his two brothers. The first location opened in 2011 in Hingham, Mass. An A&E Network reality show about the restaurant started in 2014.
"Hy-Vee is excited to launch the first of many new restaurants in partnership with Wahlburgers, and to bring a new dining experience to the Twin Cities," Randy Edeker, chief executive of Hy-Vee, said in a statement. The West Des Moines-based supermarket plans to open Wahlburgers restaurants in eight states.
The 5,500-square-foot restaurant has music and a full bar, seats 200 and will be open from 10:30 a.m. to 10 p.m. Sunday to Thursday and 10:30 a.m. to 11 p.m. Friday and Saturday. It is located in the newer second floor north wing near Zara, directly below Shake Shack.
The next partnership restaurant to open will be near Jordan Creek Mall in West Des Moines in the fall. About that time, Hy-Vee will begin offering some Wahlburgers menu items in its Market Grille restaurants in Hy-Vee stores.
As part of the collaboration, Hy-Vee has already begun selling three varieties of Wahlburgers Black Angus beef, including burger patties, mini patties and signature ground beef, all made with a blend of brisket, short rib and chuck roast. Hy-Vee has other partnerships with Mark Wahlberg, including Performance Inspired nutrition products and AquaHydrate water.
"It's a relationship that's grown with Mark, then Paul Wahlberg," Edeker said in an interview last year. "We think it's a good tie-in."
Hy-Vee has eight Twin Cities locations in New Hope, Oakdale, Lakeville, Brooklyn Park, Eagan, Savage, Cottage Grove, and Shakopee. Robbinsdale will open in the fall.