Art Shanty Artists Interview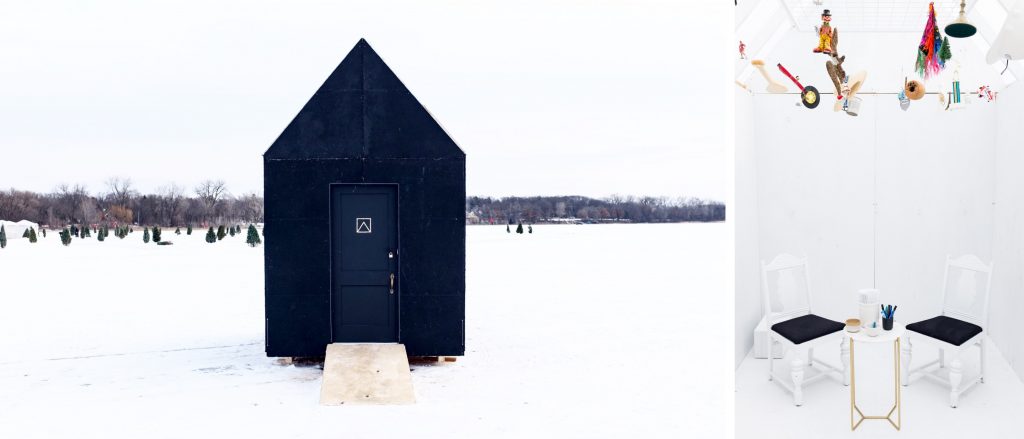 Inspired by ice fishing houses found on frozen Minnesota lakes throughout winter, the 2017 Art Shanty Projects on White Bear Lake feature 20 artist-driven structures designed to engage community. Three RSP designers participated in designing two unique structures for this year's event:
Conversation Booth by RSP's Alexandra Eninshche and friends invites strangers to meet each other and slowly reveal themselves via "phone booths."
Ghost Shanty by RSP's Sean Higgins and Joe Mollen (+ a team of others) features a collection of cherished trinkets steeped with meaning and memory.
To learn more, we talked with Sean and Joe about the experience.
Q: What inspired you to participate?
Sean: It's such a unique opportunity. It's a month long event, so whatever we produce has some shelf life; it is also a festival on ice, which I kind of love. There's the attempt to evoke architecture; a shanty is a structure or shelter and that is immediately architectural, as opposed to other creative events that tend to be more performance art or visual graphics. This was simply about space and how people experience it, which I thought was a good way for designers to step into the artistic world.
Q: Tell us about your concept.
Sean: Our original concept was this idea of creating a vessel through which you experience the vernacular Minnesota culture. The "ghost" was the invisible Minnesota., not the Sven and Ole narrative or Lake Wobegon. That's not really Minnesota, we are actually a diaspora of different cultures so our original concept was to highlight that contrast.
Joe: But we weren't sure how to represent that, so we explored a range of ideas. Ultimately we really connected with the idea of collecting the trinkets or tchotchkes (objects) people collect. Which isn't just a Minnesota thing. Many of us like to collect items that hold meaning for us individually, but have no real value. For the person who keeps the item, it has tremendous meaning and memory. There is real emotion attached to it. So we started collecting tchotchkes, asked why there were kept, what meaning they held.
Sean: So now we have all these collected memories hanging from the ceiling of our shanty. We are encouraging visitors to write about their own items and memories on the walls. We want people to leave their marks, to recall the ghosts from their pasts.
Q: Both of you are busy designers, so why spend time and energy outside of work on something like this?
Joe: I'm passionate about creating things, especially physical things. At RSP, the projects we work on are larger scale, confined by codes and regulations and often long-term. This was an opportunity for creative freedom; it's completely different than what we typically do. Plus, we built it, we put our design together and learned a lot in the process.
Sean: When you build your own design, you are forced to really understand it in a new way, to understand materiality and how things interface. The way a wall meets a ceiling or the way you've articulated the façade. A true understanding of space at that scale is really important.

Q: So what have you learned as a result of this that will impact your day-to-day-work?
Sean: First, there is learning how to develop a design concept around a theoretical position, but I was more surprised to learn how hard it was to execute our design within a tight budget and timeframe with a small but diverse team of individuals. Managing multiple things at once, including the interpersonal relationships among the team, all while trying to maintain quality and the integrity of the original design was very, very hard.
Joe: It was a great experience to understand detailing from a construction point-of-view. We often found ourselves changing our own drawings on the fly because when we were building it, we realized there was a better way. It will impact the way we think about what we draw and how things actually come together.