Vegas Developer Bringing Marriott AC to Phoenix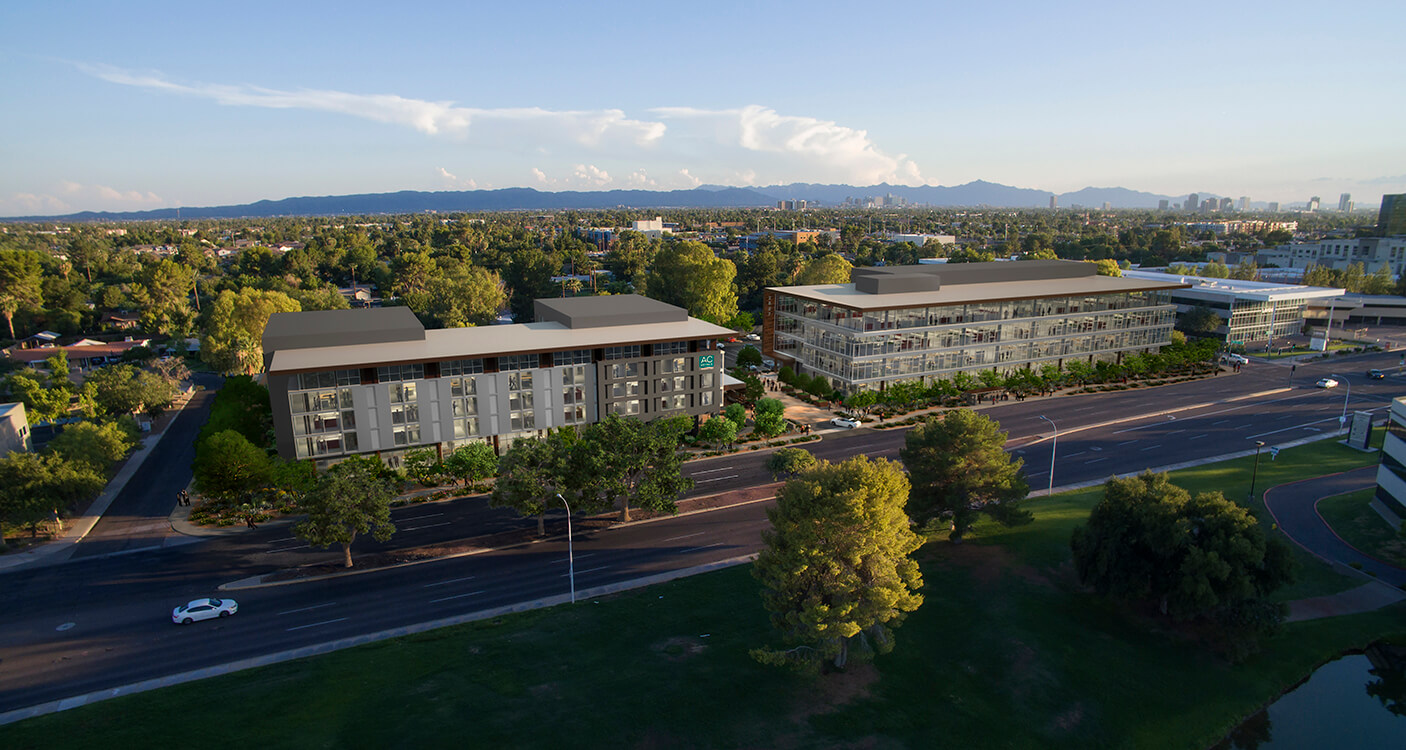 LaPour Partners Announces Design-Build Team
for Office/ Hotel Development
by Isabel Menzel, Commercial Executive Magazine
Originally published February 8, 2017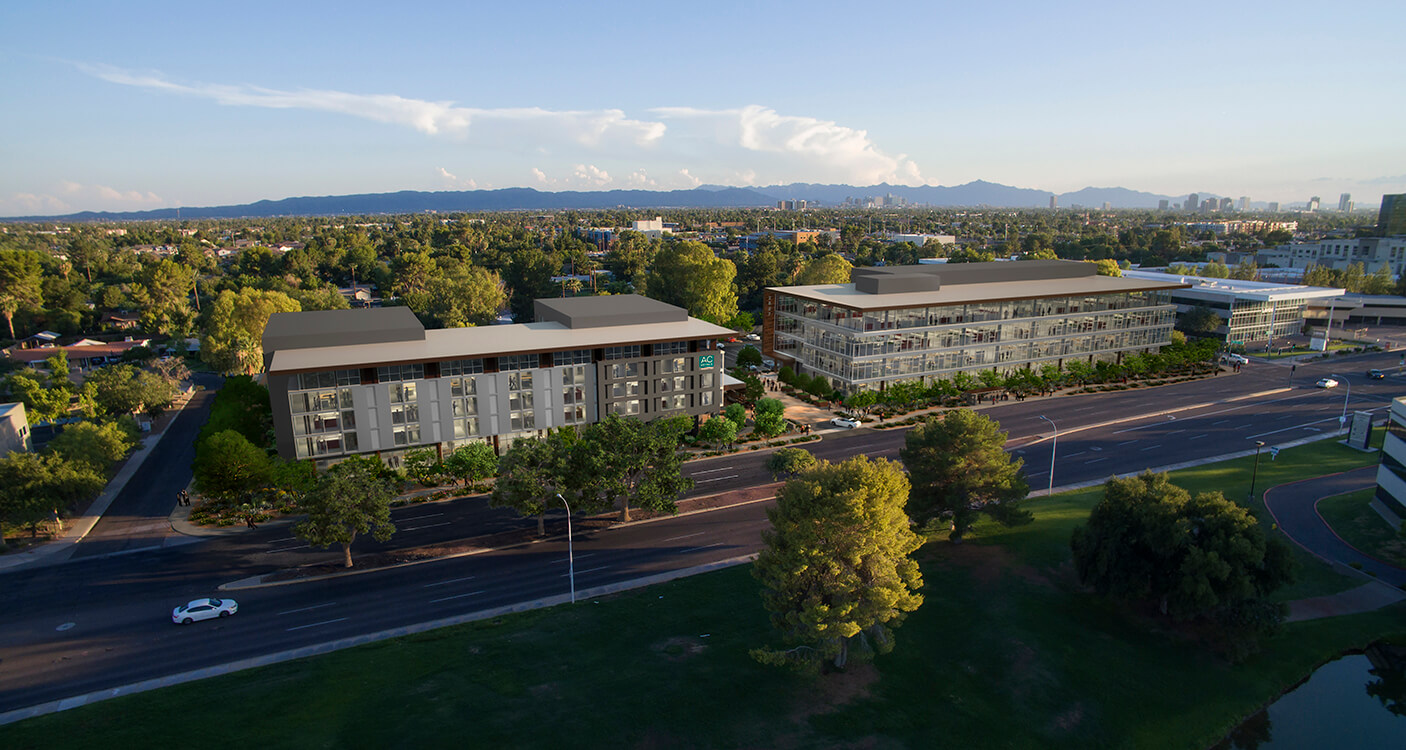 Phoenix, AZ – Las Vegas-based developer LaPour Partners has announced that Graycor Construction Company will lead the design-build construction of Camelback Collective, a highly anticipated, mixed-use development featuring 120,000 square feet of modern Class A office and a 160-room AC by Marriott hotel in the heart of Phoenix's Biltmore Financial District within the Camelback Corridor.
Camelback Collective's design-build team is comprised of Graycor Construction Company as the design-build contractor and multiple design and trade partners including RSP Architects, Hunter Engineering, Suntec Concrete, PK Associates, Aero Automatic, Wilson Electric and HACI Mechanical. Jerry Roberts and Patrick Boyle of CBRE are the project's exclusive office brokerage team.
"Camelback Collective is a high-profile project for the area and our partners. We are pleased to have an experienced group of design-build professionals working alongside us," said Jeff LaPour of LaPour Partners. "I am confident the creativity and specialized skillset of our team will contribute to the success of this exciting development."
"Our team has worked in successful tandem many times before," said Todd Ostransky, Graycor Construction Company General Manager – Southwest Division. "We place a high value on collaboration, communication and accountability, all of which are essential when working on projects of this complexity in tight urban settings. Graycor has a 95-year history of managing projects of this nature and we look forward to putting our expertise to work as part of this dynamic team."
"Camelback Collective will enhance the mixed-use fabric of the Camelback Corridor with the addition of a state-of-the-art, Class A office building and modern AC by Marriott hotel," said Bob Colletta, Associate Principal with RSP Architects. "The office building's presence on Camelback Road focuses views to the Phoenix mountains and the Biltmore golf course. The adjacent hotel shares a central courtyard with the office and enjoys the same views while preserving the privacy of hotel guests and the residential neighborhood to the south."
The Camelback Collective site totals just 3.6 acres bordered by commercial and residential development, and Camelback Road. Early in the planning process, the team worked to identify challenges and solutions such as considering the unique requirements for the infill location, creating an alternative site access point to avoid traffic disruptions on Camelback Road, and providing off-site parking to mitigate overflow of construction vehicles into commercial or residential areas. The team also developed a detailed site logistics plan that carefully maps out the placement of operational functions – such as crane placement and equipment and material staging – on a site that offers only one-quarter of an acre of undisturbed land during construction.
Located on Camelback Road between 28th and 29th Streets in Phoenix, Camelback Collective, at completion, will include a 120,000-square-foot, Class A mid-rise office building, a 160-room AC by Marriott hotel, and surface and subterranean parking. The office building incorporates sustainable features and is designed to achieve U.S. Green Building Council's LEED (Leadership in Energy and Environmental Design) Certification. The project broke ground in February 2017 and is set to deliver Winter of 2018.
Camelback Collective is the latest example of Graycor's strategic Southwest market expansion, which includes a strong foundation of industrial and tenant improvement clients, as well as new office, retail and hospitality projects that maximize the value of the company's national platform. Locally, this includes projects such as the AMC Esplanade Fork and Screen Conversion, JW Marriott Hotels & Resorts Camelback Inn Renovation, and Sunrise Assisted Living of Chandler.
Additional Coverage
Phoenix Business Journal
The Arizona Republic