Recommended for Heart of City design
by Andrew Setterholm, Post-Bulletin
Originally published August 15, 2016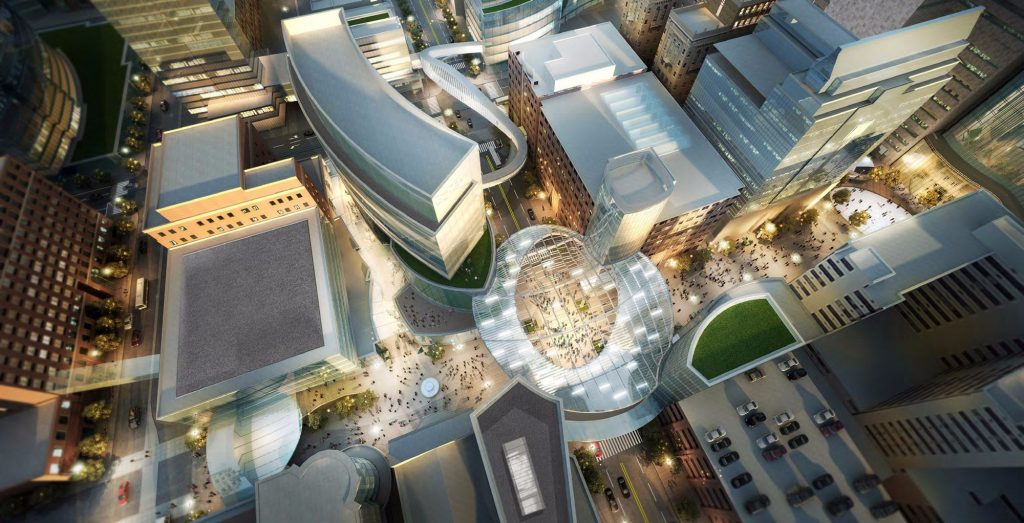 A commitment to dream and a promise to inspire won RSP Architects a recommendation from a public advisory body to lead public space design in the Destination Medical Center sub-district Heart of the City.
The Heart of the City Community Advisory Committee on Monday interviewed representatives from three design firms to advance the vision of Heart of the City, a public space that is centered on Rochester's Peace Plaza.
The committee agreed to recommend a design team led by RSP Architects, of Minneapolis. The recommendation will be reviewed by the Destination Medical Center Corp. Board of Directors and the Rochester City Council for final approval. The DMC Corp. board meets next on Aug. 25 and the council will consider the recommendation at its Sept. 7 meeting.
The proposal from RSP included a cost of $577,440 in four phases, beginning Oct. 1 and concluding June 30, 2017. The team includes members from Coen and Partners, HR&A Advisors, Kimley-Horn and 9.Square, with oversight by RSP. RSP also has a Rochester office.
"This is a Minnesota-based team with really strong ties to Rochester," Jon Buggy, RSP principal, said at the Monday interview. "We've been avid students of what you've been doing and we've curated a team that we think is spot on for the needs of this city."
Buggy said the team's mission was to discover, design and implement a place that is truly the heart of Rochester. Its work would include public engagement, design development and steps toward implementation of a public space redesign. Buggy summarized the work as "discover, dream, design, do."
Shane Coen, firm founder and CEO of Coen and Partners, outlined the team's vision for creating interactive art installations, facilitating smart streets for pedestrian experience and integrating the public space through the subway, street level and skyway layers.
"We're going to dream together," Coen said. "One of my roles is to make that a focused dream and a guided dream that builds upon the work that you've already done and creates complete ownership in all the stakeholders in a vision that is implementable."
Coen emphasized that the concepts the design team would bring forward would be practical, while also reaching for the aspirational values of the DMC Development Plan.
"It's about bringing our best ideas to the table, but it's about bringing the strategic kinds to the table that are implementable. … And I promise you, you have my full commitment, they will be inspirational. And this will be an appropriate, inspiring space that can be built," Coen said.
Local firm 9.Square, led by Adam Ferrari, would participate heavily in the public engagement process. Rochester is suffering a "planning burnout," Ferrari said, and strategic public engagement would be needed to bring community members to the planning table. That strategy would include social media and other digital approaches in addition to in-person engagement events.
In a straw poll of Heart of the City committee members after the three interviews, 11 of 14 members ranked RSP as their preferred choice.
The committee also interviewed design teams led by Sasaki Associates, Inc., of Watertown, Mass., and HGA Architecture, headquartered in Minneapolis with a Rochester office. Six firms returned proposals and a sub-committee narrowed the field the three firms interviewed Monday.
The committee members rated RSP highly for its understanding of Rochester and DMC plans, its detailed public engagement strategy and its inspired vision.
Committee member and Rochester City Council member Nick Campion said RSP's proposal had two major benefits.
"One was the idea of 'dream' a little bit because I think that … word encompasses a little bit about what Rochester needs to put into this," Campion said. "If it's just the next iteration of what we already have, I think that's a little bit maybe underachieving what we have the opportunity to do here."
Campion also commended RSP and Ferrari in particular for recognizing the local planning burnout and approaching the public engagement portion of the work with new, strategic ideas.
Committee member Tom Fisher, who is also a DMC Economic Development Agency board member and University of Minnesota Metropolitan Design Center director, said the RSP proposal hit every point he was hoping to hear.
"I think they're a strong local team. I think they're really strong on landscape architecture and architectural design," Fisher said.