Spots are filling up at ex-Lockheed site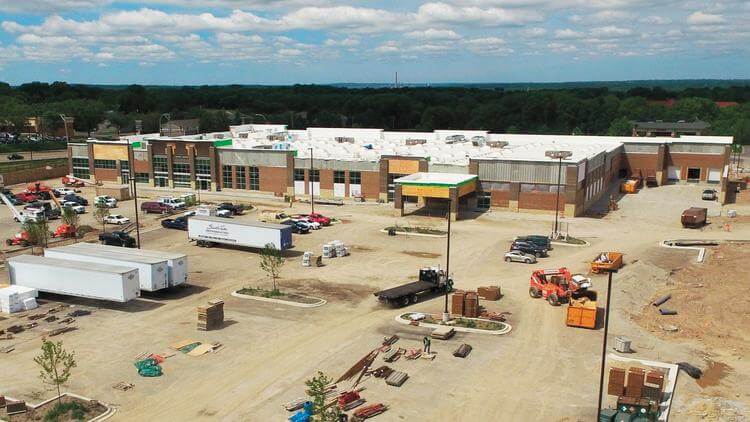 by Nick Halter,  Minneapolis/St. Paul Business Journal
Originally published July 6, 2016
Eagan's newest shopping center is almost ready for its close-up.
CSM Corp. has transformed the former Lockheed Martin campus at Pilot Knob and Yankee Doodle roads into the 47-acre Central Park Commons mixed-use development anchored by a Hy-Vee grocery store.
Tenants will begin opening in September. So far, CSM has leased 300,000 square feet out of 430,000 square feet of leasable space. When unannounced leases and letters of intent are considered, only 40,000 square feet is still available, said John Johannson, who is working as a development partner with Minneapolis-based CSM.
CSM announced this week it has snagged Hobby Lobby to fill its last junior box space. Several other retailers have been announced. Wyoming-based sporting goods retailer Sierra Trading Post is opening its first Minnesota store in the shopping center.
Marshall's, Home Goods and Ulta are also opening stores. Fast-casual restaurants will include R Taco, Cafe Zupas, Naf Naf Grill and St. Paul-based Punch Pizza.
Fairview Health Services will open a 42,000-square-foot clinic in November.
The Business Journal already has confirmed that Total Wine & More has signed a lease and that teen discount retailer Five Below is close to signing a lease.
"These are national retailers with some newcomers to the Minnesota retail scene," Matt Van Slooten, CSM's president of commercial properties, said in a news release.
So far CSM hasn't announced any full-service, sit-down restaurants, and restaurant pads appear to make up the majority of the available space. Johannson said one sit-down restaurant is close to signing and discussions are ongoing with others. "We are being very selective."
Eagan is going through a boom, with Twin Cities Premium Outlets opening two years ago, the Central Park Commons project nearing completion and the Minnesota Vikings practice facility project at the former Northwest Airlines headquarters gaining city approval in June.
Central Park Commons
Leasable square footage: 440,000
Square footage leased (announced): 300,000
Square footage of leases that haven't been announced or are in the letter of intent phase: 90,000
Square feet still available: 40,000