Our Pets May Be The Next Great Design Driver
RSP's Jackie Miller explains how our pets are a new type of social catalyst and that we still don't deserve the unconditional love they give us. 
According to the American Pet Products Association, seven in ten U.S. households own a pet. That's over 90 million homes with at least one dog, cat, guppy, snake or spider, hamster or horse. That number is up from previous years thanks largely to the two years over the pandemic, a stretch of time when nearly 80% of current pet owners acquired their pets.
In strictly commercial terms, we're talking about a market that accounts for just over $123 billion (that's with a "B") in spending on food, veterinary care, squeaky toys and other related accoutrements. While this figure does NOT include the residual costs of slippers chewed or sweaters ruined, which might actually push it into the trillions, it is a sign that we as a people are not afraid of spending the big bucks when it comes to our pets.
And why not? Abundant research shows that the spike in pet ownership over the last two years has helped reduce "stress, loneliness and despair," which are three things we could all live without. Think about it: Who's there at our feet through a long day of Zoom calls? Who gets us out of bed every morning with a big, slobbery wake-up smooch?
"The last couple years have been banner years, and it's difficult to overestimate the positive impact of COVID on the pet market, ironically," explained David Lummis, Senior Pet Market Analyst for Packaged Facts, a market research company that tracks the consumer goods and services industries.
The Economics Behind Pet Design
Of course, anyone who has ever been handed a vet bill will be unsurprised by the $123B figure, but what is notable is that the pet industry has begun to drive other economic indicators. Along with a number of industry-related mergers and acquisitions, the pet economy is expanding into real estate and creative franchising, stretching beyond the big box mentality of stack 'em high, sell 'em low. There's a new pet Zeitgeist happening, and the design world is stepping up.
Here at RSP, we're at work on a handful of projects that revel in the value of designing for pets and pet owners or, ideally, placing the pet at the center of the equation. Whether they're multi-family residential projects that see a dog park or dog washing station as a differentiating amenity that boosts leasing, or a streetscape redevelopment that is designed for dog-friendly outdoor dining space, pet-centric development is growing in popularity and complexity.
A New Take on Pet Design and Pet Ownership
Take Vet Partners and BrewPark in Plymouth, Minnesota. Vet Partners is one of the brand's five animal hospital locations in the Twin Cities area. BrewPark is Owner Dr. Angela Woodward's dream concept that blends all aspects of pet care and pet-related activities into a pleasant, extended experience that feels more like a cool place to hang out with friends than a traditional pet store.
Instead of the cold, antiseptic visit to the vet—and its requisite aromas and awkward lobby encounters—this is a fun day out with the pup and a nice place for a bite, pun only slightly intended.
Dr. Angela Woodward, a local veterinarian (and graduate of University of Minnesota-College of Veterinary Medicine) saw the opportunity to create a more positive, family-oriented experience for pet owners.
A Design for Pets and Their Owners
The space is open and airy, more hipster warehouse than traditional storefront, and it mixes the conventional uses of a neighborhood animal hospital—exam and surgery spaces, kennelling and grooming—with a Brew Park, "Barkery" café, retail, even rentable meeting space. The layout creates separation where separation is needed (dogs and cats, etc.), but the uses flow seamlessly around front- and back-of-house functions.
The arrival and check-in zone is where the fun happens, while the exam and surgery spaces are in the back and arranged for clinical efficiency. A retail area and café stand adjacent to the 5,000 SF dog park, which is visible through a glass partition so owners can sip a local brew and keep an eye out while Rover frolics with his furry friends. The furniture and materials are all durable and easy to maintain, as one would expect, but the outsized signage and industrial vibe strike just the right tone. And, of course, the AstroTurf [confirm material] surface makes clean up a lot easier.
While being a dog owner certainly helped in designing the space, creating a facility like this is not without its complications. Local health regulations don't allow animals and food prep to comingle, but the building codes for doggy daycare are still nascent…but likely to firm up as these types of facilities gain popularity.
In the interest of full disclosure, I'll admit that my dog, Ripley, and family have already made a few visits, and we all declare it a wagging success.
Luxury Pet Design
If Vet Partners embraces the industrial look, GoodVets, a national chain of pet hospitals, feels more like a luxury spa that pampers your pet—and you—with every visit. Here, the business model follows a more traditional franchise opportunity that relies on a partner who adopts the national brand to a local context.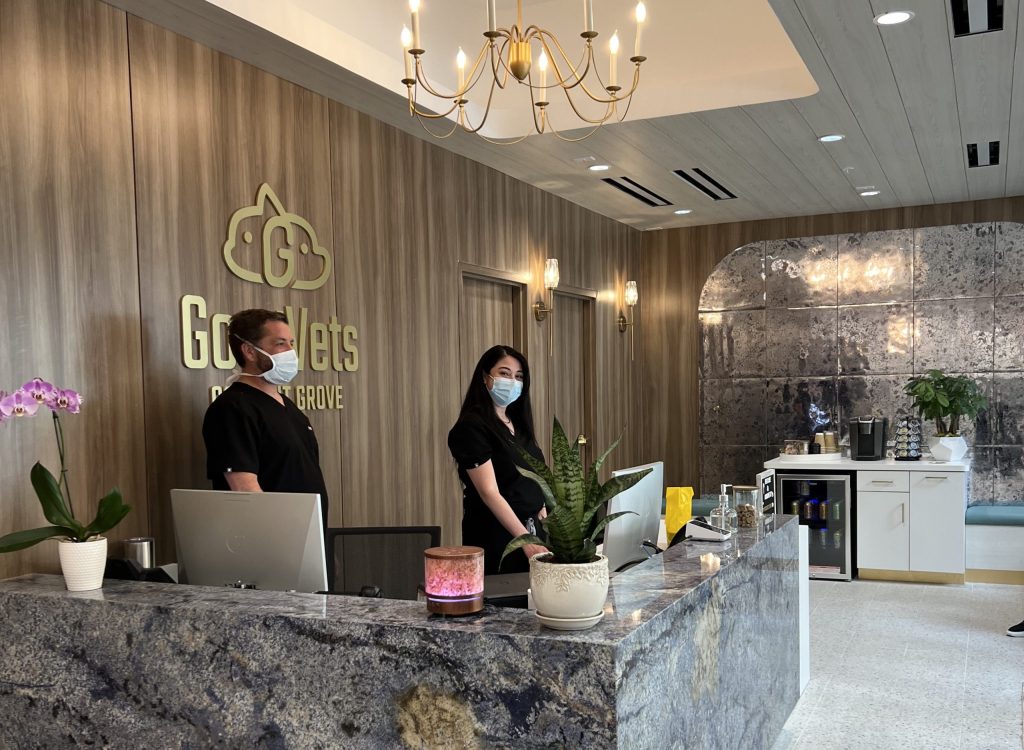 Located in Miami's Coconut Grove neighborhood, GoodVets reflects the area's casual but sophisticated mindset. Clean, contemporary materials, and a simple, uncluttered layout make the visit as friction-free and easy as possible.
For all the love they give, and all the joy they bring into our lives, we probably don't deserve our pets, but there is no doubt: our pets have been instrumental in helping us all make it through the emotional turmoil of the last few years.