Design Solutions for a Humanitarian Crisis: Creating a Global Community in Somaliland
RSP's Scott Aspenson AIA, NCARB and Tanner Patrick RA-MN, NCARB recently returned from Digaale, Somaliland, where they partnered with Alight, a Minneapolis-based humanitarian organization, and local residents to create durable, sustainable housing solutions for the community. And design solutions for a humanitarian crisis. This is their story.
The refugee crisis in Somalia is among the most challenging and intractable mass human displacement situations in the history of the world. The ravages of civil war, political strife and an unprecedented multi-year drought have only exacerbated what is a rapidly unfolding human tragedy on an epic scale.
As of July 2023, the UNHCR estimates that more than 3.8 million people are displaced in Somalia, 3 million of which are internally displaced persons—people who have been forced to leave their permanent homes but have not crossed an international border. Somaliland is a territory within Somalia that is not yet internationally recognized as a sovereign country. Although it has its own political system, government institutions and currency, it still suffers from the same challenges as the rest of the region.
RSP's Partnership with Alight
Over the past few years, Alight, a Minneapolis-based humanitarian organization, has played an active role in providing shelter, clean water and health services to more than 4 million displaced people in more than 20 countries. While the progress made is admirable and rewarding, and the organization has made an extraordinary difference, it is challenging work that comes down to a dedicated, driven group of individuals.
Last month, we had the opportunity to travel to Digaale, get to know the people, their customs and the environment. Then collaborate with them on co-creating ways of providing durable, sustainable homes. For us, it was a deeply moving and life-changing experience. And, when our work is done, we hope it will be transformative for the people of Digaale as well.
A Design Challenge to Change Lives
Hodan Abdillahi Abdi, Education Officer for Alight Horn of Africa, told us that "collaborating with RSP helps Alight deliver its bold vision of reimaging Digaale settlement. It's meaningful to us and the community that RSP took the time to physically visit and interact with the internally displaced pastoral community who have lost their livelihood and travelled across borders in search of a better life."
Our 7,800-mile journey started out in Minneapolis then on to Chicago then Addis Ababa, Ethiopia, and, eventually, Hargeisa where our visit officially started.
From the moment we stepped foot in Digaale, we were in back-to-back work sessions with everyone from Hargeisa's mayor to construction companies to contractors to government officials, along with Alissa Jordan, Alight's Partnerships Manager, and local Alight partners.
Alissa was an indispensable and tireless advocate—she made things happen and genuinely understood the importance of the process. "Alight values co-creating with our customers. Being on the ground with RSP strengthens the outcomes of our partnership by gaining deeper insights about the needs, hopes and dreams of the community in Digaale."
When we arrived, the entire community lined the streets to welcome us. The warmth and hospitality were truly touching and a little bit overwhelming. As architects, we aren't normally greeted like this when we show up for a kick-off meeting. It was obvious from the start, however, that Digaale's current housing situation was neither suitable nor sustainable. The one-room shelters are about 10 years old. They are uninhabitably hot and cramped for the typical 8-14-person families.
Co-Creating Home
We initiated the process with a series of hands-on work sessions with Digaale residents. We heard about their priorities, cultural norms, aesthetic preferences and how they imagined using different spaces within their homes. One of the biggest issues they face is a collective loss of dignity and privacy. We quickly realized this would be a driving factor behind the final design. In their current housing situation, multiple generations—parents, grandparents, marrying-age young adults, adolescents, children and babies—go through all their vulnerable stages of life in a single room. There is no privacy or respite. The structures that we design here will be so much more than basic shelter—they are a link to a completely different life.
Our goal was to come back from the trip with enough feedback to design four different options that will give each family their own space and offer a sense of respect and dignity. Above all, we're not just showing up and leaving—we are part of the journey of the design and understanding the residents' needs. Really, our entire trip revolved around getting feedback from the people of Digaale—from colors to style to layout.
A Familiar Design Process
The co-creation process was not much different than one we might go through with any client. We developed initial concepts, presented ideas and visuals to get their reactions. The direction became clear with the help of sticky dots to show what they liked most about the designs. We broke into multiple work groups, and each team tackled things from various points of view. Some tended to get right down to brass tacks and talk about square footage. Others had a broader discussion of how they wanted the space to feel and how they might use the rooms.
What was different for us, though, is that every issue and decision comes with a deep, personal connection. We spoke to men our age about what they want for their families. And we discussed dreams for the future with teens around the same age as our own children. That made it all the more moving for us. If we don't put in the time to understand what the people of Digaale want and need, we could negatively alter the fabric of their society. We can't tear down and rebuild—this is it. And we take that responsibility very seriously.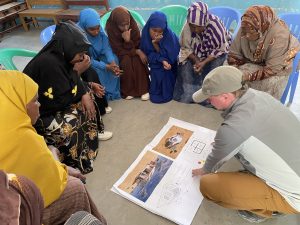 Next Steps
Coming home (Hargeisa to Addis Ababa then on to refuel in Dublin then to Toronto before catching our final flight back to Minneapolis), we are distilling our original four concepts down to a central design with some options that will work for larger and smaller families.
Things are moving quickly. We are meeting with Alight soon and the goal is to build prototypes in the next few months. These prototypes are designed to raise awareness from locals and the international community. Hargeisa alone has 18 communities of internally displaced persons with close to 250,000 people. The crisis is urgent and far-reaching.
Once the project is complete in Digaale, we hope to use a similar model in Hargeisa. In fact, the city is experiencing something of a construction and development boom. If we can help solve the housing crisis there, the future looks much brighter.
Watch this space for updates.