Coming back to the office? Your Workplace Design Should Be A Perk

This article was originally published in Work Design Magazine.
RSP's Alissa Franconi and Dawn Brown explain how a residential and hospitality-inspired workplace design can become a powerful way to boost morale and get employees back to the office.
Return to office or virtual work? Hybrid model or full-time in person? Now that individual companies and even entire industries are moving to get employees back in the office at least a few days a week, they are looking to create workplaces that are incentives in themselves. Spaces that are designed to make work more efficient, more collaborative and more pleasant. And they're using residential and hospitality trends to do it.
Back to the Office, By the Numbers
Based on a study of more than 140,000 remote-capable employees, Gallup recently found that only 9% want to be full-time in the office. 59% reported a preference for a hybrid schedule and 32% said they would prefer to work exclusively remote. Clearly, the vast majority of people like working from home, at least a couple of days a week. At the same time, a PwC study found that 36% of executive-level leaders say that loss of company culture is the biggest challenge to the hybrid work model. Combine all these statistics with higher turnover and an increased incidence of employee burnout, and it's clear that finding a balance is something of a challenge.
Our clients run the gamut from having one large office space to being spread across the country in multiple locations. One thing they have in common is that leading by example is key to a successful return-to-office program. Yet another study found that even when in-person work is mandated, executives are half as likely to show up compared to more junior employees. We probably don't have to explain what that can do for staff morale.
Luckily, this is a problem that can be helped significantly through design. And for leaders who see that in-person collaboration is a missing part of building and nurturing a company's culture, making the office feel like home but better is part of the key to getting people back to the office.
Like Home, But Better
As company leaders, let's face it—for most people, working from home is comfortable. There's no commute. The dress code is decidedly casual. And snacks are always a few steps away. We also know that, if they were truly honest, most employees would admit that there are some drawbacks to full-time remote work. That makeshift home office probably doesn't have the most ergonomic set-up. Zoom meetings and digital messaging are powerful tools, but they can't really compare to the energy and creativity that comes from in-person collaboration. While we're being honest, let's also admit that company culture has taken a big hit over the last two years. In fact, our clients say that's one of their top concerns, especially for younger employees and new hires.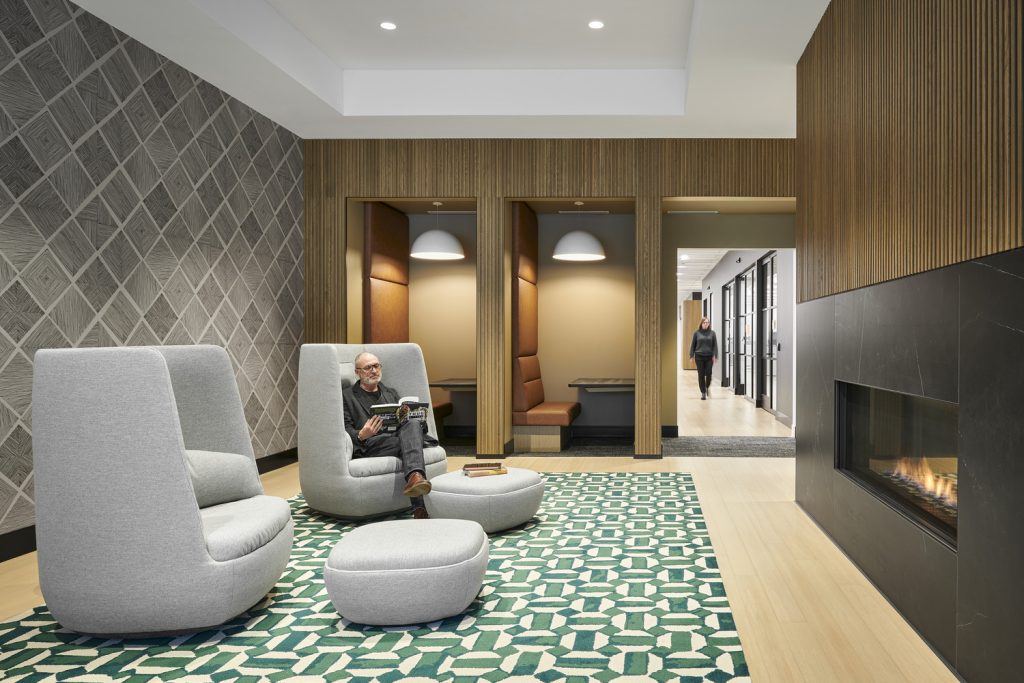 Back to the Office with More Choices Than Ever
As designers and workplace experts, we can't get rid of commuting. But we can marry the best of working from home and working from the office. We are designing more and more flexible spaces that offer employees the opportunity to choose where and how they work. There are, of course, ergonomic workstations for focused, heads-down tasks. But we are also using far more square footage on collaborative spaces than we have in the past.
Some clients are going from virtually no social spaces to 30% of their square footage dedicated to collaborative or flexible areas. These spaces have soft, comfortable seating like you might expect at in a home or a boutique hotel. But they are designed for work. They have taller or adjustable tables and an outlet within reach no matter where you're sitting in the room. The color palettes are warm and inviting. The hyper-fast connectivity makes collaborating a breeze. And it's all one big step up from the home office.
Our clients are telling us that the result is a creative, innovative environment that makes it easy to convince people to come back to the office.
A Square Footage Balancing Act
When companies and the media started talking about the hybrid model becoming the norm for many industries, the prevailing wisdom was that office floorplates could be smaller and more efficient. Desk-sharing, part-time remote schedules and seamless technology would, in theory, make it possible for offices to have less square footage.
In practice, this hasn't held true across the board. Certainly, we have seen this come to fruition when helping some of our clients consolidate their real estate assets. For others, we have added so much collaboration, assembly and multi-purpose space that square footage hasn't been reduced at all. In some cases, clients have even increased their space. But it all works as an incentive to come back to the office.
At JLL's new Phoenix Headquarters, for example, we designed a huge variety of spaces, many with a residential or hospitality feel to them. What might have been a sea of cubicles once upon a time will now have 30% social space. The new workplace will be filled with places to collaborate, conduct meetings, prepare and eat lunch, as well as do heads-down, focused work. This client envisions that most staff will be working from the office frequently. We designed spaces that function efficiently for all the different types of work people need to do throughout the day.
The Generational Divide
Contrary to popular belief, the youngest group of workers (that's older Gen Z and the youngest Millennials, for those keeping track) is eager to get back to the office. Less experienced workers know that they're missing out on mentorship and opportunities to show more of what they can do in person. On the leadership side, more experienced employees have noticed that new graduates have had little or no time in a corporate environment and are keen to get them the kind of interpersonal training that is difficult to do via video conference.
But it can't just be junior employees showing up in person. To make a hybrid model or an in-person mandate work, company leaders need to do more than just show up—they need to embody company values and venture outside their offices to work in collaborative spaces. At JLL, as well as many other clients, we have designed spaces that appeal to everyone, from the most junior staff member up to the C-suite. Residential touches like sofas, adjustable tables, relaxing social spaces and cafes make people want to head into the office. It makes all the difference to company culture.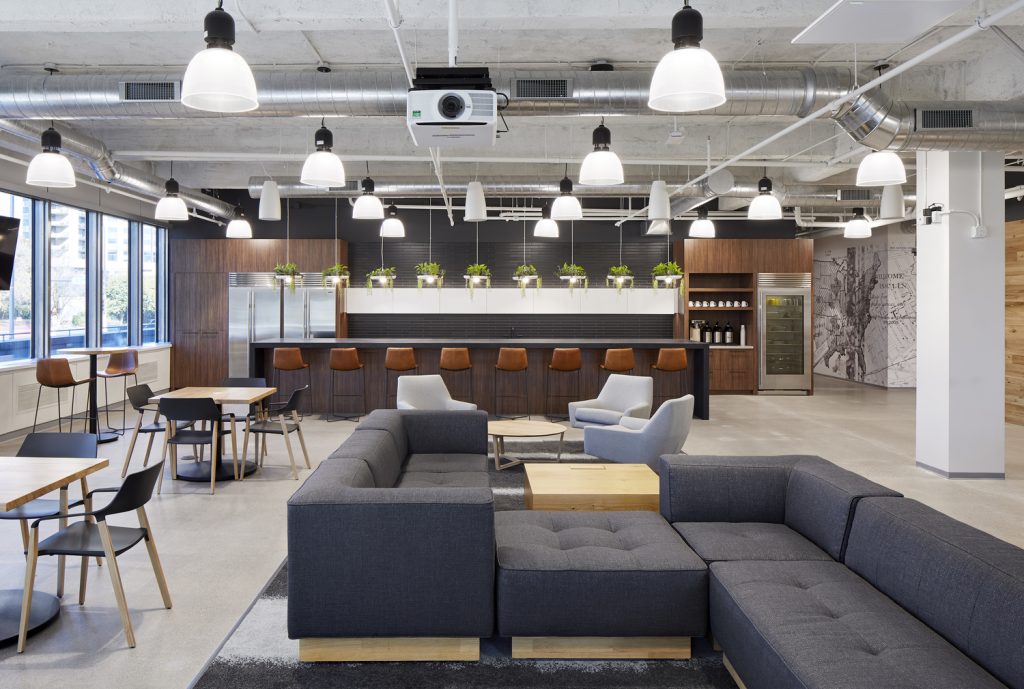 Tech Upgrades Courtesy of Hospitality
One of the biggest challenges of the hybrid work model is knowing where colleagues are on a given day. We are seeing more clients integrating different apps with office schedules and conference room booking systems, all inspired by online hotel booking software. In fact, our own iSpace group is building one of these systems for RSP's headquarters as well as our clients' offices. We know first-hand that this technology will make it easier for everyone to stay connected and make our hybrid model run smoothly.
And a residential-inspired upgrade? Mobile ordering. For our biggest corporate clients (think: companies with a vast campus), employees have what is essentially an internal "DoorDash," where meals from the cafeteria can be delivered or employees can pick up their food without waiting in line.
Conference Space for a Changed World
When we design office space today, compared to even a year ago, we know that the majority of meetings are going to be hybrid meetings. That means at least a few people in every meeting are going to be working remotely. And that really changes the layout.
Traditional conference rooms have a long table with a camera hooked up to a large screen on one end. In a hybrid meeting, the person working from home sees several figures in the distance at the other end of the conference room. The people in the room see their remote colleagues several times larger than life on the screen. This uncomfortable set-up makes it nearly impossible for everyone to collaborate in a productive, creative way.
Our solution is to create a variety of spaces for different types of meetings. "Zoom Rooms" are more casual and designed for smaller gatherings. Everyone's face is viewed at roughly the same size. The sound is clear. People can feel relaxed and get creative.
In larger conference spaces, we are changing the layout to incorporate tables shaped like a guitar pick so that everyone in the room and on camera has a better view. Our iSpace team is experimenting here as well, with interactive cameras that can zoom in on the person speaking even with multiple people in the room. Beyond smart technology, implementing systems and spaces that even the playing field between remote and in-person employees can make hybrid work models even more successful. It can also go a long way to making employees feel valued and appreciated.
Going Forward: A Shift in Mindset
Just like everything else, the way we think about workplace design is changing. It seems everyone has been talking about this shift for 2+ years, but in 2022, the rubber is actually meeting the road. Time will tell if hybrid models or 4-day-work-weeks become permanent. Whatever happens, thoughtful workplace design and integrated, highly detailed change management programs are going to make it possible.
Featured Image: PayPal Headquarters Lobby | Photo by Kris Knutson