RSP Strengthens Leadership Team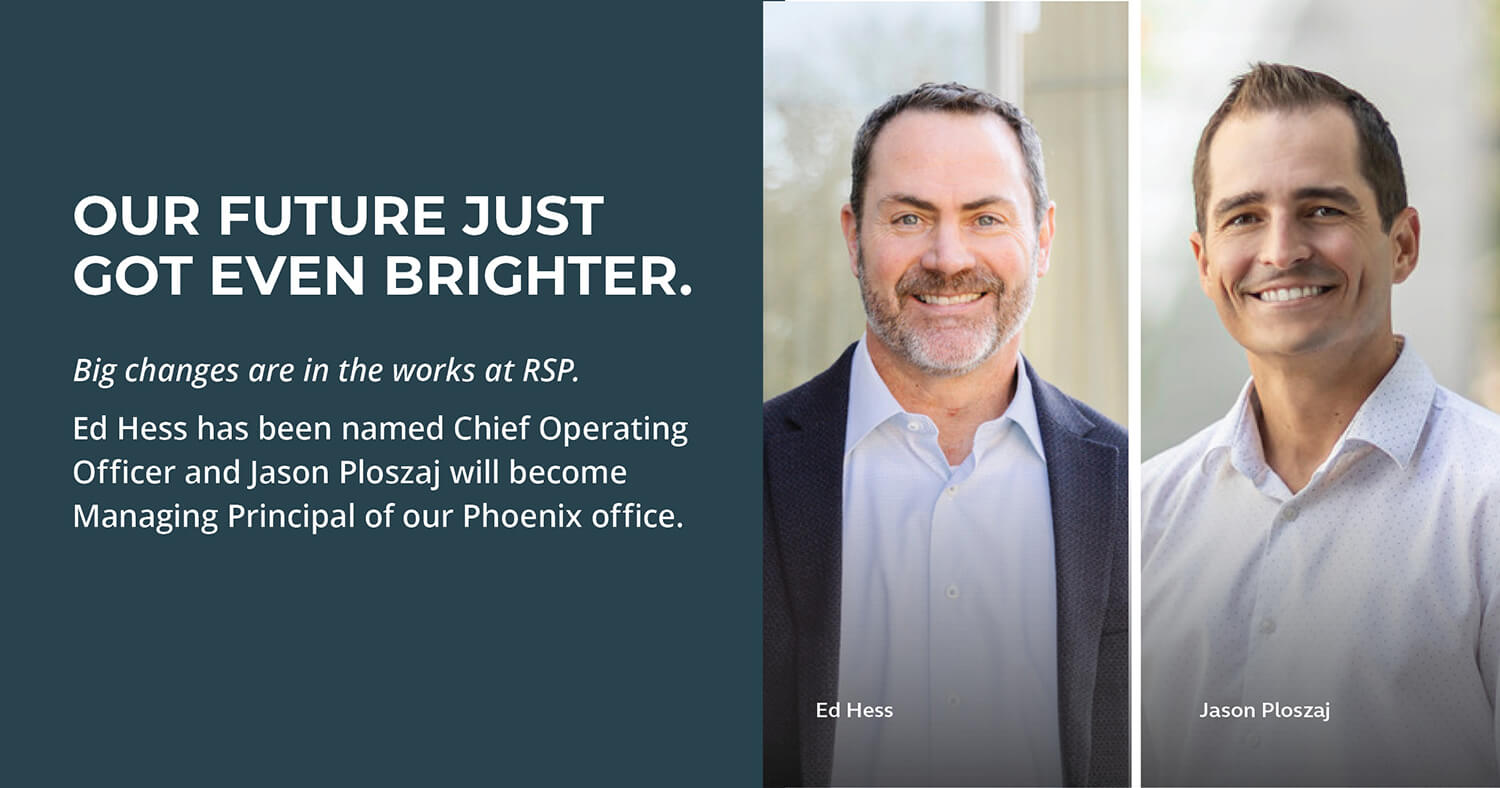 National architecture practice initiates leadership transition in anticipation of rapid market change and growing influence of technology.
MINNEAPOLIS, MN—7 September 2023—RSP, the national architecture and design practice, names Ed Hess as Chief Operating Officer and Jason Ploszaj AIA as Managing Principal of the firm's Phoenix office, following the retirement of Joe Tyndall AIA, the regional office's current head. The moves initiate what will be a more comprehensive transition into a new generation of firm leadership and an emboldened approach to the ongoing evolution of the architecture profession.
"These are some important strategic moves for us and have been in the works for over a year," says Dave Norback AIA, RSP CEO. "We are not only setting up the company for success for the next decade or two, but we are also pro-actively addressing the broader trends in our industry."
The COO position is a new one for RSP, and Hess is the ideal professional to define the role. Given the growing complexity of the industry and the business, Hess will focus on strengthening RSP's systems and processes, boosting efficiency and improving technical quality.
"RSP is an incredible organization," says Hess. "And we have always excelled at client service and delivery. But now is the time to take those attributes to new heights. We have so many new tools at our disposal—from AI to hyper-resilient materials and systems—that I really believe we're on the brink of a new age."
Hess, who officially assumes the role on 1 October, has more than three decades of experience in managing complex projects. He has been based in RSP's Fort Worth office since 2012, when the office opened, and currently oversees the firm's industrial and warehouse portfolio.
"Ed is a no-nonsense leader," says Norback. "His projects are extremely complex but he brings them in on budget and on time. His clients and his team are fiercely loyal."
This comes at the same time that Joe Tyndall has announced his retirement and the naming of Jason Ploszaj as the Managing Principal of RSP's Phoenix office.
Jason was among RSP's first employees in Phoenix in 2002. He has emerged as one of the firm's strongest leaders and design advocates, and has led many of the firm's most visible and successful projects. He is a design-forward, collaborative professional who has fostered a culture of creativity, respect and diversity.
"Jason is a clear and compelling voice for design," says Tyndall, "but he is also an effective leader who knows how to get the most out of a team. He's been an extraordinary advocate and mentor in the studio, which means that there's an incredible next generation of talent coming down the road."
Ploszaj has worked closely with Tyndall for more than two decades, most recently focusing on a seamless transition.
"If the last few years have taught us anything," says Norback, "it's that agility and flexibility are essential to any organization that expects to survive. At RSP, we expect to do more than that; we expect to thrive. And having Ed and Jason in these leadership roles helps make that possible."
About RSP
Founded in Minneapolis in 1978, RSP Architects has emerged as one of the country's most trusted, diverse, and agile architecture and design firms. Our clients are a dynamic cross-section of established Fortune 100 global brands and retailers, innovative start-ups, thoughtful non-profits, government entities, and more. In addition, RSP i_SPACE is a proprietary consultancy service that specializes in facility data, while RSP Dreambox offers environmental and experience-rich design. RSP is a 100% employee-own organization.
With over 375 employees, the practice is headquartered in Minneapolis and maintains offices in Rochester, MN; Phoenix, AZ; Fort Worth, TX; Baltimore, MD; Miami, FL and Seattle, WA. A subsidiary is based in Bangalore, India. RSP is a 100% ESOP firm.