RSP-Designed CocoWalk and Canopy Hotel Recognized by AIA Miami
These awards follow several other accolades for the community-focused projects and confirm RSP's presence in Miami's design community.
MIAMI—November 3, 2021—The Miami office of RSP Architects announces that two of their projects have won awards from the Miami Chapter of the American Institute of Architects. CocoWalk, a mixed-use development in the heart of Coconut Grove, was recognized with a Merit Award of Excellence in the Renovation and Restoration category. The Canopy Hotel by Hilton, a 150-key hotel in West Palm Beach, received the Chapter's Projects over 50,000SF People's Choice award.
"We could not be more pleased to have our hard work and design thinking recognized by the AIA," said Larry Beame AIA, Principal of RSP's Miami office. "CocoWalk and Canopy are incredibly different projects, but they have both had an important impact in their communities."
CocoWalk has already been recognized for several awards, including the ENR Southeast Best Project, the ABC Florida East Coast Excellence in Construction Eagle Award, CMAA Florida Project Achievement Award, and as a finalist for the South Florida Business Journal Structures Award.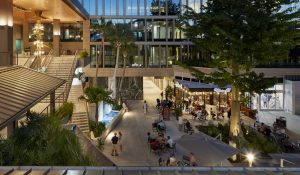 RSP's renovation for the development foregoes the original 1990s plan for a simplified layout that connects the project to the street grid. Most importantly, emphasis has been on local, more boutique-style tenancies that align with the neighborhood and the local market.
The central plaza serves as the neighborhood's "living room," a public place where the community can meet, relax, grab a bite and even attend a yoga class. A 60-foot kapok tree, relocated from North Miami, stands at the heart of the square—a neighborhood symbol the community adores.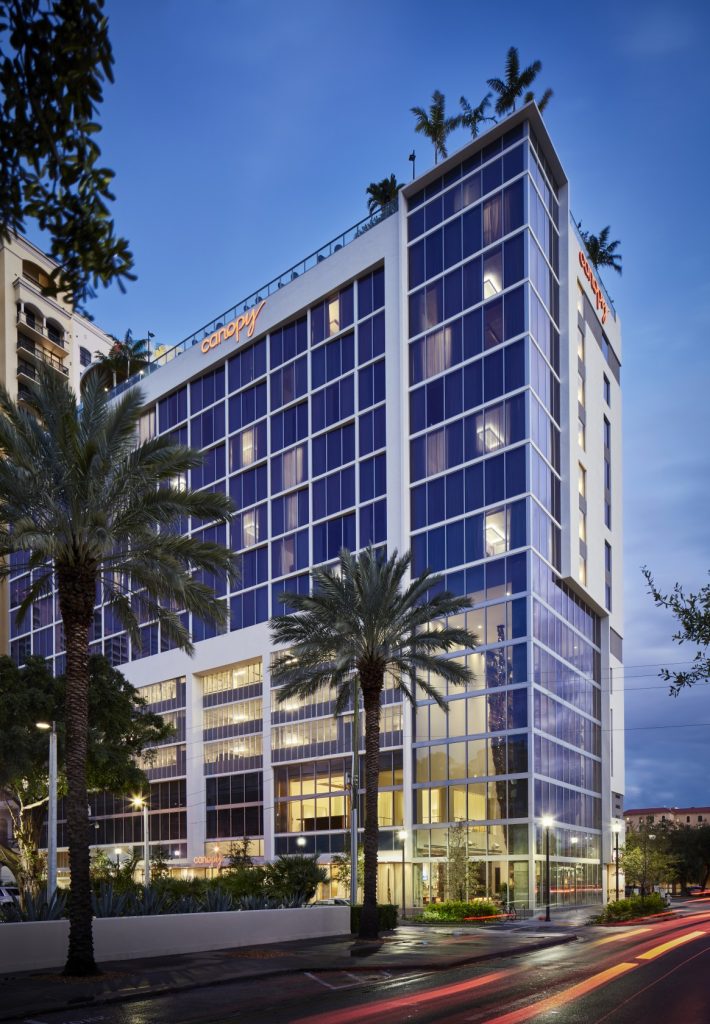 The Canopy by Hilton is designed with Miami and the 21st-century traveler in mind, creating an urban oasis that responds to a business, leisure and convention guest profile. The project's design—from its dramatic, six-story "edge atrium" to the abundant interior landscaping and green, natural materials, blurs the line between indoor and outdoor space. Through, the project was a platform for local artists and artisans, infusing the space with a hyper-regional vibe that connects to and engages with the local community.
The project teams are listed below.
Cocowalk team:
Owned, Managed and Leased by:
Federal Realty Investment Trust
Grass River Property LLC
Comras Company
Architect: RSP Architects
Contractor: Juneau Construction
Canopy team:
Owner/Developer: Driftwood Hospitality
Architect: RSP Architects
Interior Architect: EoA
Contractor: Verdex
---
About RSP
Founded in Minneapolis in 1978, RSP Architects has emerged as one of the country's most trusted, diverse, and agile architecture and design firms. RSP's roots in South Florida go back to 1992 via the work of Larry Beame, whose reputation for creating some of the region's most successful and iconic commercial destinations is unmatched. Today, the practice thrives on the region's diverse cultures and unique rhythms—South Florida has become an incubator for fresh, bold ideas and RSP has been at its forefront.
The firm's clients are a dynamic cross-section of established Fortune 100 global brands and retailers, innovative start-ups, thoughtful non-profits, government entities, and more. In addition, RSP i_SPACE is a proprietary consultancy service that specializes in facility information, while RSP Dreambox offers environmental and experience-rich design.