Discovery Square Bldg1 Groundbreaking
First phase of America's next life sciences corridor begins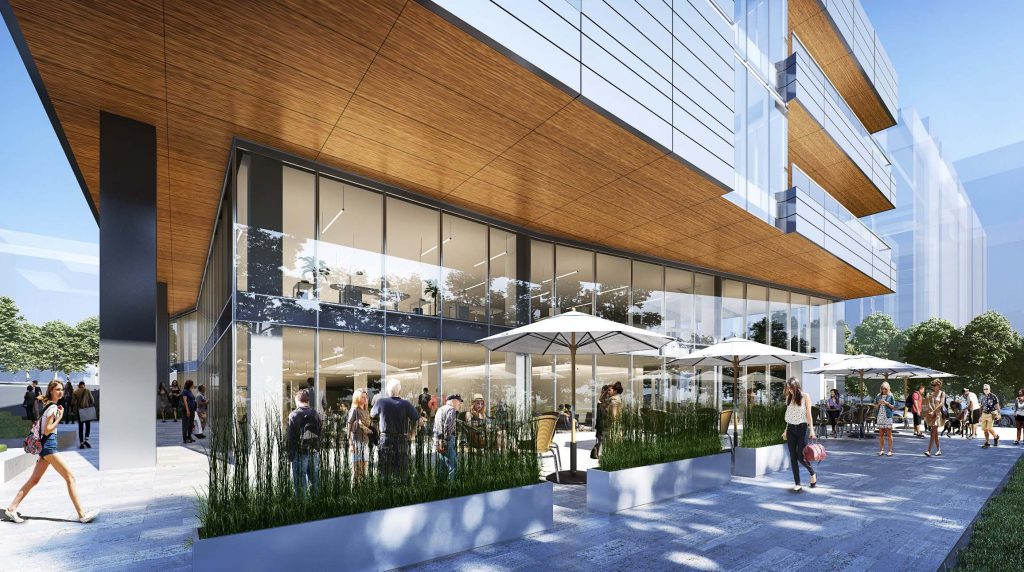 ROCHESTER (2 November 2017) – World-leading biomedical and life science research and innovation will soon have a new home. Mortenson, Destination Medical Center (DMC), State of Minnesota, and local leaders today broke ground on the first of several planned new facilities within the 16-city-block Discovery Square sub-district, a keystone of Rochester's $5.6 billion DMC initiative. As a "Silicon Valley of Medicine," Discovery Square will unite doctors and researchers in a one-of-a-kind campus to explore and bring innovative new discoveries to patients faster.
As a "Silicon Valley of Medicine," Discovery Square will unite doctors and researchers in a one-of-a-kind campus to explore and bring innovative new discoveries to patients faster.
Next to Mayo Clinic, the first phase is a four-story, approximately 90,000 square-foot building designed to support the acceleration and translation of the most promising health-related therapies and technologies. It and subsequent phases of Discovery Square will support many high-paying jobs in the life sciences that will further differentiate Minnesota's leading healthcare economy. It is scheduled to open in 2019.
Mortenson announced in June that Mayo Clinic is the first anchor tenant and will lease 30,000 square feet across three floors to help establish a one-of-a-kind innovative ecosystem among research and innovation leaders. Three Mayo Clinic groups will occupy space in the new building: Biomedical Technology, Advanced Manufacturing of Regenerative Products, and Advanced Diagnostics. Mortenson is currently in talks with other prospective tenants that range from startups to large multinational leaders in health, science and technology.
"The DNA of this building and Discovery Square is the innovation, collaboration, and translation of science and discovery," said David Mortenson, chairman, M. A. Mortenson Company. "A complementary tenant mix will have the opportunity to work alongside the best and brightest in Rochester on real-world, life-changing solutions. It will enhance connectivity and enable high-level collaboration to share ideas and test and deliver new products. We are truly excited about the purpose of this facility, its programming and its role within the greater Destination Medical Center vision."
"Discovery Square will be the place where Minnesota's next generation of medical start-ups will want to be. It will create new opportunity for jobs, innovation, and economic growth, and represents a major step toward fulfilling our mission of building America's City for Health," said Lt. Governor Tina Smith, chair of the DMC Board of Directors. "I thank Mortenson, Mayo Clinic, and the Rochester community for their work on the Discovery Square project. This is great news for Rochester and our state."
"Mayo Clinic has been a worldwide leader in patient care, education and research for more than 150 years," stated Jeff Bolton, vice president and chief administrative officer of Mayo Clinic. "Realizing the vision of Discovery Square will be a key factor in continuing our mission to provide world-class care and accelerating the translation of Mayo's groundbreaking research into practice through collaboration."
"Discovery Square is the keystone to the Destination Medical Center economic development strategy," said Lisa Clarke, executive director of the DMC Economic Development Agency. "It will be the catalyst for driving new job growth to Rochester and creating the live-work urban environment needed for a viable downtown core."
Building Highlights:
Scheduled to open in 2019
Located near the historic Mayo Clinic downtown campus and the Gonda Building, adjacent to Mayo Clinic's Guggenheim, Hilton and Stabile Buildings
Proximity to Collider, an entrepreneurial ecosystem for tech innovators and collaborators in Rochester
An integrated, open workspace design allows tenants to adapt their use of space as they grow and as the biomedical and life science industries continue to change
Professionally managed day-to-day building activity and event programming throughout the year
Common spaces will be centralized within the building to promote collaboration among tenants
The four-story, approximately 90,000 square-foot facility is located at the corner of 4th Street SW and 2nd Avenue SW in the Discovery Square sub-district in Rochester, Minn.
The building was designed by the team of RSP Architects and HOK, two of the leading healthcare design firms in the world. Colliers is the leasing agent and oversees tenant recruitment in partnership with Mortenson. Property leasing information is available through Louis Suarez, VP Healthcare Services with Colliers International | Minneapolis-St. Paul, at Louis.Suarez@colliers.com.