Target Invests in Experience Design
The $10 million makeover of the Nicollet Mall Target is complete, giving a glimpse of the Minneapolis retailer's plan to retool its stores
By Kavita Kumar of Star Tribune, August 2017
A new, red bull's-eye prominently marks the spot on Nicollet Mall where Target's efforts to retool its stores for the digital age are on full display.
Inside the buzzing store next to the retailer's headquarters, the company has redesigned and upgraded everything from the fitting rooms to the online pickup counter and the grocery department.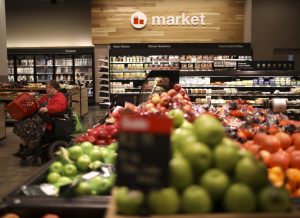 "This is the most ambitious redesign in my 22 years at Target," said Joe Perdew, who leads Target's store design team that includes 170 architects, engineers, interior design and fixtures specialists.
The old vinyl tile flooring has been replaced by more modern, polished concrete. The corners of aisles are curved to be more inviting. The mannequins now look more like, well, real people and represent sizes that range from 4 to 22.
And the fluorescent lights overhead have been replaced with LED ones, including many specialty lighting treatments that bring more warmth than glare. Beacons are embedded inside each light fixture enabling customers to open a map in the Target app, locate themselves in the form of a blue dot and find nearby Cartwheel deals.
The downtown Minneapolis store, which will celebrate the completion of its $10 million makeover on Wednesday, features many of the bells and whistles that Target is in the midst of rolling out to hundreds of stores nationwide. The redesigns are a key strategy to revitalize sales along with investing in technology, the supply chain and new brands.
In the past, big-box stores like Target were organized with efficiency in mind as planners looked at how to best put as much stuff as they could on shelves. That's still an important consideration, but there are others now, too.
"It's more about experience," said Perdew, who added that experience accounted for about 5 percent of the previous store design, but contributed to about 20 percent in the new plan. "It's about the physical, digital and human elements you want to offer up that help make it all come to life."
For example, the next-generation prototype store Target will open outside of Houston later this year has seven nooks where it will cross-merchandise products — spaces where it will display a total outfit with accessories or a complete living room setting to provide inspiration. Target also is changing the store layout in some stores from a "split" where apparel is on one side and essentials on the other to a "wrap" where apparel is spread across the center of the store and everything else is arranged around it.
"Those changes add additional dwell time in an area, and that begins to change the psychology of the visit from just an in-and-out trip," said Sandy Stein, a Twin Cities-based retail analyst who spent his career in store design. "It elevates the experience — there's something different. There's something special."
And it's something that can't be easily replicated online, he said.
A sweeping effort
Of course, remodeling stores is nothing new in the retail world. But Target had slowed its efforts over the last decade as it focused on adding groceries, a short-lived expansion into Canada and rolling out smaller stores. In the meantime, executives acknowledged that many stores became tired and outdated.
While many retailers are closing stores this year, Target is pouring in billions of dollars to refresh more than a third of its 1,800 stores in the next few years. For every store that is remodeled, Target expects a 2 to 4 percent sales lift.
Executives told investors last week that Target will accelerate the pace of remodels to 300 next year. This year, the retailer is redoing 110 stores, including its Midway store in St. Paul and the St. Louis Park store at Hwy. 100; 436 stores are receiving smaller updates such as the addition of self checkout lanes or a new Starbucks.
The average remodel will cost about $5 million, not as extensive as that of the Nicollet Mall store. And each one will differ based on the needs and volume of the store.
"It's hard to overstate how different what we're doing today is to what we did in the past where we just stamped out prototype stores," said John Mulligan, Target's chief operating officer.
At the same time, Aldi is also renovating many stores.
And Walmart is in the midst of a multibillion-dollar effort to refresh about 500 stores a year. Those remodels include spiffing up the electronics department with more attractive display tables and adding more farmers market-type bins to the grocery department, said Anne Hatfield, a Walmart spokeswoman.
Still, Walmart's remodels are not as dramatic or sweeping as Target's, said Neil Saunders, managing director of GlobalData Retail.
Still, he said Target could be even more innovative with the remodels. After all, Amazon is experimenting with a store concept without a checkout lane.
"This is a good starting point," he said. "But it's not just about tidying up for today. You have to think ahead five to 10 years."
The cosmetic changes, he added, don't mask some of Target's other shortcomings such as continued problems with out-of-stock items and its grocery department.
A place to show off
Now that the two-level Nicollet Mall store has had a top-to-bottom makeover, its first since it opened in 2001, it's once again a flagship for Target and a place the retailer can show off to its many vendor partners.
As Perdew walked around the store last week, he made a mental list of small things he wanted to tweak or change. But he also saw a lot he liked, starting with the remodeled Starbucks cafe and the 71-foot-long curved LED screen above the skyway level entrance that can be seen from the street.
An eye-popping mural on the second floor designed by a local artist includes icons from the company's — and city's — past from Prince to the Dayton brothers who founded Target.
Perdew pointed out the wood treatments and specialty lighting throughout the store.
"They bring in warmth throughout the check lanes and entry experience so it's more like a foyer instead of a mudroom — that's the goal," he said. "It's amazing what lighting can do."
This is the first store in the chain to get a new "gift-and-go" section near the entrance. Through Sept. 3, it's featuring Minnesota-made products such as Peace Coffee, Sota Clothing, North Mallow Marshmallows and Da Bomb Bath Fizzers as part of a localization test. The area will be changed out with other themes and products about once a month to highlight seasonal products for occasions such as Valentine's Day.
Fresh produce and grab-and-go meals, with more attractive displays, have been moved to the front of the store. It also has one of the newer Sephora-like beauty layouts that will be in 70 stores by the end of the year, which has huge digital screens behind it displaying videos and images to draw more visual interest.
And a soundtrack with upbeat, catchy tunes also has been added, playing over the store's speakers.
"If you don't have music, the sound is shopping carts that rattle, kids screaming at their mothers, people on phones, that kind of stuff," Perdew said. "So the music makes sense. You want to make sure you're activating all five senses when you're creating an experience in stores."
Also being added to stores: employees with handheld devices who can see if there are different sizes or colors online and have the product shipped to the customer's home. Two employees are in each of 100 stores now, and the service will be chain-wide by the holidays.