Designers Return to Expand RSP Fort Worth
After a three+ year stint overseas, Lasley and Herrington are back and ready to build corporate practice.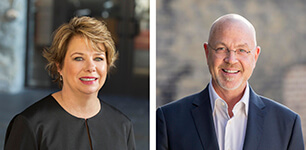 FORT WORTH TX (09 March 2017) – Senior designer Thom Lasley and interior designer Susan Herrington join RSP's Fort Worth office, charged with expanding the firm's growing corporate practice. Both worked for RSP in the 1990's with corporate clients like American Express and UnitedHealth Group. While each has explored different paths over the years, building impressive portfolios, Lasley and Herrington are energized by the opportunity to return to RSP.
"I started my career at RSP, working with Michael Plautz who was an incredible artist and architect," said Lasley. "The firm has since grown and evolved in such an exciting and dynamic way. We're excited to expand the corporate and mixed-use practice in Texas where RSP already has a strong team."
The addition of Lasley and Herrington for RSP Fort Worth provides the design leadership required to expand. "The Dallas/Fort Worth region is home to a variety of strong corporate clients, the type of client RSP is uniquely suited to serve," said Ed Hess, RSP Associate Principal and Fort Worth office lead. "We've been actively engaged in the community since we opened our office nearly five years ago and realized the time was right to expand our full service offerings by having experienced workplace designers like Thom and Sue living and working here. This approach also strengthens RSP's national presence."
The geographic location complements and supports RSP's established corporate practices in Phoenix and Minneapolis. Ranked #21 in the Building Design & Construction's Top 100 Office Architecture Firms, RSP serves an impressive portfolio of global corporate leaders as well as entrepreneurial start-ups.
"There's a level of comfort in returning to RSP," explained Herrington. "We know the firm, know the leadership, and are impressed with how strong, diverse, and creative it is. There's a level of support and backing that's exciting plus an established pool of talent that will ensure our success."
Thom Lasley most recently led an international design team for Gulf Consult located in Kuwait City. While overseas, Lasley supervised the design and construction of several major projects including a new Toyota City, EQUATE corporate headquarters, Kuwait Community College Jahra and master planning for a new container-port city located on Boubyan Island. Previous experience includes nearly a decade as lead designer at Target Corporation where he led designs and new strategies within the unique store design team. Lasley was at RSP 1996 through 2004, working with longstanding clients Wells Fargo, American Express, UnitedHealth Group and Target.
While in Kuwait, Susan Herrington was senior FF&E interior designer for NBBJ in association with Gulf Consult. Over the past three+ years, she served as an on-site design liaison at one of the largest construction sites in the world. Herrington was responsible for ensuring interior construction for Kuwait University's College of Science was aligned with design goals and completed efficiently. She also supervised the selection of nearly $46M in FF&E for the project. Susan has also worked for CFS Interiors + Flooring and DLR Group, always serving as a lead interior designer, managing complex projects for corporate, education and healthcare clients.