Two projects honored by ENR SW Awards
by John Guzzon, ENR Southwest
Originally published August 19, 2016
ENR Southwest announced the winners of its 2016 Best Projects competition, which is open to projects in Arizona, Nevada and New Mexico.
A panel of eight judges represented the varied demographic imprints in the industry — from project manager to vice presidents and senior architects. The judges also selected a number of merit winners.
 Two RSP design led project were among the list of those honored.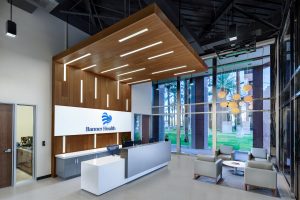 Interior/Tenant Improvement
Best Project — Banner Health Corporate Headquarters
General Contractor: Kitchell
Owner/Developer: Banner Health
Lead Design Firm: RSP Architects
Green Project
Best Project — Northern Arizona University International Pavilion
General Contractor: Kinney Construction Services, Inc.
Owner/Developer: Northern Arizona University
Lead Design Firm: RSP Architects
All of the winning projects will be covered in more detail in the November issue of ENR Southwest, and the winners will be honored at an event in Phoenix on Nov. 10. Click here to see the full list of winning projects.