TRIA Woodbury Groundbreaking Ceremony
TRIA Orhopaedic Center
Originally published May 2016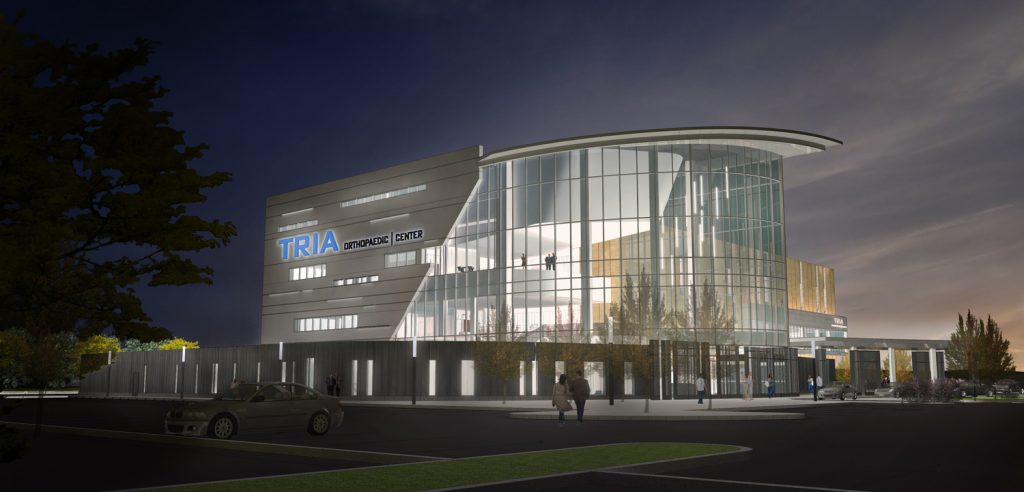 On Thursday, May 26, we officially broke ground on our TRIA Orthopaedic Center location in Woodbury (TRIA Woodbury). The newest location is projected to open in the Summer of 2017.
TRIA Woodbury services will mirror what is currently offered at TRIA Bloomington. From the walk-in Acute Injury Clinic to Sports Medicine to Surgical Suites, TRIA Woodbury will be ready to serve the Woodbury community in the same way we currently serve our patients.
At the TRIA Woodbury Groundbreaking Ceremony, Steve Housh, Vice President of Orthopaedics emceed the event. Steve Housh was joined by HealthPartners CEO, Mary Brainerd, who talked about how we plan to support the community with this new location, and how it will provide a greater level of convenience, affordability, and quality for those we serve.
The next presenter was TRIA CEO, Dr. Edward V. Craig. Dr. Craig shared his insight on what it's been like being part of the planning process for TRIA Woodbury and explained a few of the service offerings for the 75,000 square foot building. He shared his enthusiasm for coming to the Woodbury community and being grateful for this opportunity.
Next was the Mayor of Woodbury, Mary Stephens. Mary expressed her excitement for TRIA Woodbury based on how many jobs the new location would create and how TRIA will be involved in the community for years to come.
Al Gerhardt, Kraus-Anderson COO, also took the stage. Al walked the audience through the project process and explained what it's like to work with TRIA. He concluded by saying how he and the rest of his team are looking forward to making this project a reality.
After that, Steve Housh wrapped up the groundbreaking ceremony by thanking everyone involved in the building project. Guests gathered over by the TRIA Woodbury site and started the ceremonial dirt and shovel pictures.
To view more information and photos from the groundbreaking ceremony, please click here.