The Office Gets Agile
It has never been more clear that workplaces and organizations have to adapt to rapidly changing conditions. RSP's Alissa Franconi says flexible, resilient office design strategies will help the post-COVID workplace, and workers, thrive.

By Alissa Franconi, IIDA, NCIDQ, RSP Associate Principal
The office has always held a certain fascination in the American imagination. From Herman Miller's original 1960s cubicles to today's open-plan, collaborative spaces, the workplace is vital to a company's productivity and employee well-being, not to mention the economic underpinnings of society. It's where business gets done.
And there's no question that the pandemic ushered in a new era of distributed work models. It happened so quickly that many companies didn't have time to think through logistics, technology, HR support or policies. Instead, many just made the best of the situation and a few simply got it wrong. Or partly wrong. So, once the pandemic is finally behind us and we all have time to take stock of what worked and what didn't, what will the new work environment look like?
The most successful workplaces and companies will be agile.
Over the last year, our work has focused on helping organizations deal with change, creating nimble environments that can adapt to evolving conditions while maintaining or regaining functionality and vitality during and after major disruptions. While it's difficult to predict future events, especially those in the cataclysmic category, all organizations are looking for ways to pivot—how to navigate the economic, environmental, social, technological or viral turbulence that lie ahead. The ability to react quickly and seamlessly to change will be more important than the change itself.
In fact, we see this type of thinking in all of much of RSP's retail work, and the applications are self-evident. Retailers change out components that no longer resonate with consumers and shift layouts and aesthetics every few months or even every few weeks to keep things efficient and fresh. These are spaces that move with the times and adapt to the ebb and flow of the economy, available staff or consumer trends because it's a matter of survival. Corporate workspaces will need to adopt a similar mindset in an age where fewer people will be in the office five days a week. It's time to stop thinking about office space as a static model and, instead, bake in more fluid, truly agile functionality that maintains—or even enhances—operational efficiency, productivity and viability.
Working from Home is Working
Perhaps the most significant reason for this tectonic shift toward adaptable and agile spaces is that most companies likely won't be going back to having everyone in the office—in other words, people no longer have to be there. Our clients, which range from Fortune 50 global conglomerates to small start-ups, say that their move to 100% distributed work during the pandemic proved relatively successful. And they also tell us that they don't expect or even want to have all employees back in person anytime soon.
But there's a major caveat here: companies are not going to go 100% virtual en masse either. Experts estimate that 25-30% of the workforce will work from home several days a week by the end of 2021 (Source: Global Workplace Analytics). Some 70-80% of employees say they want to work from home at least one day a week indefinitely. And that is where agility and flexibility are going to be key to success.
Agility in the Real World
It's one thing to say you want an agile office and quite another to have the space, design and policies in place to make it happen. The latest generation of flexible furniture and workstations certainly makes agility easier—fixtures on wheels, demountable partitions, replaceable panels—but when we help our clients down the path toward truly agile spaces, we take a holistic, four-step approach:
Discover: The first step in returning to the office is to understand why the office matters. Why the office is invaluable to your employees and organization. We use our Discovery process to uncover those unique insights and determine how and where employees work best.
Re-Imagine: If your built environment supported your company's key discoveries and business goals, what would it look like? We help our clients with risk assessments and distancing analysis to determine what existing furniture and configurations work or would require change. We consider density, geometry, safety and flexibility in our recommendations and design.
Define: Policy and protocol development should run parallel to space planning. These discussions should involve facilities managers, Human Resources and leadership so everyone is in the loop and the final policies reflect where the organization needs to go.
Communicate: We work with our clients to make sure changes are managed and communicated effectively, so employees know what's coming, can ask questions and plan for their futures. A strong and compelling communication program will not only help ease the transition but foster a greater sense of buy-in and ownership, critical in any move of significance.
Execute: Nothing is more frustrating to employees than best laid plans that go nowhere—great ideas that sit in a binder on the shelf. Initiate the launch sequence, announce and celebrate the changes…but always be prepared to pivot.
Assess and Refine: As with any change in the workplace, we encourage an open feedback loop that allows for multiple modes of input. This could be as simple as town hall discussions, an anonymous online "suggestion box," or more detailed surveys. These days, making a misstep is far less damaging than the speed and transparency with which you correct your course.
This is an iterative process, but it goes further than a "lather rinse repeat" rubric. An approach that encourages buy-in and fosters a sense of ownership in the process always leads to a more successful result.
The Bottom Line
Whatever the environment ends up looking like, the coming transformation will also likely rely on a suite of real estate solutions: owned space, standard leases, flexible leases, flex space, co-working space and, of course, remote work. Before the crisis, these types of flexible space solutions held about 3% of the US office market and had been growing at 25% annually for the past five years, so flexibility was already in the works. The pandemic simply accelerated everything. (Source: McKinsey)
As we've suggested, this as an opportunity to not only improve how work is done but also drive savings and operational efficiencies—the potential to reduce real estate costs could be significant. Rent, capital costs, facilities operations, maintenance, and management make real estate the largest cost category outside of compensation for many organizations. While some companies have no doubt already reduced these costs by re-thinking footprints and/or consolidations—taking advantage of alternative workplace strategies and reviewing approaches to managing space—many corporate leaders have treated them largely as a given.
As designers, we're enthusiastic advocates for the global shift toward agile, flexible workplaces because we know this model is a win for employees and their organizations. By creating flexible environments and policies, companies are empowering employees to work where and how they are most productive. At the same time, agile workplaces allow companies to think about and utilize their real estate portfolios as a strategic asset that can be shifted and transformed whenever, and however, necessary.
About the Author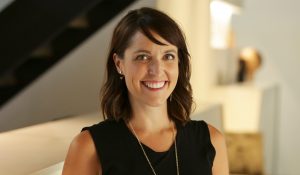 Alissa Franconi
, IIDA, NCIDQ, is an expert in corporate workplace. Based in RSP's Phoenix office, she is an award-winning interior designer who works with companies that range from global corporations to start-ups, all with a vision of creating environments that enhance employee well-being and productivity with economically viable solutions.