Modernizing a local grocer
South Minneapolis residents have an updated Cub Foods in the neighborhood.
Originally built in 1988, the simple design of the CMU building needed a significant exterior upgrade to help this grocer reinforce their commitment to the neighborhood. The local community is in progressive transition with modernized retail, new residential and light rail access. Cub Foods' goal was to maintain their role as the neighborhood grocer by improving their overall appeal and relevance to their customers.


Our design approach was to make the exterior feel bigger and more inviting. Lighting was used to increase visibility, boost brand awareness and promote a safer, secure shopping experience. In addition, clerestory windows were added to the southeast corner letting an abundance of natural light into the produce section and other areas of the store. New corrugated metal canopies and red metal columns, illuminated with LED lights, deliver a modern and accessible storefront.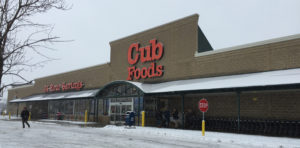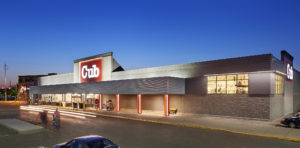 These simple, yet dramatic changes have improved the store's visibility, safety and status in the neighborhood. Families and transit travelers can now shop during the day or after sundown, feeling comfortable upon parking, entry and exit. The store's facelift brings the affordable food retailer up to date in a competitive grocery environment.