Seven Trends in Retail Shaping Healthcare
RSP Principal Jon Buggy AIA, NCARB discusses seven trends in retail that are shaping the way healthcare is changing. 
Healthcare and retail may not seem like the likeliest match. Nevertheless, both industries are changing dramatically, and they have the potential to complement and influence each other in ways that make them both much stronger. It's not too strong to say that, if we get it right, combining healthcare expertise with solid, consumer-driven retail techniques could revolutionize both industries for millions of people.
First, let's back up to understand where we are. We know that the seismic shift in retail has left us with hundreds of shuttered malls and languishing real estate assets across the country. It almost goes without saying that consumer expectations and patterns don't exist the way they did even two years ago.
As with retail, the last decade has seen a major change in how people seek out care. People everywhere now have access to an unprecedented amount of health information and products. That means doctors and other providers are seeing patients who don't work in healthcare but may have read the latest peer-reviewed studies on a new treatment, magazine articles about non-standard tests, or even a TikTok by someone with dubious credentials touting a particular cure. Anyone can now buy a DIY kit to test for food allergies, metabolism and nutrient deficiencies.
Patients now expect to play an active role in their care, but many practitioners haven't kept up with this shift. They are reluctant, rightfully so in many cases, to see patients as consumers. Even so, there has to be a happy medium between stubbornly clinging to old-fashioned ways of doing things and ostensibly turning doctors into customer service reps. That happy medium may just amount to the future of healthcare.
HEALTHCARE + RETAIL = MORE THAN THE SUM OF THEIR PARTS
If we accept that both healthcare and retail have failed to adapt to a dramatic change in consumer behavior, a new model that combines both sectors and embraces all the ways people consume, behave and make decisions in 2021 could pave the way to the future. At RSP, we work with large healthcare providers, hospital networks, small clinics and national pharmacies. These are the seven trends in retail shaping healthcare:
1. Make it personal.
People are used to customization in retail, and they now expect it in healthcare. Just as a start, that means new questions and needs around tests and treatments designed to work with an individual's DNA and specific biological makeup.
2. Remember the word "Theranostics."
It sits somewhere between in-patient and out-patient care. Theranostics combines diagnostics and treatment within a completely personalized care model. It could transform treatment for cancer and other illnesses, and several organizations are betting on it becoming the next big thing.
3. Brand matters more than ever before. 
As patients become more like traditional "consumers," they will gravitate toward companies, organizations and providers who have an authentic sense of themselves, whether it's high-tech, super nurturing or no-nonsense care.
4. Embrace everyday technology.
The pandemic showed us that video conferencing can be used effectively for everyday medical issues, especially preventative and mental health care. Telemedicine has now become a patient expectation and adds a level of convenience to healthcare. Providers can think of it as another way of helping patients stay on top of their health between in-person appointments.
5. It's not either retail or healthcare—it's both.
The physical logistics of getting care is changing. Healthcare can now come to the patient. This doesn't necessarily mean doctors will be making house calls, but we are seeing more sophisticated clinics in the community offering an a la carte menu of recommended tests and pharmacies offering things like a Vitamin D check while you peruse the card aisle.
6. Think small batch healthcare.
In retail, the movement continues toward artisanal, small-batch and local. For healthcare, that means we are seeing far fewer giant hospital complexes. Instead, we're seeing many more outpatient facilities and clinics.
7. When you think big, think really big.
When we do design large hospital complexes, they are practically cities unto themselves. These are hospitals complete with office buildings, labs, hotels and true urban planning, not to mention truly futuristic technology.
MERGING RETAIL AND HEALTHCARE TRENDS IN THE REAL WORLD
The healthcare industry can't and won't adapt to these trends overnight. Some of these ideas may be a decade in the making, but the foundations are being laid (pun intended) through a few different projects.
The Good Clinic is one of the organizations really embracing the future of healthcare and retail. They are starting small with five clinics in the Twin Cities and Colorado, but they could very well reshape primary care in the United States once they go national. They are using technology, design and super personalized care to give patients a new way of looking at health.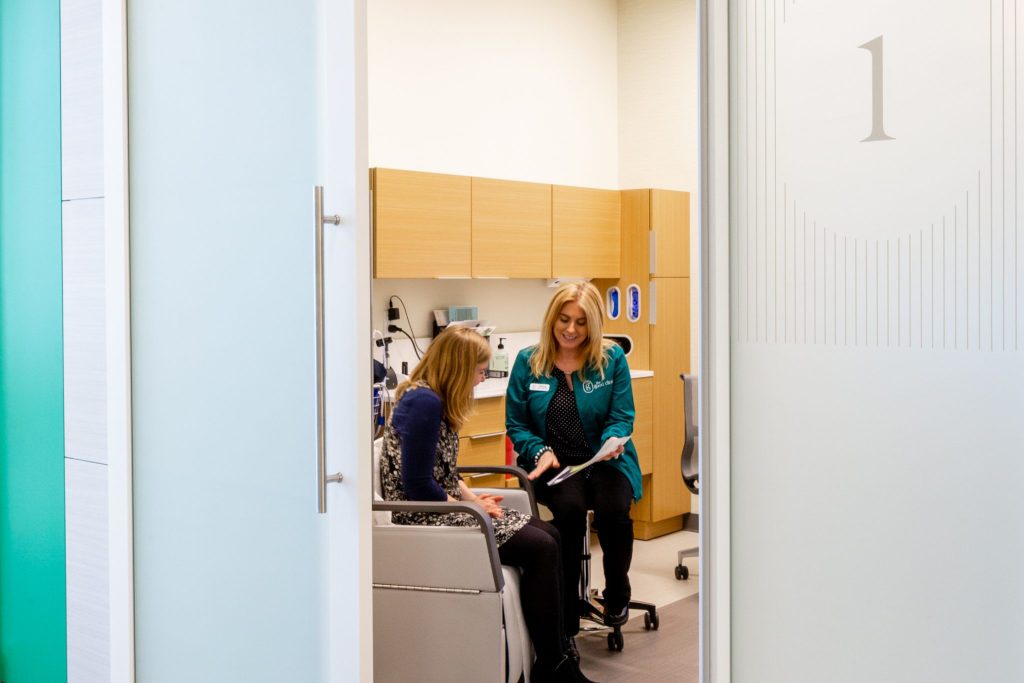 In Columbus, Indiana, we are literally combining healthcare and retail by turning a disused mall into a large healthcare facility for Columbus Regional Health. And One Discovery Square in Rochester, Minnesota is the perfect example of Trend #7 above—thinking really big. This project is being woven into the city in a way that we haven't seen before. It's filled to the brim with AI-focused technology and the latest in biomedical innovations, research, manufacturing and imaging. The plan includes offices, labs and workplaces on top of the provider facilities, connecting Mayo Clinic experts with industry-leading researchers, entrepreneurs and start-ups.
ADVANCING WELLNESS
At the end of the day, healthcare should be about helping patients feel better. When doctors, nurses and other practitioners can more closely align how they provide care with people's expectations, everyone wins. Patients feel more comfortable seeking out care and doctors have patients taking a proactive approach to treatment plans and overall wellness.