Beame Architectural Partnership Joins RSP
The integration expands both firm's expertise and geographic reach.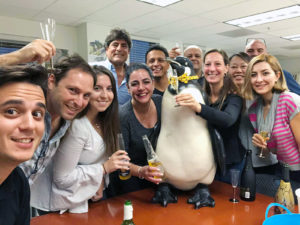 RSP Architects announces Beame Architectural Partnership has joined RSP's growing network of U.S. offices. Established in 1992, Beame has built an excellent reputation across the Southeast U.S., Central and South America and Caribbean for designing complex retail and mixed-use entertainment destinations. Beame's approach, portfolio and staff complement RSP's and allows both firms to strategically expand markets. The merger is effective immediately. Beame is now operating as RSP's sixth U.S. office.
"With the addition of Beame, RSP effectively covers the U.S., South and Central America," said Dave Norback, AIA, RSP President. "Having a presence in the southeast was a strategic driver for the firm and Beame was an excellent fit. They align culturally, share expertise in retail and hospitality markets, and honor client service. We welcome the additional talent and opportunity to expand in a dynamic marketplace."
Beame is one of the first firms to integrate entertainment in retail mixed-use projects and over the years, has successfully developed millions of square feet of retail and hospitality. As RSP, the Miami firm gains the resources and structure of a national, multi-disciplinary company with established practices in healthcare, corporate, and other markets. Together, RSP is even more agile at responding to increasingly complex developments anywhere in the world.
"As our clients continue to push the boundaries of retail and hospitality destinations, RSP's diversity of offerings allow us to expand capabilities and therefore, relationships," said Larry Beame, AIA, former Beame President and now RSP Principal. "Today's mixed-use developments throughout the Americas are incorporating workplace, healthcare and more. We're excited by the diversity of offerings we can now confidently provide clients."
Beame Architectural Partnership has planned and designed more than 100 million square feet of urban and regional shopping centers, mixed-use communities, hotels, offices and residential multifamily developments on five continents and the Caribbean. Several projects have been recognized by global organizations such as the International Council of Shopping Centers for financial and design success. Noteworthy projects include: