Pediatric hospice celebrates grand opening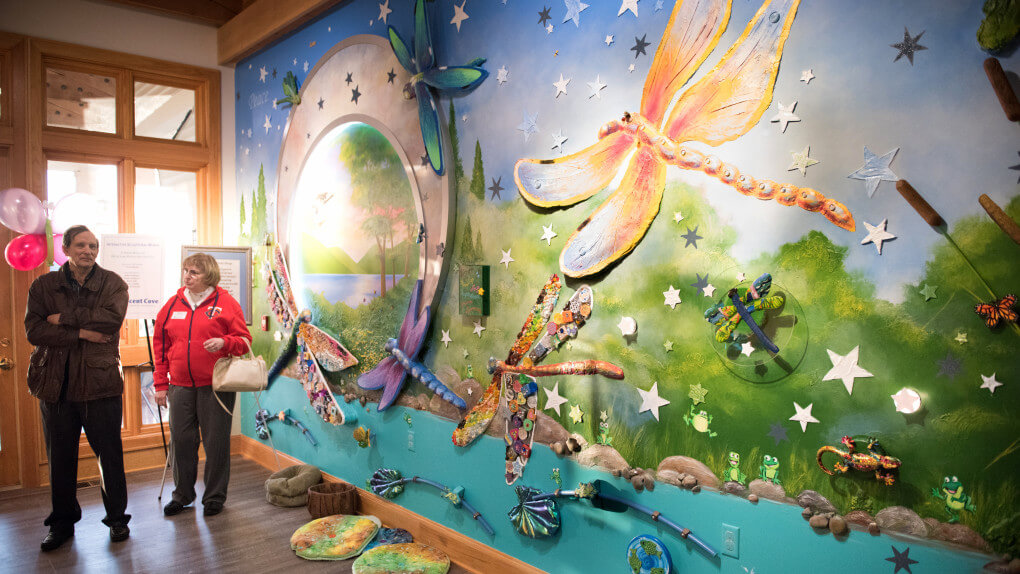 It's finally here — a place devoted to kids who are dying
By Rubén Rosario, Twin Cities Pioneer Press Nov 2017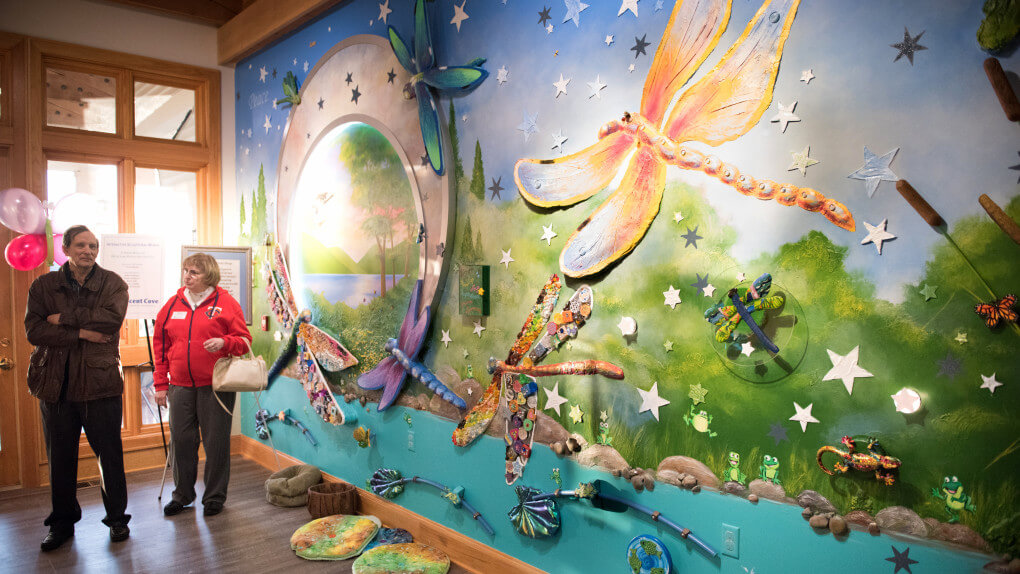 The renovated bedroom I was shown this week is painted an HGTV-worthy shade of blue. A bright quilt and three cuddly, stuffed animals with irresistible "please hug and sleep with me" mugs rest on top of the hospital bed. The windows of the bedroom, like the five others there, provide panoramic views of Twin Lake in Brooklyn Center.
It is a special room in a very special place. This room is specifically designed for a child to die in. And I mean that in the most dignified, humble, respectful and reverent manner possible.
"When a child is dying here, we will try to make this space available because we have an extended alcove so if there is a lot of friends and family here, there's a little more room," Katie Lindefelser told me as she gave me a tour inside the Crescent Cove child hospice/respite-care facility, the first of its kind in the state. "If a child is dying, or in the last hours of their life, we will try to make this room available."
Six years ago, I wrote a column about Lindefelser's dream of establishing the first such independently operated child facility in Minnesota. That 9-year-old dream becomes official Thursday with a ribbon-cutting ceremony and public open house.
"As a culture, we don't talk much about death and dying, particularly around or about children," said Lindefelser, a music therapist by profession who now serves as Crescent Cove's executive director.
No doubt. We have a problem acknowledging that kids die, a number of them from terminal illnesses. We have been slow to accept the notion that, like adults, they might also need a place to spend their final days outside of a hospital setting or the family home. Other countries don't have such hangups. There are more than 40 such child hospices in the United Kingdom. Canada has several, including two — Canuck Place and Rotary/Flames — that are named after its major sponsors, professional hockey teams.
"Many parents do not want their children to die in a hospital because of the feelings that come with this, including the sterile feeling, the numerous people in and out of rooms — this is not only the nurses and doctors but the med students, nursing students, respiratory therapists, lab staff, nutrition and even housekeeping — and now with hospitalists often these families don't even have doctors they know sometimes," said Michele Peterson, a Twin Cities-based pediatrician and Crescent Cove supporter.
"However, they often don't want to have their children die at home, either, because of the trauma of always having that memory in their house," she added. "Older children often worry about how their death in the home will affect their parents and siblings alike."
Those were the concerns aired by Maryah Tift before her death in 2010 after a six-year struggle with Ewing's sarcoma. The 16-year-old Cretin Derham Hall sophomore from Cottage Grove pined for such a place, but there were none. Though the adult hospice where she was placed provided compassionate care, her parents, Rachel Perez and Zachary Tift, among many others, worked to see Lindefelser's quest of a hospice for children become reality.
They shook the trees. Deep-pocketed individuals, small businesses and local corporations responded with donations and contributions after the column appeared and throughout the years. They included some of the area's iconic sports names — the Mauers, the Molitors and Nita Killebrew, widow of Twins great Harmon Killebrew.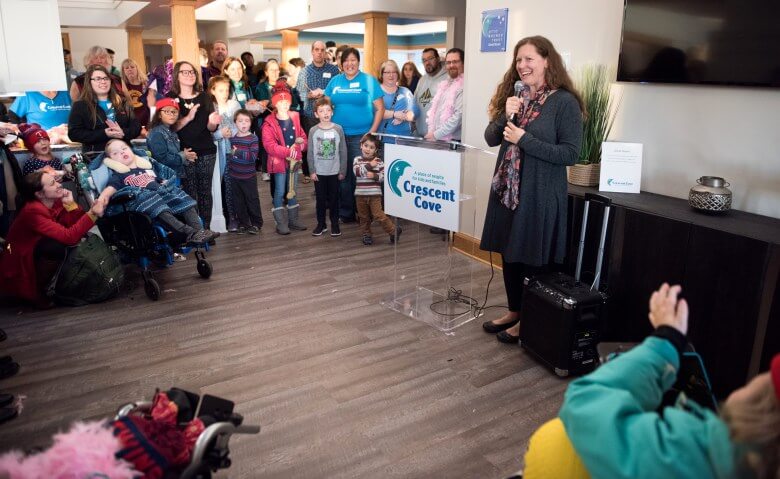 All that was missing was the right place in the right setting. It came this year, the day after the Minnesota Wild cut a $50,000 check for the cause. Lindefelser was informed that North Memorial Hospital had put a former adult hospice at the Twin Lake site up for sale. She and her compatriots begged, cajoled, gently twisted arms and touched hearts to get the hospital to sell the site to the Crescent Cove group for $1.2 million.
The six-bed hospice is scheduled to take in its first child sometime in January. The licensed facility is negotiating with the state to be allowed reimbursement for services through Medicaid and other insurance. Right now, it is prepared to employ 24/7 nurse and attendant care and pay other bills strictly through private donations.
A spacious bedroom suite set up to accommodate parents for overnight stays is named after Clayton Richard Thompson. He was diagnosed with a rare genetic disorder, Zellweger syndrome, three days after his birth on Nov. 11, 1989. He died June 6, 1990, "in my arms at home and I'm grateful for that," said his mother, Lee Thompson Kent of Marine on St. Croix.
She learned about the child-hospice effort four years ago when Lindefelser's nonprofit respite-care service group was called Children's Lighthouse.
"I help and donate because I understand what these families are going through," Kent told me in an email. "I want kids like Clay and their parents to have a place of respite and sacred space for end of life."
The new place is airy, bright, inviting and definitely kid-centric. It has a playroom, an art room, a small spa pool where parents can bathe with their small kids. A small chair in the shape of a glove and two large bobbleheads bearing Killebrew's likeness — as well as one of Joe Mauer — adorn a small alcove near the entrance. Across from it, taking up a large wall, is a multi-colored, interactive mural painted and designed by artist Christi Becker. There's a kaleidoscope and things to touch and feel and play with, as well as a prayer-blessings book for visitors to write their thoughts.
And then there are the seven butterflies painted on the mural in honor of Maryah Tift. She was born May 7, which is Maryah Tift Day in the Saintly City as officially proclaimed this year. The place became a reality seven years after her death.
She was in her mother's thoughts when Rachel Perez toured the facility recently.
"I'm so excited to see this finally happening," she told me. "It's just a serene, beautiful area.
"The home is very cozy, warm, very inviting," she added. "It was a tremendous, overwhelming feeling. I'm so grateful that it is here for so many going forward."
I ended the old column with a plea to build it. I end this one with a plea to build more because these kids and families deserve it.