Treasure Island Opens the Lagoon and Wave Spa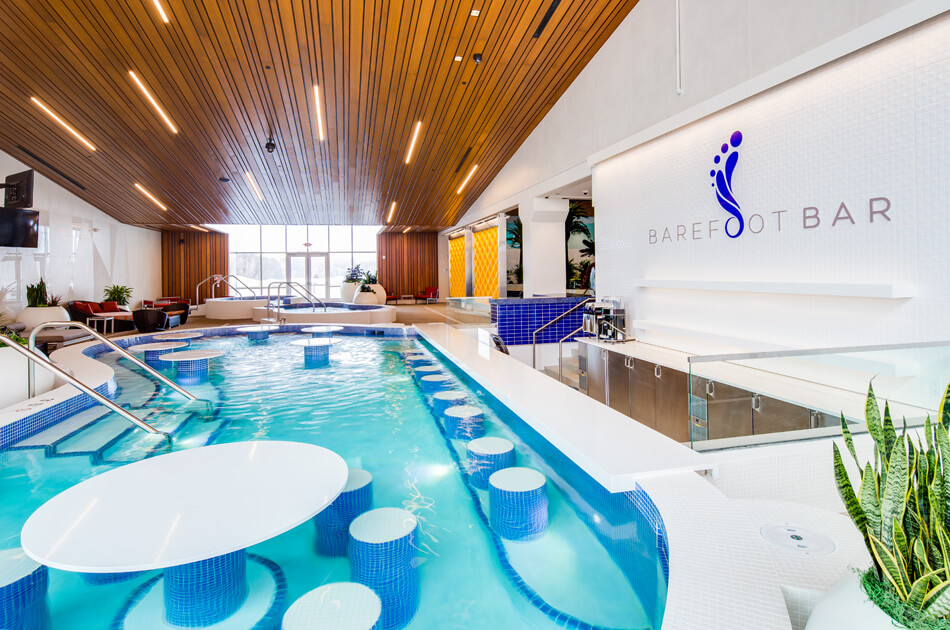 Indian Gaming Magazine
March 2016
Treasure Island Resort & Casino recently unveiled their much anticipated water park addition at a ribbon cutting celebration. The water park, called The Lagoon, is 40,000 sq. ft. of fun and relaxation. It was a $19 million dollar project that began in May 2015.It is also the second largest of its kind among the 18 Native American casinos in Minnesota.
The Lagoon features a 320' long lazy river with rapids, a waterfall and an island in the middle of the pool that has benches and lounge chairs. There is 119,000 gallons of water between all four pools and a state-of-the-art eco green filtration system that utilizes natural Sphagnum Moss as a pre-filter water conditioner that is much healthier for swimmers.
The two body slides loop around and are 276' in length and a zero depth plunge pool that is 80' long with water features and a toucan slide for kids. There is an adult only pool and two hot tubs, one inside and one outside. The Barefoot Bar is the only swim up barin Minnesota with tables and seats in the pool.
There is 14,000 sq. ft. of outdoor terrace space with three outdoor areas that can be rented for private parties or events. When the weather is nice, there are two 12 ft. retractable glass panelsthat can be opened up during the warmersummer months. Custom fire pits on the terrace add to the outdoor experience.
"The Lagoon water park and Wave Spa are key elements in the continued growth of Treasure Island. These new amenities will truly round out the resort aspect of what we offer our guests and will position us to be the favorite Midwest vacation destination," said Shelley Buck, Tribal Council President.
The upscale Wave Spa is a full service salon and spa that offers hair services, manicures/pedicures, facials, waxing, make-up and nail services. Guests can choose from a variety of massages and spa packages will be offered as half or full day experiences. The relaxation room has a wall fire feature, lounge chairs and can accommodate up to 12 people. Catering is available for special spa events.
The fitness center has the latest technology in bikes, elliptical and treadmill equipment.
"This is the third major project we have completed in the past year," said Eddie Lynn, General Manager of Treasure Island. "Last February we opened Tado Steakhouse and we renovated and totally transformed Tradewinds Buffet during the summer. The Lagoon water park and Wave Spa will offer a whole new level of fun and entertainment at Treasure Island, giving our guests even more reasons to visit."
Shelley Buck noted the economic impact this project had in the region. "We have hired more than 30 new team members, with a payroll and benefit value of over $500,000 annually. Treasure Island now employs more than 1,500 people. There was also more than 80 new construction jobs created during this project. It is important to our tribe and Treasure Island to be a destination of choice in Southern Minnesota, bringing in more visitors and tourists to the area. This benefits all of the neighboring businesses in the area."
RSP Architects in Minneapolis provided architectural design services. Their creative innovation resulted in an amazing tropical water park and spa. Knutson Construction was the design-builder on the water park and spa.