Ignited and inspired: NeoCon 2018 wrap-up
At the beginning of June, members of our design team were fortunate enough to bond, explore and experience NeoCon. Celebrating 50 years, the event at the Merchandise Mart did not disappoint. With record setting attendance, the show presented ideas and insights that can, and will change commercial settings for years to come. Here are the emerging trends you'll likely see ripple soon into a space near you:
Color, shape and pattern, oh my!
Upholstery, carpet and hard surface materials with high contrasting colorways and dynamic prints are all the rage. Luxe jewel tones juxtaposed with sophisticated neutral applications are making a come back. And for those willing to push the flooring envelope, Shaw Contract partnered with Form Us With Love creating a collection of organically shaped carpet tiles. With a variety of color, the possibilities are endless.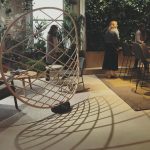 A continued focus on wellbeing.
It's certainly not a new concept but brands are spending more time focusing on privacy, noise reduction and comfort in the workplace. With a residential influence (congrats to Steelcase + West Elm on your partnership), aesthetics and ergonomics will continue to play a key role in comfort, as work styles evolve. You'll also be hearing more about biophilic design opportunities (think nature) as it reduces stress, enhances creativity and increases productivity.
Innovation in the workplace. Flexibility and technology at work are central themes.  As sit to stand workstations have become mainstream they continue to evolve and improve as demand grows. Adaptable office elements, like semi-transparent panels, will allow space to become more flexible for the users. Discrete ports provide a variety of power options integrated into workstations, collaborative furniture, and conference tables while wireless charging made also made an appearance.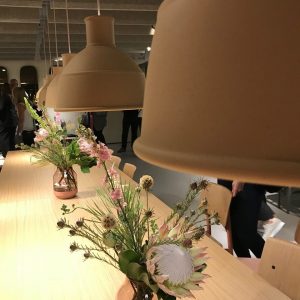 All things light.
Lighting solutions with varying focus and intensity certainly aligned with the dynamic spaces we experienced this year. Single source and cluster options were popular in a variety of materials, shapes, sizes and colors. We don't mean to play favorites, but ours included:
What else are we excited about? NeoConversations. If you haven't heard, it's "a new podcast series focusing on all things commercial design." The goal: promote meaningful conversations about the issues in the marketplace and the larger role designers play in the world around us.