Ensuring resiliency: discussing demands on technology during the pandemic.
Secure, consistent and reliable technology has never been more important.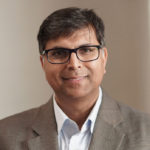 RSP's Director of Mission Critical, Rajan Battish, discusses the strain the current pandemic is putting on data centers, IT infrastructure and complex systems.
Past Presentations
EUCI Utilities and Data Centers Conference (July, 2020): Hybrid Architecture, Sustainability and Critical Infrastructure. EUCI is an accredited corporation that designs focused conferences and training courses for practicing professionals in the energy field as well as other industries.
Data Center World (August, 2020): Data Center World

delivers expert insight and strategies on the technologies and concepts to help plan, pivot and progress your data center projects.

Data Center World's programming is focused around six core tracks that are vital to every data center facilities and IT infrastructure professional, providing strategy and real-world examples that address the major challenges of the rapidly evolving data center industry.

Datacenter Dynamics (DCD) (October 2020): an immersive virtual conference experience, bringing  the major players from data center ecosystem to discuss the future of the industry. Rajan  co-presented with Tesla about the data center at the University of Alabama at Birmingham (UAB). Watch the on-demand recording now.

Read more from Rajan in his Q&A with DCD: Charting the Course for the Data Center in a Post-Coronavirus World. Datacenter Dynamics tracks the growth of the data center industry, publishing news, analysis and opinion about industry specific topics.