Todd Novak Joins RSP to expand mixed-use offerings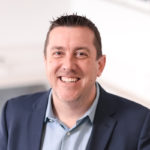 MINNEAPOLIS (31 Jan 2020) – Todd Novak, AIA, NCARB, an architect with more than 20 years of experience in multi-family housing and mixed-use projects, has joined RSP as Director of Multi-Family. Novak will work with the firm's hospitality and retail studios to expand the pursuit of complex mixed-use projects and support RSP's current clients needs.
"I enjoy the transformative nature of mixed-use projects," said Novak. "The challenges they present and the opportunity to connect projects to their context and enhance the community. These projects offer a major opportunity to strengthen communities with thoughtful design that responds to the neighborhood and site while creating vibrant places. RSP's diverse expertise and multiple locations mean we can seamlessly meet our clients needs on a national basis."
Novak has led many notable housing projects across the country including the recent Nolan Mains Development at 50th and France in Edina, MN; the historic A Mill Artist lofts redevelopment in Minneapolis; and the Aurelian Luxury tower in Chicago. His broad experience in the housing industry includes luxury high-rise projects, affordable housing, senior living, historic rehabilitation and large urban redevelopments, making him ideally suited to anchor a strong housing practice.
"Todd's experience makes him an excellent resource as the firm continues growing its national reach," said Bob Lucius, Principal, AIA. "With the addition of our Miami office in 2019, we are working on an influx of dynamic mixed-use projects that include housing. Todd brings with him not only an impressive portfolio and design background, but also experience in business development. He will be key to enhancing our client's needs within the housing industry."
Novak will be based out of RSP's Minneapolis office.
Press Contact:
Jackie Peacha
jackie.peacha@rsparch.com
612.677.7247