Mission Critical Expert, Rajan Battish, Joins RSP
Battish to lead new practice group and office for the growing national firm.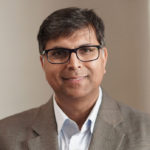 MINNEAPOLIS (7 November 2018) – Rajan Battish, an innovative electrical engineer with more than 20 years of experience designing mission critical facilities, has joined RSP Architects as Principal, Director of Mission Critical. He will lead RSP's Mission Critical practice group as well as the Minneapolis-based firm's first East Coast office. Battish opens RSP Baltimore with a goal to complement and expand RSP's national expertise in retail, corporate and healthcare.
"I share RSP's client-centric philosophy and appreciate the opportunity to build a practice group within such an established, entrepreneurial firm," said Battish, PE, LEED AP. "RSP has an impressive roster of clients and a goal of providing best-in-class service. My goal is to enhance RSP's mission critical services by offering expanded expertise, inventive solutions and bench strength via a dedicated team. Personally, it's been a career goal of mine to start an office so this is a win/win for myself and RSP."
Known for developing new and creative solutions to the complex problems within mission critical facilities, Battish specializes in power infrastructure. He has published and presented numerous papers on data center trends, energy efficiency and data center reliability. He is an Authorized Tier Designer from the Uptime Institute, licensed in 29 states, and an active member of Engineers Without Borders.
Previously with CallisonRTKL, Battish led an award-winning team of architects and engineers across three U.S. offices that evaluated new technologies, designed successful and highly efficient data centers, developed technical standards, and conducted QA/QC. He's worked with clients across every major market sector including utilities, technology, higher education, healthcare, corporate and government.
"Rajan's expertise transcends market sectors and is a perfect addition to RSP. He's a true thought leader whose ingenuity is proven and respected within the industry," said David Norback, RSP President, Principal, AIA. "We've been intentional in our growth and expansion to ensure alignment with our clients' needs, business goals and missions. Most of our clients, who are industry leaders in retail, hospitality, corporate and healthcare, have mission critical facilities. It's a specialty service we've offered for a decade, but the addition of Rajan and commitment to building a dedicated practice group, provides us a strategic opportunity to strengthen and expand."
With the opening of RSP Baltimore in November, the 40-year-old firm expands its number of U.S. offices to five: Minneapolis, MN; Rochester, MN; Fort Worth, TX; Phoenix, AZ; and now Baltimore, MD.