Empowering today's technology workforce
It's all about choice. Employees want to customize the way they work, how they work, and when they work. Our client wanted to balance flexibility in a workplace design that also increased productivity and efficiency. We developed a dynamic plan that delivers on all fronts.
ABOUT THE AUTHORS
Katie Peterson
As the RSP client relationship manager for one of our key clients, Katie Petersen understands how enthusiasm, smart leadership and good connections can facilitate success. She approaches her work with humor, lightness and creativity, which has helped the Corporate Accounts team deliver a record-setting number of projects. Combining her passion for healthcare planning and her love of networking, Katie loves facilitating relationships and is energized by securing wins for her team. Splitting her time between the client's headquarters, RSP and working from home, she is 100% mobile and enjoys how each workday is different. Katie comes from a long line of female role models and is devoted to showing her children how to be strong leaders. She enjoys hiking, sledding and ice skating with her three kids and rooting for her favorite sports teams: The Packers and the MN Twins.
Stephanie Shepard CID
As a project manager in RSP's corporate, healthcare and retail studios, Stephanie is always focused on the Big Picture. Her work with some of the firm's biggest clients requires her to collaborate across several teams and manage multiple projects anywhere in the country. Stephanie is one of our subject matter experts in real estate mergers and acquisitions. As such, she helps to integrate a client's culture, standards and processes across dynamic and expanding portfolios. She's honed her communication skills over the years and is now a mentor to younger staff on how to build strong relationships with clients and consultants. She's also quick to share gardening tips, a passion she pursues every summer, culminating in a bountiful harvest party she shares with family and friends each fall.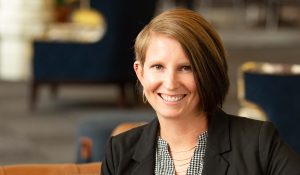 Heather Dunn
Her first client is still her client today. This twenty-year relationship – and the trust, dedication and respect that goes along with it – is the perfect metaphor for Heather's work. As a managing principal at RSP, her curiosity and drive to continuously improve fuels her success on projects of varying scope and size. From tenant improvements to national real estate programs, Heather's agility lies in celebrating the details and envisioning the bigger picture, connecting elements along the way. She's also got a knack for process engineering and adapts easily to the evolving corporate real estate landscape. For her, design is about embracing your inner entrepreneur. It's about making life, work and play more productive and enjoyable for everyone, no matter who they are or what they do. She actively listens to her clients' wants, needs and goals, adopting their mission as her own. She does the same for her team -  driving individuals to learn, grow and innovate, both personally and professionally. Outside of work, Heather loves exploring nature and experimental gardening with her two daughters and making room in her house for her next furniture find.
Jill Carle
For 20 years, Jill has worked on the design and delivery of workplaces. Thousands of square feet. All over the country. For Fortune 50 clients. Her experience spans the evolution of the office. From traditional office environments to today's open, mobile free address solutions. As a Senior Project Manager, it's her job to make sure each and every project is delivered on time and budget. No matter what. No matter where. Including the recent delivery of interior office design for three ground-up buildings for 6,000 employees. She excels at communication and multi-tasking. Which not only serves her well at work, but also at home, where she manages the hockey careers of two teenagers.
Dave Norback AIA
A well known and admired design and business leader, Dave runs the business as well as our corporate and international studios. Opening offices. Expanding offerings. Going global. He's built RSP into one of the country's largest practices. He's also expanded our offerings, cultivating an experience design studio and facility management consultancy. But it isn't all business with Dave. He actively manages several corporate accounts, reviews designs, mentors. Plus he is active in the Minneapolis Downtown Council and Minneapolis Riverfront Partnership. He even finds time to hit the golf course. Occasionally.