Mortenson Planning New HQ Building, Parking Ramp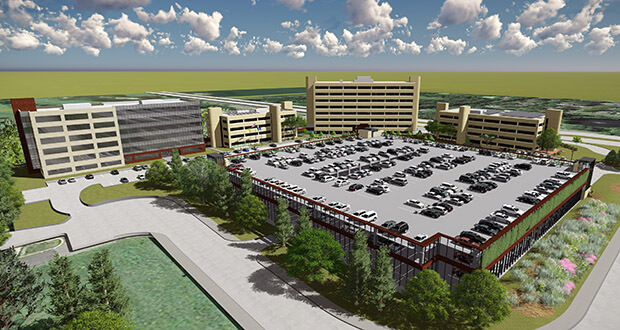 by Brian Johnson, Finance & Commerce
Originally published May 25, 2016
With plans for a new parking structure and a fourth building on its Golden Valley campus, M.A. Mortenson Co. is getting ready to move on a long-contemplated headquarters expansion.
The Golden Valley City Council will review plans June 7 for the first component of the expansion, a four-story, 1,096-stall parking structure on the company's 9-acre campus at 700 Meadow Lane N.
Designed by Minneapolis-based RSP Architects, with Mortenson overseeing construction, the parking ramp could open in midsummer 2017. Construction of a new six-story, 98,000-square-foot office building would occur in 2017 and 2018, according to city documents.
Dan Johnson, president of the construction and development company, said Mortenson is outgrowing its current headquarters and exploring options for expanding on the campus.
"As a part of this long-range space planning, we are considering replacing the current parking structure with a larger one that offers additional levels and parking spaces," Johnson said in a statement. "There is also consideration for a new office building between the existing North Building and the neighboring Animal Humane Society facility.
"This is only planning at the present time and there is not a definitive timeline for construction," he added.
Johnson said at a May 9 Golden Valley Planning Commission meeting that the company is adding "in the neighborhood of 50 to 100 jobs annually." The commission recommended approval.
Mortenson is involved in several high-profile construction projects including the new Minnesota Vikings stadium in downtown Minneapolis.
Mortenson strongly hinted at future expansion in fall 2014, when it paid $4.53 million for the Wirth Corporate Center at 4150 Olson Memorial Highway across the street from the campus.
"We bought it with the idea that Mortenson is growing like crazy," Brad Lis, Mortenson's real estate development director, said in an interview at the time. "We're good with our space now, but down the road we may need more."
No changes are planned for the Wirth Corporate Center. The building is primarily leased to outside tenants, though Mortenson has some employees there, Mortenson spokesman Cameron Snyder said in an email.
An existing two-story, 494-space ramp on the northwest corner of the campus would be torn down to make way for the new ramp. The office building would be built on what is now the north surface parking lot and would be attached to the existing north building.
A potential third phase would add a two-story addition to the south building, according to documents submitted to the city.
Mortenson owns two of the three existing buildings on the campus. It occupies 185,000 square feet and has 575 employees there. The third building, at 4050 Olson Memorial Highway, is owned by an entity called Ted Glasrud ASCTS MN LLC and has a mix of tenants.
The campus is surrounded by Theodore Wirth Park, Highway 55, an apartment building, Meadow Lane and the Animal Humane Society.
Jason Zimmerman, Golden Valley's planning director, said the new parking ramp will be built within basically the same footprint as the existing structure. Mortenson needs city approval to expand vertically.
"We have had a number of good conversations with them," Zimmerman said. "They will do some landscaping and green wall treatment on the parking ramp, which I think will be a nice feature."
The ramp, equipped with electric car charging stations, would have "living green walls" of vines on three sides, and landscaping elements that include trees and native plants, according to city documents.
Mortenson completed an $11 million renovation of its corporate campus in 2009. That project, also designed by RSP Architects, included 86,000 square feet of tenant improvements and build-out of a 12,500-square-foot conference center and café.